Jamie Silva-Steele, President and Chief Executive Officer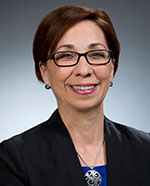 Jamie Silva-Steele brings with her 28 years of progressive experience in an academic healthcare environment. After earning a Bachelor's of Science in Nursing from the University of New Mexico, she began her career as a Pediatric Nurse and worked in the General and Sub-Acute Nursing Units at the University of New Mexico Hospital (UNMH). As her career progressed, she moved into leadership roles within the organization, taking on director positions and serving as an Administrator for Ambulatory Services at UNMH. In addition to her clinical education and experience, she also received a Master's in Business Administration—a credential that has helped her to successfully handle the business-side of healthcare operations. Prior to assuming the role of President and CEO of SRMC, she served as the facility's Chief Operating Officer (COO).
Silva-Steele continues her educational and professional growth through memberships in several organizations, including the American Organization of Nurse Executives (AONE), the New Mexico Nurses Organization of Nurse Executives (NMONE), the American Academy of Ambulatory Care Nursing (AAACN) and the American College of Health Executives (ACHE). She was also a National Association of Public Hospitals (NAPH) Fellow from 2011-2012, and just completed a two year term on the Board of Directors for the New Mexico Center of Nursing Excellence. Further, as a recipient of The Disparities Leadership Program Award for "Recognition of Excellence in Addressing Racial and Ethnic Disparities in Health Care" from the Disparities Solution Center of Massachusetts General Hospital, she has demonstrated her commitment to creating accessible healthcare for people from all walks of life.
Among her many accomplishments, Silva-Steele is most proud of the role she played in improving the delivery of patient care at The University of New Mexico Hospitals, including the advancement of the Patient-Centered Medical Home in Primary Care, the development of new Primary Care and Specialty facilities for patients, the expansion of Interpreter Language Services and the development of the Diversity, Equity and Inclusion (DEI) Program. Outside of work, she is a devoted wife to her husband and a loving mother to her daughter and two sons. She is an avid sports fan and enjoys watching her youngest son play football and basketball. She also loves to sing and play guitar – she has performed professionally over the years for a variety of events and used to have a jazz band with two of her brothers!
Paul G. Echols, MD - Chief Medical Officer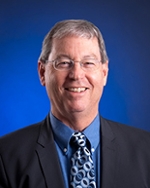 Dr. Echols comes with over 40 years of physician experience. He received his BA in Biology from North Texas State University and his Doctor of Medicine from the University of Texas Medical Branch in Galveston, Texas. He completed residency training in Orthopaedic Surgery at UNM in 1978, and has been Board Certified in Orthopaedic Surgery since 1979. He completed the USAF Aerospace Medicine Primary Course in 1992, and served as a Flight Surgeon for the remainder of his time in uniform. During his 36 year military service career, he was an Active Duty Staff Orthopaedic Surgeon serving during Operation Desert Shield/Desert Storm and Operation Iraqi Freedom as well as Operation Noble Eagle/Operation Enduring Freedom. Dr. Echols retired from the USAFR in 2003, at the rank of Colonel.
Dr. Echols started work with the UNM Department of Orthopaedics and Rehabilitation in 1992. He received academic promotion to Professor in 2005, and was Vice Chair of Clinical Services from 2006-2011. He started at UNM SRMC in June 2012 as the Orthopaedic Site Director, and served in that capacity until July 2015. He retired as Professor Emeritus in July 2015. In addition to his work within the UNM Health System, Dr. Echols has extensive clinical and administrative experience in venues including the Albuquerque Veterans Administration Medical Center, as well as military facilities and community hospitals located in RAF Lakenheath, United Kingdom; Ruidoso NM; Alamogordo, NM; Air Force Academy Hospital, Colorado Springs, CO.; Langley AFB, VA; and Air Force Reserve Personnel Center in Denver, Colorado.
Dr. Echols served on the Disaster Response/Disaster Preparedness Plan at Kirtland AFB from 1999-2000 and on the Governors Trauma System taskforce in 2005. He received the Orthopaedic Instructor of the year in 1993-1994 and 2006-2007 from the UNM Health Sciences Center, Department of Orthopaedics, as well as First Place for the Excellence in Teaching award in 1994. He was clinical faculty (reserve) for Orthopaedic Surgery at Wilford Hall USAF Medical Center in San Antonio, TX. Dr. Echols serves on several groups, including being a Fellow for the American Academy of Orthopaedic Surgery, a member of the American Orthopaedic Association, a member of the NM Medical Society, a member of the NM Orthopaedic Association, a member of the Western Orthopaedic Association and a member of the Greater Albuquerque Medical Association.
Pam Demarest, Chief Nursing Officer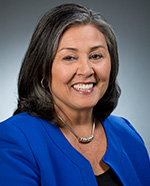 Pam Demarest joined the Executive Leadership Team at UNM SRMC in January of 2014, first serving as the Interim Chief Nursing Officer, and then taking on the role permanently in March of 2014. Prior to working at UNM SRMC, Pam served as the Executive Director of Critical Care and Progressive Care Services at UNM Hospitals. Pam has worked for UNM Hospitals for the majority of her career, starting out as a Burn and Trauma Nurse in the 1980s, and moving on to a variety of leadership roles within the organization throughout the 1990s and 2000s, including the positions of Transplant Services Director, Value Analysis Program Director, Interim Executive Director of Emergency Services, Executive Director of Adult Medical Surgical Services, Interim Executive Director Medical Surgical Services and her most recent role as the Executive Director of Critical Care and Progressive Care Services. She loves working within an academic medical center because of the learning environment and is very excited about this collaboration within a community medical center.
Pam decided to join the team at UNM SRMC because of the opportunity to work with the leadership group and help the hospital develop programs for the residents of Sandoval County. According to Pam, "The best thing about the position of CNO is the ability to shape the nursing and clinical care to the patients. I want nurses and our clinical partners to be able to make decisions at the bedside so that we deliver quality nursing care in a safe environment." By continually monitoring and evaluating clinical and patient satisfaction outcomes, Pam would like to focus her efforts in areas where opportunities for improvement arise. In addition, Pam hopes to combine her knowledge of clinical program development with UNM SRMC's reputation of excellent customer service to enhance the care delivered to our patients.
Outside of work, Pam loves to visit her out-of-state family, enjoys traveling to new places and appreciates spending time with her friends. She is also known for her creative side, with hobbies that include scrapbooking and making home-made greeting cards!
Correen Bales, Director of Human Resources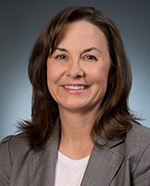 Correen Bales is UNM SRMC's Director of Human Resources. She has 19 years of experience working in Human Resources for community hospitals.
Bales came to SRMC from the neighboring state of Arizona, where she grew up in the small community of Happy Jack. She spent a few of her childhood years in Questa and Glenwood, NM. Her love is horses and she is looking forward to the various offerings New Mexico has for the equestrian world.
Bales earned her Bachelor of Science degree in Business Administration from Northern Arizona University in Flagstaff, AZ. After graduation, she started working as the Human Resource Director in a critical access hospital in Blythe, California. Once the Human Resources department in Blythe was developed, Bales moved to Show Low, AZ where she took the job as the Director of Human Resources for the community hospital. She spent 15 years in Show Low developing and growing the many areas of the Human Resource department within the hospital. Since 2009, Bales has served as the Chief Human Resource Officer accepting responsibility and oversight of: Human Resources, Employee Health/Safety, the Serenity Spa, Volunteer services, which included the gift and sweet shop of the hospital, as well as the Dietary Department, which notably became one of the best places to eat within the community.