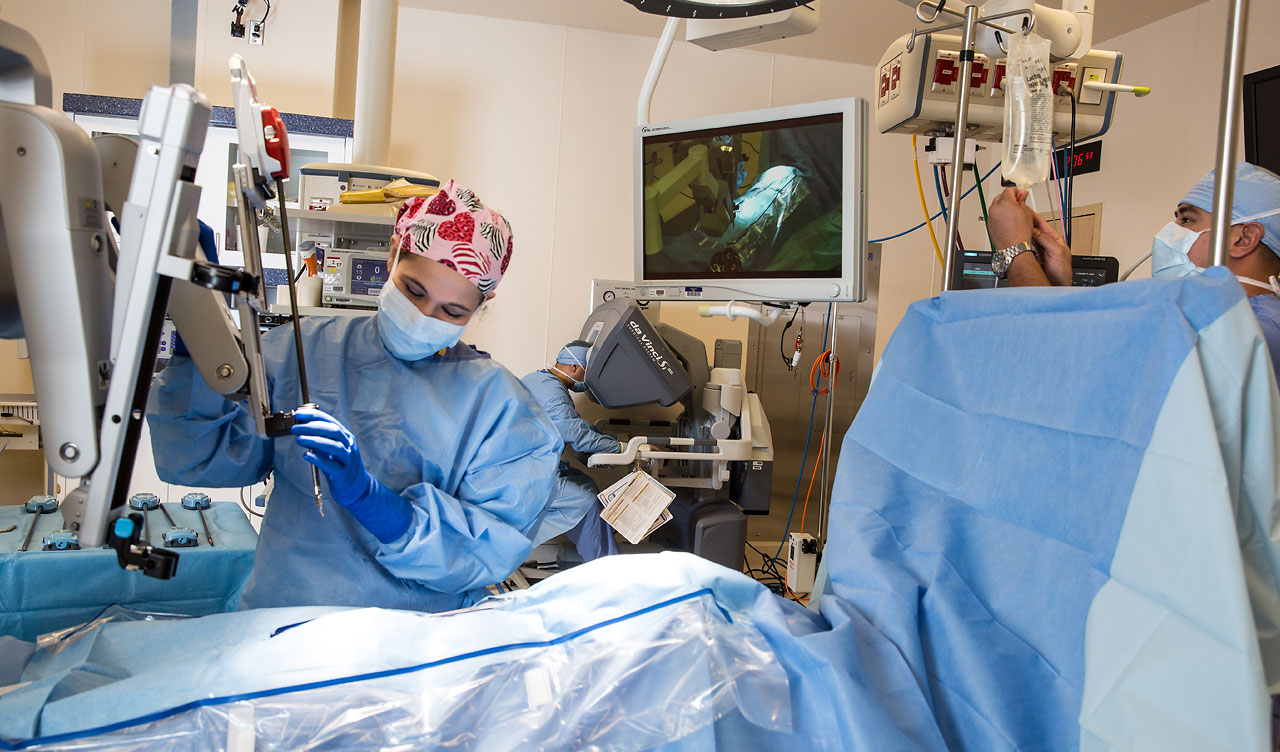 When excess weight impacts your quality of life, bariatric surgery and long-term lifestyle changes can improve your health and well-being. Look to the UNM Health System for friendly support and a nationally accredited weight-loss surgery program so you can live the life you want.
Center of Excellence
You can trust UNM Health System for high-quality care because UNM Sandoval Regional Medical Center (SRMC) is accredited as a comprehensive center for weight-loss surgery by the Metabolic and Bariatric Surgery Accreditation and Quality Improvement Program. The accreditation – which we've held longer than any other facility in New Mexico – means you benefit from:
Experienced, highly qualified surgeons.
A multidisciplinary team, including registered dietitians, behavioral health care providers, exercise therapists and nurses, all of whom help ensure you get well-rounded care.
Imaging and surgical tools specially designed for your needs.
Strict measures to keep you safe.
Comfortable Facilities, Caring Staff
At UNM SRMC, you'll appreciate facilities designed for your comfort. The building features:
Comfortable, armless chairs in our waiting room.
Accessible exam and operating room tables.
Computed tomography (CT) scanner with a large opening.
Private recovery suites with furniture and bathroom fixtures designed for bariatric surgery patients.
Plus, you can count on our staff to create a welcoming environment as you work toward a healthy weight.
Health Benefits of Bariatric Surgery
Bariatric surgery and the long-term lifestyle changes that come with it may help you achieve significant, sustainable weight loss and improve conditions such as:
Heart disease
High blood pressure
Gastroesophageal reflux disease (GERD)
Sleep apnea
Type 2 diabetes
Am I a Candidate for Bariatric Surgery?
You may qualify for bariatric surgery if you have:
A body mass index (BMI) of 40 or above.
A BMI of 35 or above with at least two obesity-related conditions, such as Type 2 diabetes, hypertension, sleep apnea and heart disease.
A history of unsuccessful attempts to maintain a healthy weight through diet and exercise alone.
Options for Weight-Loss Surgery
Partner with your bariatric surgeon to choose the right weight-loss procedure for you. Ask about:
Roux-en-Y gastric bypass – "Staples" the stomach to create a small pouch and then connects it directly to the small intestine, allowing food to bypass the rest of the stomach.
Vertical sleeve gastrectomy – Removes more than 80 percent of the stomach.
Laparoscopic procedures
Using a minimally invasive technique, your surgeon uses a tiny video camera called a laparoscope and special surgical tools to perform your bariatric surgery. That means you have less pain, smaller scars and a quicker recovery compared with the recovery from traditional surgical procedures. In some cases, you may be able to return to your usual activities in as little as two weeks.
Bariatric Surgery Support & Follow-Up Care
The UNM SRMC staff thoroughly prepares you for surgery and provides comprehensive follow-up care so you can achieve the best possible outcome. Learn more about preparation and follow-up care.