HSC Logos
A clear, concise visual image is the basis of our academic and health-related marketing and communication efforts. The University of New Mexico's refreshed visual identity is an interlocking logotype that evolved from a long-standing Lobo favorite.
It is essential for health literacy, patient education and health-related research and academic communications to follow the University's visual identity to further strength our university family brand. Learn more about HSC's brand and style.
Approved University Logos 
The primary UNM logo is a standalone mark that represents the entire institution.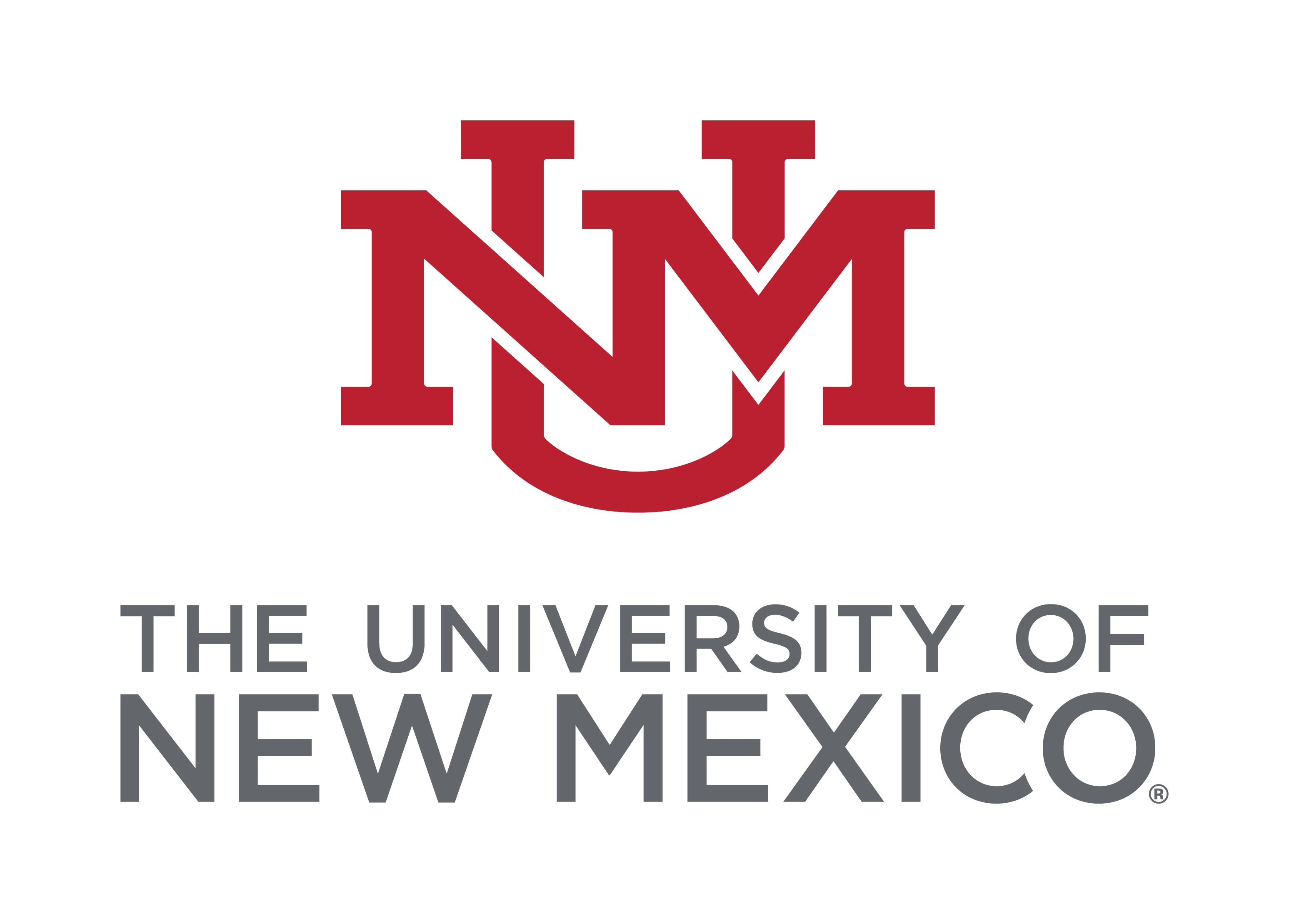 There are two UNM Health Sciences logos that can be used on social media, websites, print collateral and posters. Materials may be produced using both the Health Sciences block logo and the unit logo, but they should be separated as in the example below.


When departments and units partner, the umbrella logo should be used without the names of the units. This is often the above HSC block logo or the UNM Health or School of Medicine logo. For more on logo usage, check out the UNM HSC style guide.
Contact Us
For specific Health Sciences logo questions, please reach out to the marketing art director, Sara Mota.
Logo Liaisons
Unit logos are created to represent schools, colleges, branches, divisions, offices and other units within UNM. A logo liaison in each unit is responsible for distributing logos and monitoring their use.
All logo liaisons have attended Logo Liaison training and may request that you attend a logo usage presentation before providing you with their unit logos.
Please do not create a unit identifier on your own. If you would like a unit logo, please contact your logo liaison before contacting HSC Marketing.
| | |
| --- | --- |
| Department | Contact |
| Behavioral Health Clinic | |
| Cardiology Clinic | |
| Carrie Tingley Hospital | |
| Center for Development & Disability | |
| Center for Life | |
| Center for Reproductive Health | |
| Center for Spine and Musculoskeletal Health | |
| Children's Hospital | |
| Children's Psychiatric Center | |
| College of Nursing | |
| College of Pharmacy | |
| College of Population Health | |
| Comprehensive Cancer Center | |
| Dental Services | |
| Family Health Clinic / Family Medicine Clinic | |
| Health Sciences / Academic Affairs | |
| Health Sciences / Brain & Behavioral Health | |
| Health Sciences / Budget Office | |
| Health Sciences / Chief Information Office | |
| Health Sciences / Clinical & Translational Science Center | |
| Health Sciences / Compliance Office | |
| Health Sciences / Contract & Grant Accounting | |
| Health Sciences / Finance Administration | |
| Health Sciences / Library & Informatics Center | |
| Health Sciences / Molecular Discovery | |
| Health Sciences / Office for Community Health | |
| Health Sciences / Office for Diversity, Equity & Inclusion | |
| Health Sciences / Office of Research | |
| Health Sciences / Office of the Chancellor | |
| Health Sciences / Policy Office | |
| Health Sciences / Privacy Office | |
| Health Sciences / Rio Rancho Campus | |
| Health Sciences / Sponsored Projects Office | |
| Health System | |
| Hospital | |
| Locum Tenens Extension Services | |
| Medical Group, Inc. | |
| Office of the Medical Investigator | |
| Sandoval Regional Medical Center | |
| School-Based Health Centers | |
| School of Medicine | |
| Transdisciplinary Research, Equity and Engagement (TREE) Center for Advancing Behavioral Health | |
| Truman Health Services | |
| University Psychiatric Center | |
| UNM Health | |