Translational Workforce Development Program
Whether you're an investigator or a clinical research professional, CTSC training opportunities will help you get the skills you need to establish yourself and achieve your research objectives. Explore our training catalog and browse the CTSC training schedule today.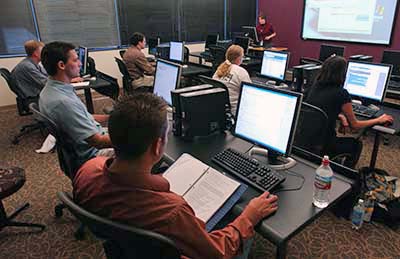 Free of Cost and Open to All
CTSC courses are open to all staff, faculty, and students from UNM / UNM Health Sciences facilities. We also accept learners from the local community.
Investigators
Build strong foundations in research by completing a CTSC research education program, attending skill-based training, and scheduling career development consultations with CTSC experts. Schedule a consultation with a CTSC training expert today.  Learn more about training resources to support investigators.
Research Staff
Expanding your skill set via training and certification can help prepare you for greater responsibilities and open the door to career advancement. Keep pace with regulatory developments, take a deeper exploration of specialized research topics, or refresh your skills with online and in-person learning opportunities. Browse the CTSC training schedule to find an upcoming research skills or compliance course that fits your needs.
Training Tools
Request Training Consultation
Request CTSC Services
CTSC Research Concierge

CTSC Administration Office
900 Camino de Salud NE
Albuquerque, NM 87131
Phone: 505-272-6042