Key Publications
Maphis, N., Peabody, J., Crossey, E., Jiang, S., Ahmad, F., Alvarez, M., Monsoor, S.K., Yaney, A., Yang, Y. Sillerud, L., Wilson, C., Selwyn, R., Brigman, J., Cannon, J., Peabody, D.S., Chackerian, B., and K. Bhaskar (2019). Qß Virus-like particle-based vaccine induces robust immunity and protects against tauopathy. npj Vaccines 4, Article number: 2. 03 June 2019
Fanni AM, Monge FA, Lin CY, Thapa A, Bhaskar K, Whitten DG, Chi EY (2019). High Selectivity and Sensitivity of Oligomeric p-Phenylene Ethynylenes for Detecting Fibrillar and Prefibrillar Amyloid Protein Aggregates. ACS Chem Neurosci. 2019 Mar 20;10(3):1813-1825.
Raz L, Bhaskar K, Weaver J, Marini S, Zhang Q, Thompson JF, Espinoza C, Iqbal S, Maphis NM, Weston L, Sillerud LO, Caprihan A, Pesko JC, Erhardt EB, Rosenberg GA (2019). Hypoxia promotes tau hyperphosphorylation with associated neuropathology in vascular dysfunction. Neurobiol Dis. 2019 Jun;126:124-136.
Bemiller SM, Maphis NM, Formica SV, Wilson GN, Miller CM, Xu G, Kokiko-Cochran ON, Kim KW, Jung S, Cannon JL, Crish SD, Cardona AE, Lamb BT, Bhaskar K. (2018).  Genetically enhancing the expression of chemokine domain of CX3CL1 fails to prevent tau pathology in mouse models of tauopathy. J Neuroinflammation . 2018 Sep 25;15(1):278.
Maphis, N, Jiang, S, Binder J, Wright, C, Gopalan, B, Lamb, BT and Bhaskar, K (2017). MECP2 is a novel regulator of tau pathology relevant to tauopathies. Frontiers in Molecular Neuroscience 2017 Mar 17;10:69.

Jiang, S and Bhaskar, K (2017). Dynamics of the Complement, Cytokine, and Chemokine Systems in the Regulation of Synaptic Function and Dysfunction Relevant to Alzheimer's Disease. Journal of Alzheimer's Disease 2017;57(4):1123-1135.  PMID: 28372329.
Kokiko-Cochran, ON, Saber, M, Puntambekar, S, Bemiller, SM, Katsumoto, A, Lee, YS, Bhaskar, K, Ransohoff, RM and Lamb, BT (2017). Traumatic brain injury in hTau model mice: Enhanced acute macrophage response and altered long-term recovery. J Neurotrauma Aug 31. doi: 10.1089/neu.2017.5203.
Maphis, N, Jiang, S, Xu, G, Kokiko-Cochran, ON, Roy, SM, Van Eldik, LJ, Watterson, DM, Lamb, BT and Bhaskar, K (2016). Selective suppression of a-isoform of p38 MAPK rescues late stage tau pathology. Alzheimer's Research & Therapy (15;8(1):54). PMID: 27974048. PMCID:PMC5157054.
Maphis, N, Xu, G, Kokiko-Cochran, ON, Cardona A, Ransohoff RM, Lamb BT and Bhaskar K (2015). Reactive microglia drives tau pathology and contributes to the spreading of pathological tau in the brain. Brain Jun;138(Pt 6):1738-55. doi: 10.1093/brain/awv081. PMID: 25833819. PMCID: PMC4542622.
Maphis, N, Xu, G, Kokiko-Cochran, ON, Cardona A, Ransohoff, RM, Lamb, BT and Bhaskar K (2015). Loss of tau rescues inflammation-mediated neurodegeneration. Frontiers in Neuroscience. Jun 3;9:196. doi: 10.3389/fnins.2015.00196. PMID: 26089772. PMCID: PMC4452825.
Raz, L*, Knoefel, J and Bhaskar, K (2015). The neuropathology and cerebrovascular mechanisms of dementia. J. Cerebral Blood Flow and Metabolism July 15: doi: 10.1038/jcbfm.2015.164.  PMID: 26174330. PMCID: PMC4758551. 
Komuro, Y, Xu, G, Bhaskar, K and Lamb, BT (2015). Human tau expression reduces adult neurogenesis in a mouse model of tauopathy.Neurobiology of AgingJun;36(6):2034-42. doi: 10.1016/j.neurobiolaging.2015.03.002. PMID: 25863528. PMCID: PMC4724414.
Kokiko-Cocharan, ON, Ransohoff, L, Veenstra, M, Lee, S, Saber, M, Sikora, S, Teknipp, R, Xu, G, Bemiller, S, Wilson, G, Crish, S,Bhaskar, K, Lee, Y-S, Ransohoff, RM, Lamb, BT (2015). Altered neuroinflammation and behavior following traumatic brain injury in a mouse model of Alzheimer's disease.J. NeurotraumaNov 23rddoi:10.1089/neu.2015.3970. PMID: 26414955.
Chauhan, S, Ahmed, Z, Bradfute, SB, Arko-Mensah, Jiang, S, J, Mandell, MA, Blanchet, F, Waller, A, Sklar, L, Timmins, GS, Maphis, N,Bhaskar, K,Piguet, V and Deretic, V (2015). Pharmaceutical screen identifies a novel target process for activation of autophagy with a broad translational potential.Nature CommunicationsOct 27;6:8620. PMID: 26503418. PMCID: PMC4624223.
Bhaskar, K., Maphis, N., Xu, G., Varvel, N.H., Kokiko-Cochran, O.N., Weick, J.P., Staugaitis, S.M., Cardona, A., Ransohoff, R.M., Herrup, K., and Lamb, B.T. (2014). Microglial derived tumor necrosis factor-alpha drives Alzheimer's disease-related neuronal cell cycle events.Neurobiology of disease62, 273-285.
Bhaskar K, Hobbs G.A, Yen S-H, Lee G (2010). Tyrosine 18 phosphorylation of tau accompanies disease progression in transgenic mouse models of tauopathy. Neuropathology & Applied Neurobiology 36(6):462-77.Bhaskar K, Magan Konerth, Olga N. Kokiko-Cochran, Astrid Cardona, Richard Ransohoff and Bruce Lamb (2010). Regulation of tau pathology by microglial fractalkine receptor.Neuron 68(1):19-31. Video Abstract. Press release by Science Daily and Eureka Alert from American Association of Advancement of Science (AAAS) 
Bhaskar K, Miller M, Chludzinski A, Zagorski M, Lamb BT (2009). The PI3K-Akt-mTOR pathway regulates beta-amyloid oligomer induced neuronal cell cycle events.  Molecular Neurodegeneration 4:14.
Varvel N, Bhaskar K, Kounnas MZ, Wagner SL, Yang Y, Lamb BT, Herrup K (2009). NSAIDs prevent, but do not reverse, neuronal cell cycle re-entry in Alzheimer's disease mouse models. J. Clinical Investigation 2009; 119(12):3692-702.
Bhaskar K*, Varvel N*, Patil AR, Pimplikar SW, Herrup K and Lamb BT (2008) Aβ oligomers induce neuronal cell cycle re-entry in Alzheimer's disease. J Neurosci. 28(43):10786-93. *Equal contribution.
Sharma VM, Litersky JM, Bhaskar K and Lee G (2007). Tau impacts on growth factor stimulated actin remodeling. J Cell Science 2007 Mar 1;120(Pt 5):748-57.
Bhaskar K, Yen S-H, Lee G (2005). Disease related modifications in tau affect the interaction between Fyn and tau. J. Biol. Chem . 2005; 280(42):35119-25.
Sharma VM, Shareef MM,Bhaskar K, Kalidas S, Shetty PA, Christopher R, Ramamohan Y, Pant H, Shetty TK (2005). Nuclear localization of Munc18-1 (p67) in the adult rat brain and PC12 cells.Neurochem Int.47(3):225-34.
Bhaskar K, Shareef MM, Sharma VM, Shetty AP, Ramamohan Y, Pant HC, Raju TR, Shetty KT (2004). Co-purification and localization of Munc18-1 (p67) and Cdk5 with neuronal cytoskeletal proteins. Neurochem Int. 44: 35-44.
Lee G, Thangavel R, Sharma VM, Litersky J, Bhaskar K, Fang S, Do L, Andreadis A, Van Hoesen G, Ksiezak-Reding H (2004). Phosphorylation of tau by fyn: implications for Alzheimer's disease.  J. Neurosci. 24: 2304-12.
Bhaskar K, Shetty AP, Shareef MM, Ramamohan Y, Shetty TK (2002). Dinitrophenol derivatization of proteolytic products and its application in the assay of protease(s) activity. J Neurosci Methods 120: 155-61.
Research
The role of immune system in Alzheimer's disease (AD): Microglia-specific neuroinflammation and the induction of tau pathology, neuronal cell cycle events and neurodegeneration
I. Regulation of Alzheimer's disease tau pathology by the microglia-specific neuroinflammation. Prominent filamentous inclusions of microtubule-associated protein tau (MAPT) and neurodegeneration are hallmarks of many neurodegenerative tauopathies including AD. Although the exact etiology of many of these tauopathies remains elusive, neuropathologically they are characterized by intracellular aggregates of hyperphosphorylated MAPT, neuroinflammation and cell death.
Increasing evidence suggests that neuroinflammation may directly contribute to the pathophysiology of neurodegenerative tauopathies. We have recently provided compelling evidence that neuroinflammation, cell-autonomous to microglia, accelerates MAPT phosphorylation, aggregation and behavioral impairment in a mouse model of tauopathy (hTau). Notably, the effects of microglial activation on MAPT pathology were enhanced when mice were deficient for the microglial-specific fractalkine receptor, CX3CR1.
We also demonstrated that interleukin-1 (IL1) released by reactive microglia induces MAPT phosphorylation in primary neurons via activating neuronal IL1 receptor (IL1R) and p38 mitogen activated protein kinase (p38 MAPK) pathway. We are currently investigating whether blocking IL1-p38 MAPK-MAPT pathway via pharmacological or genetic means would block MAPT pathology, neurodegeneration and improve cognitive function in various models of tauopathy.
II. Cell-autonomous effect of microglia on the induction of Alzheimer's disease neuronal cell cycle events. Massive neuronal loss is one of the prominent pathological hallmarks of AD. One of the ways post-mitotic neurons have been thought to die is via ectopic entry into cell cycle, which often occurs at very early stages of the disease.
We have previously demonstrated the occurrence of neuronal cell cycle events (CCEs) in a transgenic mouse model of AD (R1.40) similar to those occur in human AD. Furthermore, these events were dependent upon amyloidogenic processing of amyloid-precursor protein (APP), precede deposition of senile plaques and coincide with elevated neuroinflammation.
Recently, we have also demonstrated that Tool-Like Receptor-4 (TLR4) mediated induction of neuroinflammation accelerated neuronal CCEs, while blocking inflammation via NSAIDs completely blocked neuronal CCEs and reduced microglial activation. Our recent work suggests that neuroinflammation, cell autonomous to microglia, induces neuronal expression of Cyclin D1, replication of DNA, which co-insides with neurodegeneration.
We are currently exploring different mechanisms by which microglial neuroinflammation can trigger neuronal CCEs and how mitotically active neurons eventually die via utilizing various genetic models and imaging techniques.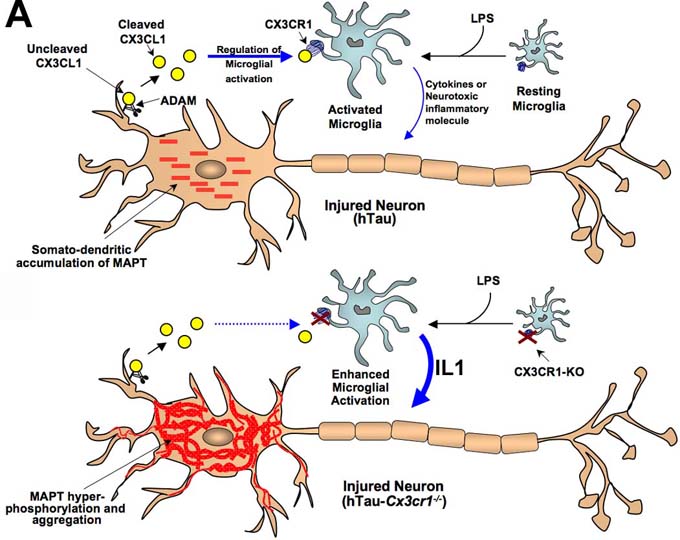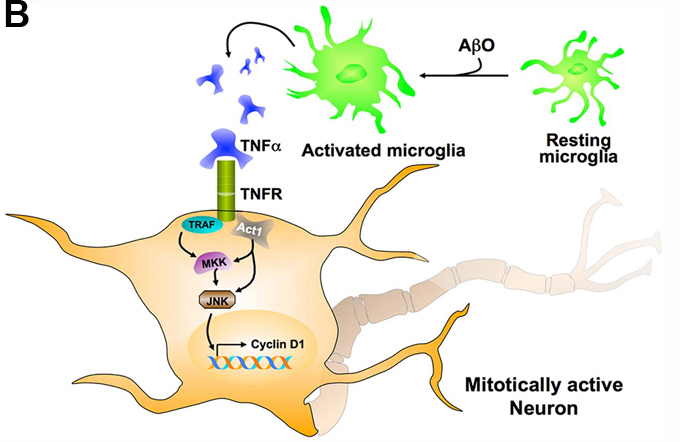 Current Lab Members
Ms. Nicole Maphis (HS Sr. Research Specialist) - Lab Manager
Dr. Shanya Jiang - Postdoctoral Fellow
Ms. Jessica Binder - BSGP Student
Ms. Lea Weston - BSGP Student
Lab Contact:
BMSB 352: 505-272-4206
BMSB 362: 505-272-5790