POLICY & SUSTAINABILITY
Letter from Congress to HHS
On September 26, the New Mexico delegation submitted a letter to HHS signed by a bipartisan group of 44 members of the House and Senate (HHS Letter from Congress on ECHO Model), asking HHS to explore ways to support the ECHO model within existing means of authority.
The letter makes two requests of HHS, both of which will support value-based care through new and emerging health-care delivery models:
Issue guidance to states on financing strategies currently available through existing Medicaid authorities that could be used to support technology-enabled collaborative learning and capacity building models like Project ECHO; and,

Explore opportunities available under existing Medicare authorities to do the same.
ECHO 2019 Act
On May 22, 2019, Senators Schatz (D-HI), Kaine (D-VA), and Murkowski (R-AK) introduced the ECHO 2019 Act which builds on the findings of the ECHO Act Report. It provides grants and technical assistance to develop and evaluate technology-enabled collaborative learning and capacity building models—like the ECHO model—across the U.S. The grants will be used for: necessary equipment; support for health care providers that provide or assist in the provision of services under the model; curriculum development; information collection and evaluation; and, other activities deemed appropriate by the Secretary of HHS.
The ECHO Act
In December 2016, The ECHO Act (Pub. L. 114-270) passed with strong bipartisan support. The Act requests that the Secretary of Health and Human Services examine the ECHO model in the United States and identify methods for reducing barriers to further adoption. Key geographies of interest include medically underserved and rural areas, where access to care is a challenge. Topical areas of interest include: mental and substance use disorders (SUDs), chronic diseases and conditions, prenatal and maternal health, pediatric care, pain management, and palliative care.
The ECHO Act Report
On Friday, March 1st, the HHS Assistant Secretary for Planning and Evaluation (ASPE) released the ECHO Act report. The report recognizes the broad interest in, and rapid adoption of, technology-enabled collaborative learning and capacity building models like Project ECHO across the U.S., and it calls for increased research to build the evidence base. It also documents nine specific case studies and includes an inventory of projects supported by HHS and other U.S. funders.
Project ECHO: Review and Research Agenda
Both the Echo Act Report and a recent analysis funded by the Robert Wood Johnson Foundation, which also reviews the evidence for ECHO, provide important guidance to the movement on strengthening the research base as we continue to spread the model.
Project ECHO: Policy Pathways to Sustainability
The Center for Health Care Strategies, Inc. (CHCS) convened an expert panel to discuss policy and funding avenues for the sustainability of the ECHO movement in the United States. Access the report summarizing this discussion.
SUPPORT for Patients and Communities Act
Section 7121 of the SUPPORT for Patients and Communities Act (HR.6/S.2004) includes language allowing the U.S. Department of Health and Human Services to give preference to groups using technology enabled collaborative learning model—like Project ECHO—when awarding grants to comprehensive opioid recovery centers.
Project ECHO Endorsements
On June 27, 2019, the Epilepsy Foundation applauded the American Medical Association's (AMA) decision to encourage the greater use of telemedicine programs—such as Project ECHO. The AMA made its decision after the Epilepsy Foundation completed two pilot ECHO programs to address the gaps in epilepsy education and care.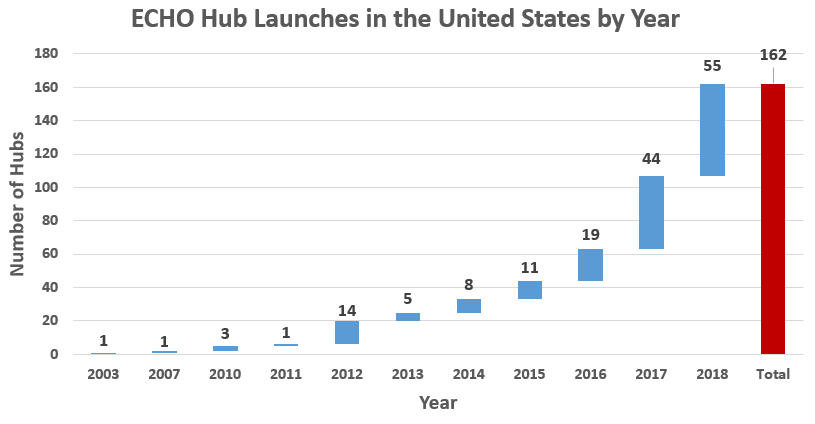 Reach of TeleECHO Programs in the United States
Reach is one indicator of broad impact. It captures whether a program like ECHO is operating in target areas and can be measured by geographic scope of programs.
In the United States, Federally Qualified Health Centers (FQHCs) receive federal funding to provide primary care to rural and underserved communities. Whether teleECHO programs have spoke participants from FQHCs is one indicator of reach into target communities or populations.
The ECHO Act identifies several areas of particular interest in the United States. From our data systems, we know the vast majority of FQHC participants joined programs focused on chronic diseases & conditions, infectious disease, mental health, substance use disorders (SUDs), and pain management – mirroring the priority categories in the ECHO Act. Two of the most prominent are areas are mental health and SUDs/pain management (which overlap considerably).
Map 1 displays all counties with at least one participating ECHO spoke site.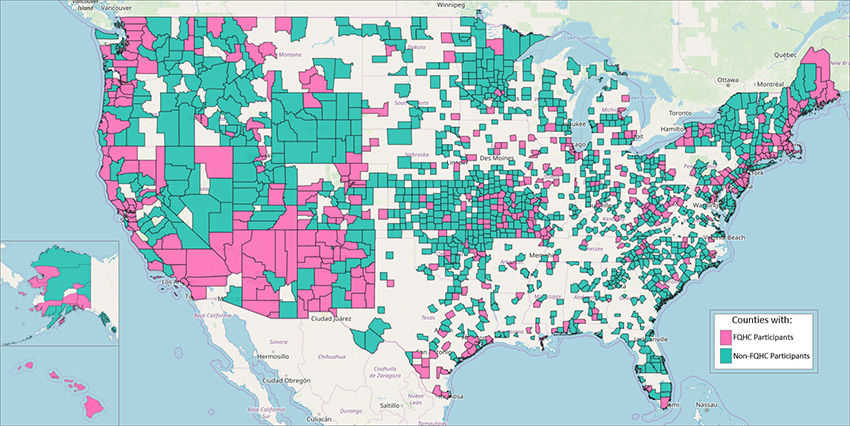 Map 1 demonstrates that even with underreported data, Project ECHO's reach is nationwide in rural and underserved areas. Participants from FQHCs nationwide (counties in pink) participate in teleECHO programs hosted by hubs across the country. With new hubs beginning to replicate the model each month, Project ECHO's reach continues to expand.
Map 2 displays all counties with at least one participating ECHO spoke site in a mental health-focused teleECHO program.
Map 3 displays all counties with at least one participating ECHO spoke site in SUD or chronic pain focused teleECHO programs.
Maps 2 and 3 demonstrate that spoke participants, whether from FQHCs or other health centers, are participating in mental health and SUD. and pain management teleECHO programs nationwide.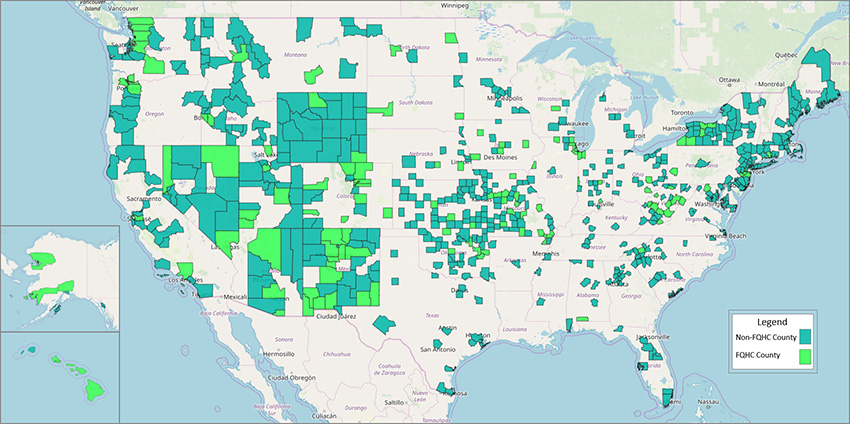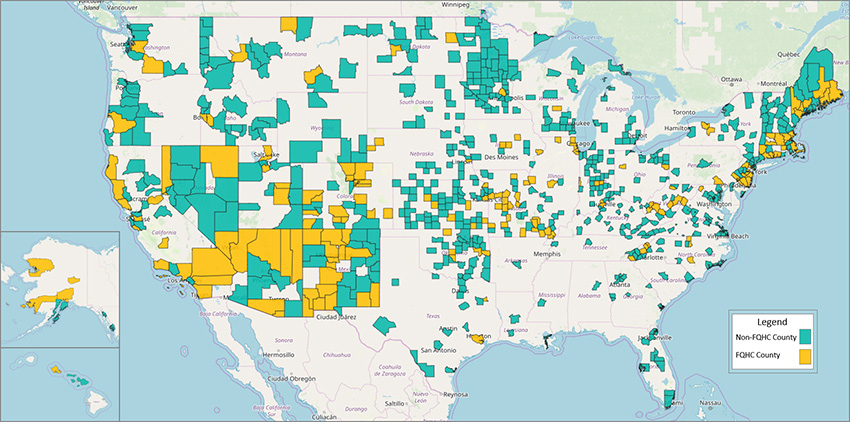 We anticipate continued growth in both of these topical areas. Many teleECHO programs not explicitly focused on mental or behavioral health feature these professionals on their expert hub teams. Recent legislation also encourages the use of telehealth models like ECHO for expanding national capacity for preventing and treating SUDs, especially in the opioid space.
HUBS
Report on the 2017 Survey of Launched Hubs
In summer 2017, ECHO Institute surveyed currently operating hubs in the United States.
Topics addressed include:
TeleECHO Programs

Hub Experts and Staffers

Continuing Education Credit

Evaluation/Research

Funding sources, challenges, and opportunities
EVALUATION, RESEARCH
Peer-Reviewed Publications
The body of peer-reviewed literature demonstrates a strong impacts on providers, patients, and larger populations and health systems.

ECHO Institute maintains a collection of peer-reviewed publications related to Project ECHO. A bibliography is maintained here. We recommend reaching out to corresponding authors with specific questions about their methods or instruments.

Additional questions about evaluating ECHO or the evidence of ECHO's impact should be directed to ECHOResearch@salud.unm.edu
iECHO
Project ECHO's proprietary tracking system, called iECHO, is utilized by hubs around the world to record and manage their program sessions, attendance, and aspects of participation (e.g. which participants presented cases, who presented lectures, etc.). It began operating in 2006. We only have data on spokes from hubs that contribute to the iECHO system. Therefore, we know the growth and reach of Project ECHO in the United States is greater than what we are able to demonstrate here.
For this analysis, we matched participant organization and address information tracked in iECHO with a listing of known FQHCs. Associations were only made where there was high-confidence in the matches, making it likely the FQHC numbers here are underestimates. This process occurs once per annum, typically in the summer – figures above were last updated August 1, 2018.
If you have any questions about this page, contact ECHOResearch@salud.unm.edu.