Diabetes and Endocrinology
Project ECHO and The Leona M. and Harry B. Helmsley Charitable Trust
Partnering to Increase Access to Diabetes and Other Endocrinology Care
In June 2014, the Helmsley Charitable Trust awarded $6.4 million to the University of New Mexico Health Sciences Center's (UNMHSC) Project ECHO to pilot a four-year program that could serve as a national model for providing best-practice, specialized care for the more than 25 million Americans living with diabetes and others suffering from hormonal disorders.
The Endocrinology TeleECHO Clinic (Endo ECHO) addresses the widespread need for greater access to complex diabetes care and specialized endocrinology treatment, especially among publicly-insured and uninsured patients. While the ECHO model had been adapted for a range of diseases, Endo ECHO marks the first effort to develop a program that focuses entirely on endocrinologic disorders like diabetes.
Through a separate award to New York University's Robert F. Wagner Graduate School of Public Service, Helmsley is supporting health policy analysts to conduct an evaluation of Endo ECHO, assessing the pilot the program's impact on patient outcomes, utilization of services, and health-related expenditures in New Mexico.
To lay the groundwork for effective nationwide scaling, the grant also supports the Center for Health Care Strategies to develop a multi-state learning collaborative for Medicaid agencies interested in implementing the model in other states.
Need Addressed
In 2014, only five of the thirty-three counties in New Mexico were served by an endocrinologist. According to the New Mexico Department of Health, there were over 200,000 adults and children in New Mexico already diagnosed with diabetes – which is roughly 10% of the population. The epidemic is only expected to worsen as the Centers for Disease Control and Prevention estimates that 33% of the population will have diabetes by 2050.
The majority of patients with diabetes have their care managed at primary care facilities in their local communities, but few primary care clinicians are prepared to deal with the complexities and high-stakes potential complications of endocrinologic disorders such as type 1 diabetes (T1D).
Optimal management requires timely consultation with highly-trained specialists from multiple areas including endocrinology, behavioral health, and pharmacy, along with assistance from certified diabetes educators (CDEs), community health workers (CHWs), and others.
Access to this kind of coordinated specialty care is unavailable in rural areas; and even in large urban communities, it is often impossible to receive coordinated and synchronous multidisciplinary consultation. Clinicians are obliged to send their endocrine patients to an academic medical center such as UNMHSC where wait times for new referrals to the endocrinology clinic are more than twelve months.
Solution Implemented
Endo ECHO is using the ECHO model to train and support 10 primary care clinicians throughout rural and underserved areas of New Mexico.  Because of the complexity of many diabetes patients' psychosocial needs, clinicians are joined by ECHO-trained CHWs who together make up an Endocrinology Center of Excellence (COE) team.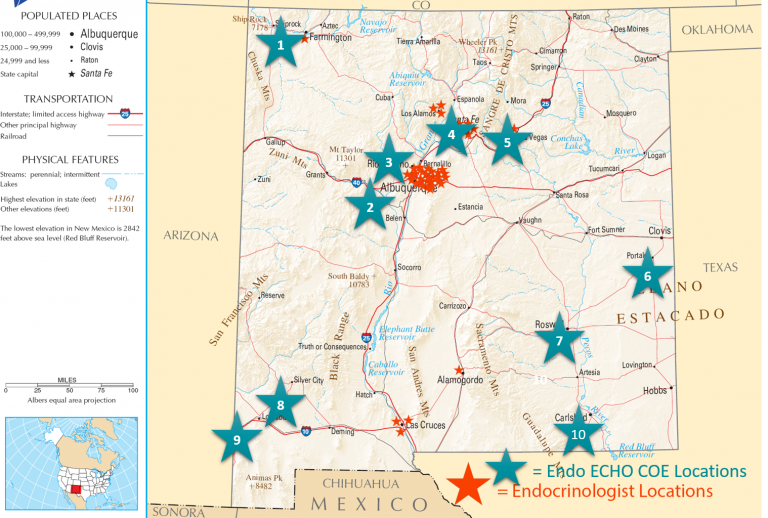 The case-based learning and didactics presented in Endo ECHO telementoring sessions, and separate CHW-focused tele-mentoring sessions, allow the COE teams to become experts in the care and management of patients with complex diabetes. COE teams receive referrals from clinicians in their own clinics and local communities, thereby building the workforce capacity for diabetes care in underserved areas.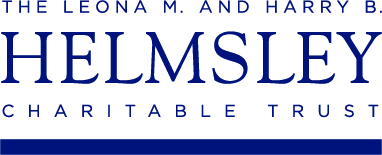 The Leona M. and Harry B. Helmsley Charitable Trust aspires to improve lives by supporting effective organizations in health, place-based initiatives, and education and human services. Since beginning its active grantmaking in 2008, Helmsley has committed more than $1.5 billion for a wide range of charitable purposes.
If you are interested in launching an ECHO for endocrinology, please contact the Replication Team.