Goals and Programs
In response to the way that COVID-19 has disrupted educational space, the goals of New Mexico ECHO for Education are as follows:
Identify and share tools for online and virtual education with a broad group of New Mexicans who are involved and interested in education.
Address geographic access and technological disparity with the ECHO model of democratizing information and its vision of All Teach-All Learn.
Identify the needs of teachers, administrators, and other stakeholders in education.
Share new and existing practices and strategies to help meet those needs.
Create a shared resource library for participants.
In order to meet these goals, two programs have been created.
ECHO for Supporting and Inspiring Teachers
Designed to increase student engagement, this teleECHO program explores effective, ready-to-use, and versatile tools and strategies for K-12 teachers, professional support staff, and school administrators for today's virtual and hybrid classrooms. 
Learn more about ECHO for Supporting and Inspiring Teachers
ECHO for Social Emotional Learning
Centered on relationships and building on existing strengths of the school communities, this teleECHO seeks to illuminate the path forward for K-12 teachers in virtual and hybrid classrooms.
Intended Audience

Both programs are intended to benefit any and all of the following:
Elementary and Secondary Teachers
Special Education Teachers
School Counselors
Student-Support Staff
School Nurses
School-Based Health Centers
District and School Instructional Leaders
Administrators
Behavioral Health Service Providers
Social Workers
Librarians
ECHO for Community Schools Program
The ECHO for Community Schools Program is a collaboration between the ECHO Institute, and the New Mexico Public Education Department. We are creating a virtual community of practice for those community school principals, teachers, coordinators and members involved in the New Mexico community schools movement. The aim of the project is to develop participant's skills and expertise in supporting all aspects of excellent community schools, especially during distance and disrupted learning. The program includes targeted professional development for those issues central to successful community schools, as well as collaborative problem solving and community for those engaged in the work of community schools.
American Indian Professional Educators' Collaborative ECHO (AIPEC)
The American Indian Professional Educators' Collaborative ECHO is a joint project with AIPEC housed in the University of New Mexico College of Education. Our aim is to provide professional learning and support for American Indian teachers and educational administrators who are affiliated with NM Pueblos and Tribes or members of other Tribal Nations through the ECHO model.  The ECHO model of 'all teach and all learn' is uniquely suited to supporting these new educators through a virtual community of practice. This regular, accessible, virtual community of practice supports these new educational professionals in collaborative problem solving and practice, especially during the disruption to learning caused by COVID-19.
COVID-19 Response: Attendance Rates
This map shows the attendance rates from April 7 to May 13, 2020.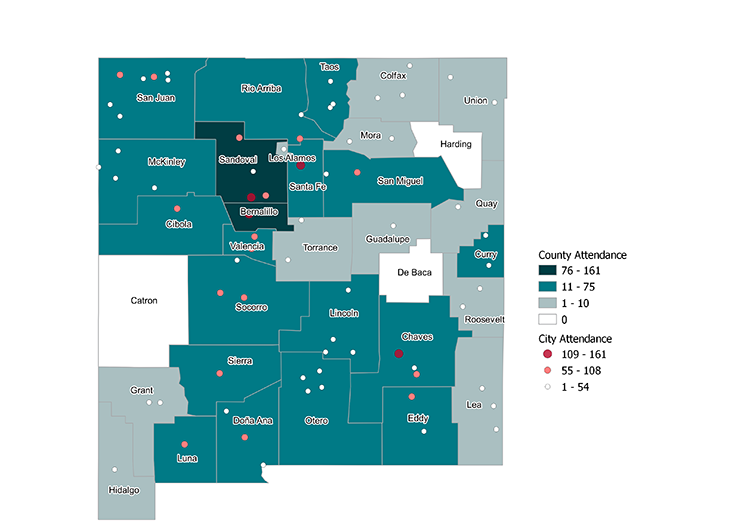 Program Team Bios & Contact Information