Why Participate
COVID-19 is a challenging disease that effects both residents and staff of all nursing homes. Participating in the AHRQ ECHO National Nursing Home COVID-19 Action Network provides nursing homes with practical, useful information, skills, and resources. It also connects them with both specialists and their peers to ask and answer immediate challenges.
The Network has been listed by the Centers for Medicare and Medicaid (CMS) as a training resource for nursing homes in the fight against COVID-19.
Participating in the Network is free and voluntary.
By improving your COVID-19 safety practices, participating nursing homes not only will protect their residents and staff, they may increase the chances of receiving value-based payments this fall.
Recognizing that taking time away from caring for residents to participate in training is an expense for nursing homes, those that actively participate in the 16-week training and mentoring program will receive $6,000 in compensation*.
*Only the nursing homes that were eligible to receive funding from the Provider Relief Fund (PRF) and who agree to the terms and conditions of the PRF are eligible to receive compensation for participation in this program.
Join Us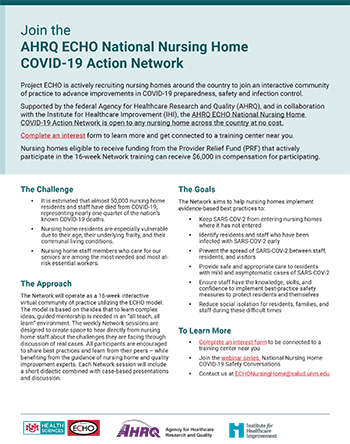 Nursing homes are invited to participate in the Network: a 16-week training and mentorship program facilitated by a local training center. Along with 33-35 other nursing homes, you will be trained through a standardized curriculum developed by the Institute for Healthcare Improvement (IHI) as a foundation.
To ensure the training is easily accessible for busy nursing home professionals and to reduce the risk of spreading SARS-COV-2 infection, training and mentorship will be provided virtually.
Sessions may include topics such as:
Personal Protective Equipment Best Practices for COVID-19 
Making the Environment Safe during COVID-19 through infection control practices
Minimizing the Spread of COVID-19 
COVID-19 Testing
Clinical Management of Asymptomatic and Mild Cases of COVID-19 
Managing Social Isolation during COVID-19
Each training program, however, will evolve to meet the needs of the local nursing home community and the curriculum will be updated weekly to reflect new evidence, innovations in best practices, and changes in the pandemic.
In between weekly training sessions, training centers will build a virtual community of practice among nursing homes to foster peer-to-peer learning and provide additional mentorship. Training centers will also provide rapid-response mentorship for any nursing home that experiences a sudden increase in COVID-19.
What You Can Expect
The training program will use the evidence-based process pioneered by Project ECHO referred to as the ECHO Model, which is:
is an interactive, case-based approach to learning,
includes weekly training sessions are facilitated by small multidisciplinary teams of subject-matter and quality-improvement experts,
combine short lectures that provide immediately usable best practices with case-based group learning, and
creates a robust community of practice that fosters both peer-to-peer learning and expert consultation.
The Network and training centers will provide participating nursing homes with access to national and local experts in:
infection control,
patient safety,
quality improvement, and
nursing home operations. 
The Library of Resources
A library of resources will be made available to participating nursing homes. The library will help with implementaion of COVID-19 safety practices and includes resources such as "how to" guides on helping nursing home residents with mobility impairments wear masks, among other topics. All materials will be translated into Spanish and other languages.