Support Project ECHO
Project ECHO is a revolution in education and care delivery. Around the world, people are not getting the care they need, when they need it, for complex but treatable conditions. Through telementoring, ECHO builds capacity and creates access to high-quality specialty care, serving local communities everywhere. ECHO is changing the world, fast! It is operating in more than 37 countries, with over 320 partners, and tackling more than 100 key problems affecting lives and livelihoods.
The ECHO Institute, based at the University of New Mexico's Health Science Center, leads this movement. If you would like to support our work, you can make a contribution through the University of New Mexico Foundation.
To learn more about Project ECHO's impact, read two of our stories below or visit ECHO's Impact.
Kaycee May
"Before Endo ECHO, I felt like I had a gigantic burden."
– Kaycee May, Patient
Twenty-year-old Kaycee May of Portales, New Mexico, is still new to type 1 diabetes (T1D). She currently works at a day care center while pursuing a college degree in early childhood education. Despite having so much on her plate, Kaycee says she's optimistic about her future. But, she adds, she probably wouldn't be where she is without the support of Endo ECHO which has helped her address not only diabetes but other life challenges.
"I probably would not have graduated from high school without Endo ECHO," Kaycee says. "I probably would have stopped taking care of myself and just thrown my hands in the air."
"Before Endo ECHO, I felt like I had a gigantic burden," Kaycee says. "I had to take a whole day off from work and school because my appointments usually were in the middle of the day. I lost the money I could have been making from work and I lost time from school."
Endo ECHO made everything "feel more manageable." Now, says Kaycee, her diabetes doesn't control her life. "I've kind of accepted it as part of my life, but it's not running my life. It's like another job." Kaycee has recommended Endo ECHO to other young people living with T1D – young people, who, just like her, were traveling to Lubbock for their care. For Kaycee May, those days are over.
Jack Allen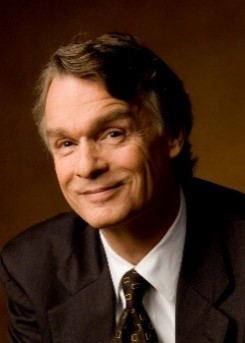 "Project ECHO is the most significant project I have ever been involved with in my life – it's saving millions of lives and ultimately billions of dollars in medical costs!"
– Jack Allen, Donor and Founding Member of Friends of ECHO.
Jack Allen is the founding member of Friends of ECHO. Passionate about the work of the ECHO Institute since he first heard about it from his friend and colleague, Dr. Ichak Adizes, Jack set out to start ECHO's first $1M campaign.
He could have given an individual gift and left it there, but instead he gathered friends around his dinner table, invited Dr. Arora and others from the ECHO Institute, and launched the Friends of ECHO. Jack told his friends "I'm going to pledge $100,000 over four years and I'm asking you to do the same." Jack is half-way to the goal with many people close to committing their gifts to meet the mark. The ECHO Institute celebrates Jack and his work!
Hear Jack speak on his passion for ECHO at the MetaECHO 2019 Conference.