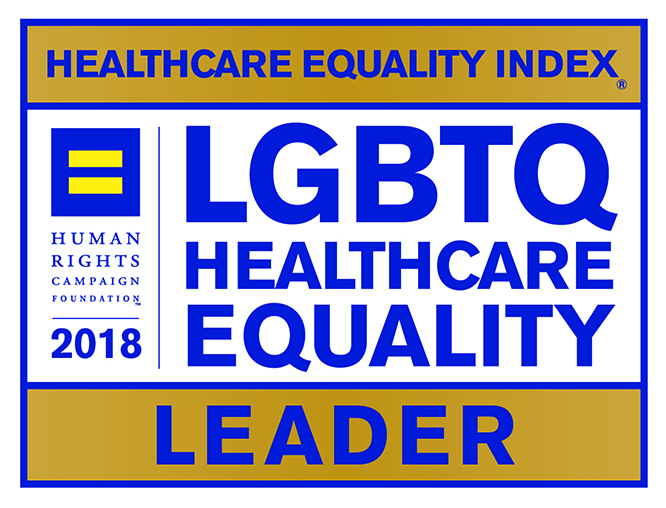 The UNM Health System LGBT (lesbian, gay, bisexual and transgender) Collaborative is an employee resource group formed in 2011 under the Office of
Diversity, Equity and Inclusion
(DEI).It is open to the entire UNM Health System and includes community partner representation from the UNM LGBTQ Resource Center and the Transgender Resource Center of New Mexico.
The LGBT Collaborative supports our mission to focus on the health and well-being of the diverse communities we serve and works on initiatives that create an environment that supports LGBT employees, patients, families, friends and allies.  As part of this effort, the Collaborative participates in various LGBT-centered activities and events throughout the year.
A Healthcare Equality Index Leader
You can trust that you or your loved ones in the LGBT community will feel safe and respected at The University of New Mexico Hospitals (UNMH). The Human Rights Campaign recognized us every year from 2013 to 2016 as a Healthcare Equality Index leader, which means:
UNMH's patient bill of rights states that you have the right to the care you need regardless of gender identity or sexual orientation. (UNM Sandoval Regional Medical Center's patient bill of rights states this as well).
UNMH's visitor guide prohibits visitor restrictions based on sexual orientation or gender identity. (UNM SRMC, as noted in visitor guidelines, supports your right as a patient to define family for yourself and to welcome loved ones 24/7 as your "partners in care.")
Our employment nondiscrimination policy includes the terms "sexual orientation" and "gender identity."
Key staffers receive Healthcare Equality Index-approved training in LGBT patient-centered care.
UNM Hospitals is the only hospital in New Mexico to have achieved recognition from the Human Rights Campaign Healthcare Equality Index on a continuous basis. We have achieved recognition, annually, since 2013. The 2018-2019 year marks our sixth year participating with the Human Rights Campaign. More importantly, our work with the HRC underscores our organization's commitment to serving the needs of our LGBT community. The 'Leader' designation means that we have met the HRC's four core objectives, which are :
Foundational protection for patients, visitors and staff in patient and staff policies and provide cultural competency training on LGBTQ inclusion
Demonstrate progress toward inclusion on LGBTQ patient care and support
Cultivate an inclusive workforce by providing LGBTQ-inclusive employee support and benefits
Demonstrate public commitment to the LGBTQ community
LGBT Patient-Centered Care Training and Education
THE DEI office partners with the UNM LGBTQ Resource Center and New Mexico Transgender Resource Center of New Mexico to provide education and training on LGBT patient-centered care. Providers, healthcare team members and staff learn how to care for LGBT patients with a culturally humble approach through the class "Caring for the LGBT Community."  Staffers also discuss terminology and history and hear the stories of LGBT individuals and allies through an LGBT panel during the course.
Safe Zone Awareness
UNM Hospitals partners with the UNM LGBTQ Resource Center to conduct "Safe Zone" Training several times per year. This four-hour training course educates staff and clinician faculty on how to be an ally and address negative emotions.
Individuals who complete this training can mark their offices or work spaces with a "Safe Zone" sticker, showing patients that these locations are safe spaces for them. Doing so also provides a greater sense of safety and support among LGBTQ individuals in the hospital.