Patient Portal
Securely access your medical information online at any time through MyHealthUNM and our patient portal.
For exceptional care of your brain and spine, visit UNM Health System's Clinical Neurosciences Center – the only complete neurology, neurosurgery and pain management center in the Southwest. You gain access to the broadest range of neurological services in New Mexico, including experimental treatments not widely available. Ask your doctor to refer you to our center for personalized care from many types of neurological specialists, all under one roof.
Neurology
You and your family members of all ages benefit from our board-certified neurologists' care for many conditions.
Alzheimer's Disease
Get a diagnosis and care at the Memory & Aging Center, home to New Mexico's top experts in dementia.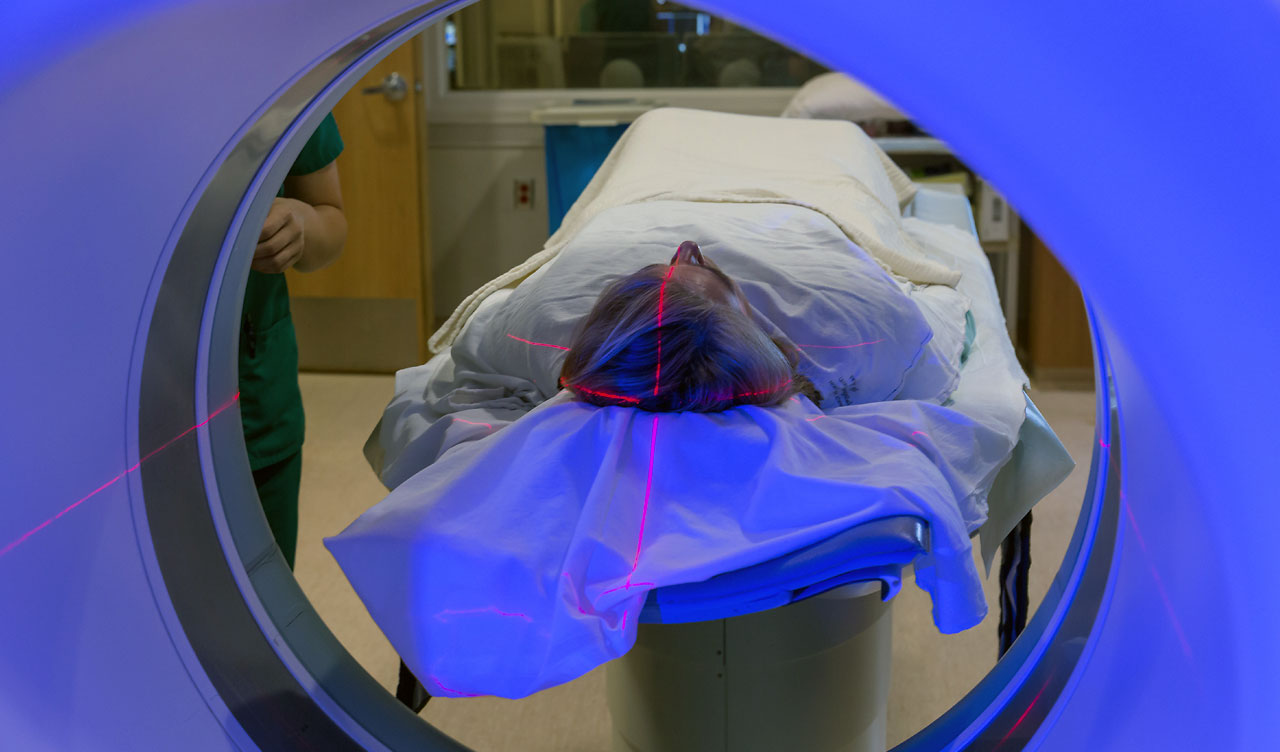 Amyotrophic Lateral Sclerosis (ALS)/Lou Gehrig's Disease
Amyotrophic lateral sclerosis, or ALS, is a disease of brain and spine nerve cells that let you control muscle movement. ALS is also known as Lou Gehrig's disease. Symptoms include muscle spasms, stiffness and weakness. They result in difficulty speaking, swallowing and breathing.
Chronic Pain
Visit the Pain Consultation and Treatment Center for the widest range of pain management services in the Southwest.
Electromyography (EMG) & Nerve Conduction Studies (NCS)
An electromyogram (EMG) measures the electrical activity of muscles at rest and during contraction. Nerve conduction studies (NCS) measure how well and fast the nerves send electrical signals that control muscles. Nerve problems cause the muscles to react in unusual ways.
Epilepsy
Find the state's most advanced testing and treatment for seizures at the UNM Comprehensive Epilepsy Center, the only facility of its kind in New Mexico.
Headaches
Ask us for guidance relieving headaches and migraines that keep coming back, especially if other doctors and treatments haven't helped.
Huntington's Disease
Huntington's disease is a neurodegenerative genetic disorder that affects muscle coordination and thinking, memory and behavior. Call our Huntington's Disease Clinic at 505-272-3160 to ask for help from specialists such as:
Neurologists
Psychiatrists
Physical, occupational and speech therapists
Social worker
Memory Disorders
If your loved one has Alzheimer's Disease or another form of dementia, ask for an appointment at our Memory and Aging Center. It's home to New Mexico's top experts in memory care, and they provide complete services that can enhance quality of life.
Movement Disorders
Trust UNM Health System to diagnose and treat movement disorders, such as Parkinson's disease, essential tremor, dystonia, tics and ataxia. You'll benefit from a wide range of experts, including:
Neurologists who specialize in movement disorders
Physical therapists
Psychiatrists
Sleep specialists
Speech therapists
Multiple Sclerosis
Ease your symptoms with rehabilitation, medication, pain management and other services at the only multiple sclerosis clinic in New Mexico.
Muscular Dystrophy
Muscular dystrophy is a genetic condition that causes muscle weakness and muscle loss. You may be able to do daily tasks more easily with treatment from UNM Health System.
Neuromuscular Disorders
Ask us to care for neuromuscular disorders such as:
Carpal tunnel syndrome
Myasthenia gravis
Neuropathy
Radiculopathy
Pediatric Neurology
Find specialized pediatric neurological care for your children at UNM Health System – home to New Mexico's only pediatric neurosurgeons.
Peripheral Neuropathy
Peripheral neuropathy is damage to the peripheral nervous system, which sends information from the brain and spinal cord (the central nervous system) to every other part of the body.
Sleep Disorders
Sleep disorders include:
Trouble falling asleep or staying asleep
Falling asleep at the wrong times
Sleeping too much
Doing strange things during sleep
Rest easier with UNM Health System's program in sleep medicine. Skilled staff care for adults and children at an outpatient sleep laboratory, an inpatient sleep laboratory and a sleep medicine clinic.
Stroke
Expect the best treatment at the state's only Primary Stroke Center, a regional referral center. At the home of New Mexico's most sophisticated Stroke and Cerebrovascular Outpatient Program, you get timely and specialized care.
Neurosurgery
Count on UNM Health for the full spectrum of brain and spine surgeries, including minimally invasive procedures that help you achieve the best outcome with less pain and a quicker recovery. After neurosurgery, recover in New Mexico's only neurosciences intensive care unit, a specialized 24-bed facility dedicated to monitoring and caring for people like you.