An estimated 43,000 New Mexicans suffer from Alzheimer's disease or other forms of dementia. The Memory and Aging Center was created in 2016 under the direction of Gary Rosenberg, MD, to specifically help patients with various types of neurologic conditions that affect cognition and behavior, with an emphasis on disorders that affect older individuals. We are the only center devoted to Alzheimer's and dementia research and treatment in New Mexico or the Mountain West region.
Symptoms That May Indicate Dementia
Forgetting faces, family members' names or recent events and conversations
Asking the same questions over and over
Getting lost in familiar places
Pausing frequently to search for words while speaking
Performing familiar tasks with difficulty
Acting oddly or inappropriately
Neurological Expertise
Our core physicians are board certified neurologists who are fellowship-trained subspecialists in Geriatric Neurology and Behavioral Neurology/Neuropsychiatry with wide-ranging expertise, including specialized training in the areas of:
Behavioral neurology, which focuses on how a brain disorder affects a person's actions
Geriatrics, the care of senior citizens
Vascular neurology, which focuses on strokes and other conditions affecting blood vessels supplying the brain
Our Team
John Adair, MD
Janice E. Knoefel, MD
Gary Rosenberg, MD
Elaine Stack, RN, MSN, ANP-BC, ACNP-BC
Comprehensive Care
The initial comprehensive clinic visit includes a thorough review of the patient's history, previous testing and treatment, a neurological physical examination and cognitive assessment. The initial visit takes 1-2 hours. The purpose of the initial visit is to clarify the diagnosis, determine whether further tests or studies are needed and to consider what optimal therapies might be useful to improve patient symptoms and caregiver life quality.
We strongly advise patients come to clinic with someone who knows them well, such as a spouse, partner or adult child. We recommend bringing all of the patient's medications for review. If the patient has already had relevant tests or studies (brain CT/MRI scans, blood tests, and neuropsychological evaluation) done outside the UNM or VA systems, please bring a copy of the tests or studies. This will expedite forming a complete diagnostic opinion at the initial visit and avoid potential unnecessary repeat studies.
Coming To See Us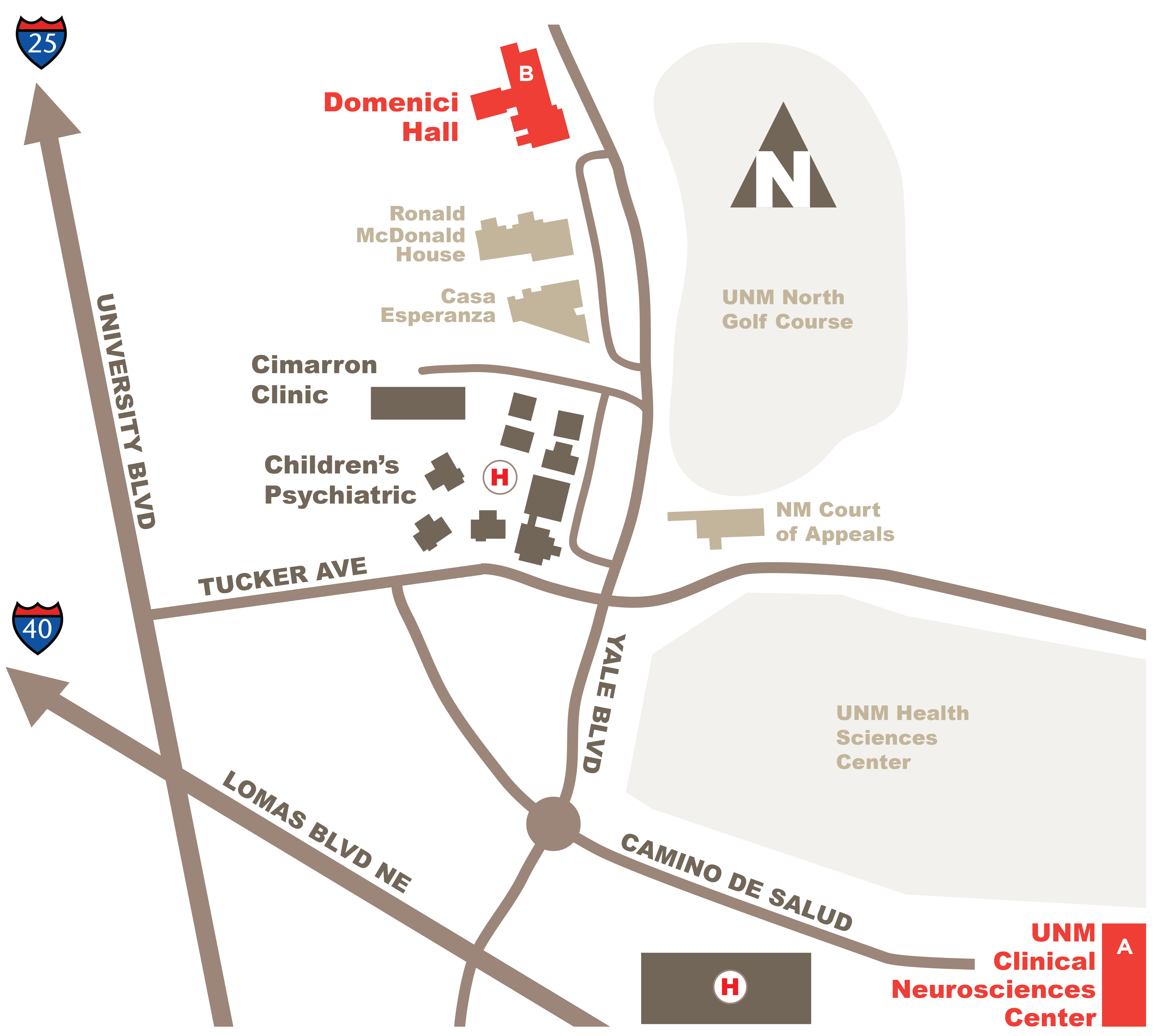 In order to serve the many patients requiring specialty care, the Memory and Aging Center has developed some guidelines to maintain efficiency in providing care.
We request that you are established with a Primary Care Provider to manage your general healthcare. Many general medical conditions impact brain health, such as hypertension and diabetes. Our clinic depends on primary care physicians to monitor and manage these problems.
UNMH accepts most PPO/HMO/POS plans. Please call your insurance carrier to verify benefits and coverage at University of New Mexico.
If your insurance plan requires it, you need to obtain a referral [PDF] from your Primary Care Physician in order to avoid personal charges for your visit to this clinic. Referrals may be faxed from your PCP to us at 505-272-9427.
The Clinic will schedule new patient visits upon referral from your primary care or general neurology physician. Contact with the referring doctor's office may be needed to obtain results of laboratory tests, images of the brain and current medications.
A follow-up appointment is recommended once or twice a year to monitor progress, assess effectiveness of treatments and manage new problems if they develop.
If you have them, be sure to bring any MRI/CT scans on compact disk, lab results, and pertinent medical records to your appointment.
If you need to contact the Memory and Aging Clinic regarding any clinical issue (such as appointments, medication changes or clinical questions) please call 505-272-3160.
Research & Clinical Trials
Another mission of the Memory and Aging Center is to contribute to the research and development of new methods to diagnose, treat, and prevent cognitive disorders. Patients may be asked about their interest in participating in research studies. In addition, many studies require participation by similarly aged individuals without any memory or cognitive disorder to act as a comparison group for patients. Spouses or partners of a patient may also be asked about their interest in participating in research.
Participation in any research program is voluntary - declining to participate has no influence on any services provided by the Memory and Aging Center. Ask your neurologist for information about any research that may apply to your family's specific situation or call 505-272-5631 or 505-272-3735 for more information.