Stroke Support Group
Connect with other stroke survivors and their families to learn more about stroke, share your experiences and become inspired to move forward.
Where: UNM Hospital, Fifth Floor [PDF]
Neurology SAC Unit Conference Room
When: First and third Wednesdays, 4-5 p.m.
Contact: Terry Holmes, 505-272-6105
When you or a loved one experiences a stroke, count on UNM Health for a timely diagnosis and advanced treatment that improves recovery. As the only Primary Stroke Center in the state, University of New Mexico Hospital (UNMH) is a regional referral center for comprehensive, advanced care. As the home of the state's most sophisticated Stroke & Cerebrovascular Outpatient Program, you will get timely and specialized care in our clinics.
Conditions Treated
Transient ischemic attack & ischemic stroke
Intracranial hemorrhage & hemorrhagic stroke
Arteriovenous malformations
Dedicated cerebral cavernous malformation (CCM) clinic
Moyamoya disease
Fibromuscular dysplasia
Arterial dissections
Neurovascular genetics
Amyloid angiopathy
Carotid stenosis and other carotid pathology
Cerebrovascular insufficiency
Cerebral venous sinus thrombosis
Reversible cerebral vasoconstriction syndrome
Posterior reversible encephalopathy syndrome
Post-stroke seizure and epilepsy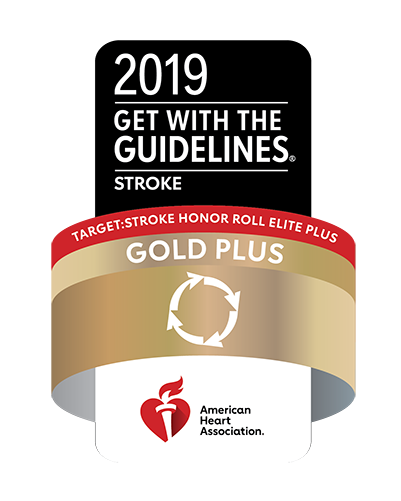 Our specialized stroke and cerebrovascular clinic focuses on:
Post-stroke spasticity clinics with medical management and/or Botox procedures
CCM clinic
Central nervous system vasculitis
Stroke risk assessment clinic (special pre-authorization required)
Certified Stroke Care
We have expertise in a number of complex diseases and conditions including:
Trust UNMH for individualized, evidence-based care that helps you achieve the best possible outcome after any type of stroke. Our national recognitions include:
Advanced Primary Care Stroke Center certification by The Joint Commission, the nation's leading health care accreditation agency
Get with the Guidelines® Stroke Gold Plus Quality Achievement Award (2017) by the American Heart Association/American Stroke Association for consistently and safely providing the right treatment at the right time

2018 Complication rates for diagnostic cerebral angiogram outperform the national benchmark
2018 Complication rates for carotid stenting and carotid endarterectomy are better than the national benchmark
Stroke Recovery
After a stroke, take advantage of UNM Health's stroke rehabilitation services. Your treatment will likely begin before you leave the hospital and may continue at another facility, depending on your needs. Therapy helps you regain as much function as possible after stroke.
Recovery may include making lifestyle changes and managing your risk factors to help prevent future strokes.
Stroke and Cerebrovascular Care Team
UNM Health's neuroscience and stroke specialists work together to provide comprehensive care. You'll appreciate a team that makes sure you and your family understand your diagnosis, are comfortable with your care plan and have the support you need going forward. 
We collaborate with neurosurgeons and endovascular neurosurgical radiologists to comprehensively manage patients from throughout New Mexico and the adjoining Southwest that present the following disease and conditions:
Intracranial and extracranial aneurysms
Carotid and vertebral pseudo-aneurysms
Dural arteriovenous fistula
Symptomatic arteriovenous malformation
Neurosurgical management of Moyamoya disease
Vascular malformations and cerebral hemangioma
Statewide Stroke Telemedicine
At hospitals across New Mexico, you benefit from your providers' access to UNM Health's neurologists via telemedicine – audio and visual technology that lets our experts assist in caring for you even when you're offsite.