Whether your child experiences a sprain, broken bone or complex musculoskeletal condition, you'll find excellent orthopedic care at UNM Health System. Trust us for services that make physical activity as safe and easy as possible for your loved one.
Conditions We Treat
Children benefit from a renowned team of orthopedic specialists who can provide conservative or surgical treatment for a wide range of conditions affecting bones, joints and muscles, including:
Cerebral palsy
Clubfoot
Fractures and ligament injuries
Hip disorders
Limb-length discrepancies
Musculoskeletal infections and tumors
Osteopenia (loss of bone density)
Spina bifida
Spinal abnormalities
Sports injuries
Trauma
The care team also may recommend rehabilitation services to help your child experience the fullest possible recovery.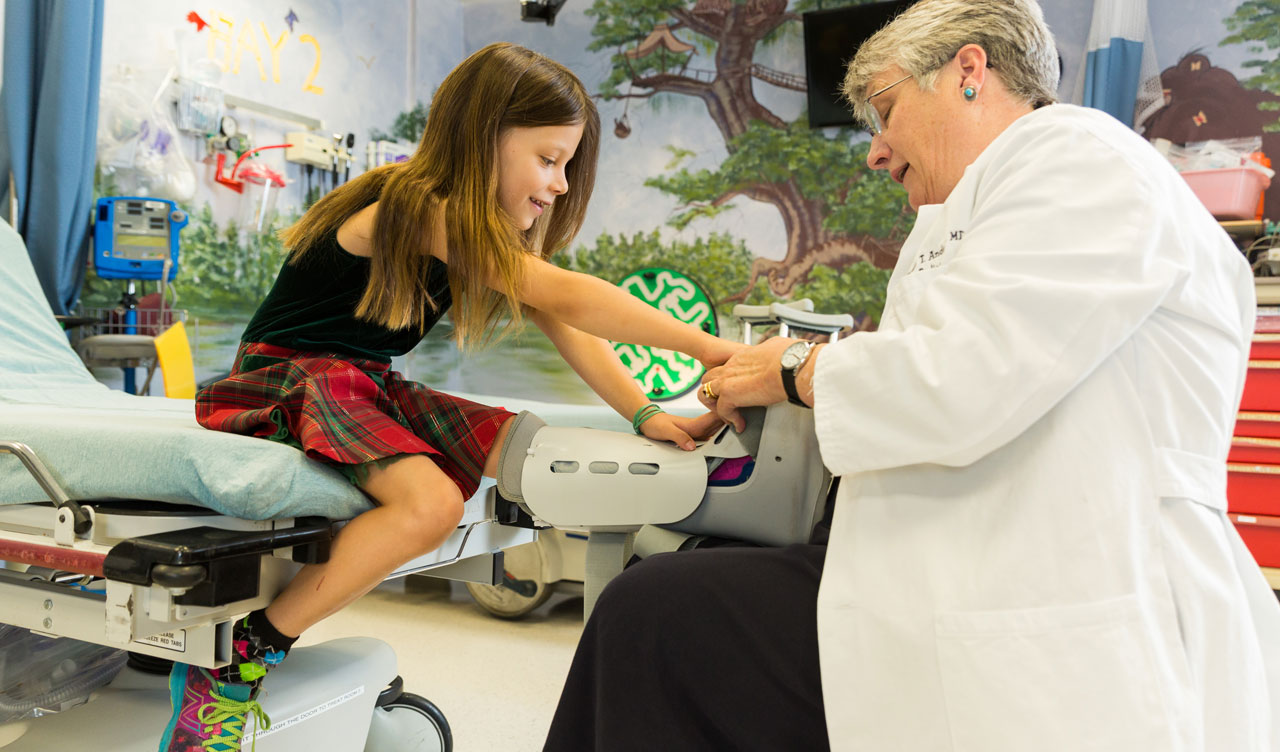 DEXA (Bone Density) Scan
If your child's doctor recommends a DEXA (bone density) scan, you'll appreciate the child-friendly environment and pediatric technicians at the UNM Carrie Tingley Bone Health Center. When appropriate, take advantage of the lateral distal femur DEXA test, which scans the thighbone quickly and comfortably.
No matter what area of the body the test evaluates, trust us to make a diagnosis based on pediatric, not adult, standards of bone density.
Your child may benefit from a DEXA scan if he or she:
Experiences more than two fractures.
Takes steroid medications or medications for seizures or acid reflux.
Receives chemotherapy.
Shows symptoms of anorexia.
Has limited mobility.
Is diagnosed with kidney failure or a rheumatological condition.
Outreach Clinics
If you live outside the Albuquerque area, find orthopedic care from UNM Health providers closer to your home at an outreach clinic in one of these cities:
Clovis
Farmington
Hobbs
Las Cruces
Roswell
Santa Fe
Silver City
Make an Outreach Clinic Appointment
To schedule an outreach clinic appointment, call 1-800-472-3235. Ask your pediatrician for a referral before you call.