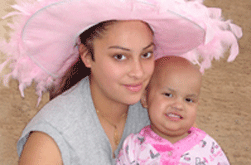 Contact Us
Call the Mariposa Program team at 505-272-6700 to learn more about volunteering.
Make a difference in the life of a family who's in the Mariposa Program, or child hospice care, through UNM Children's Hospital. You'll receive ongoing training as a volunteer in the area of your choice: providing companionship, offering grief support or assisting with office tasks.
Companion Volunteers
Serve as a companion to child patients and their families at their home, and give patients' loved ones a chance to rest. You may help run errands, read to patients and siblings, play games or just listen and be present.
Bereavement Volunteers
As a family grieves the loss of a child, call or visit to provide support. You may help prepare and deliver holiday baskets and coordinate and participate in an annual memorial service for Mariposa Program families.
Office Volunteers
Use your office and computer skills to help with day-to-day operations of the Mariposa Program office. You'll make essential contributions to the care of patients and their families.
Volunteer Training
Our six-week training program will prepare you to join the hospice team. Because volunteering with families of dying children takes special skills and sensitivity, you'll gain access to ongoing education and support during monthly volunteer meetings. 
Why Volunteer?
"I value recognizing and honoring the value of each life. That is what draws me to hospice. Working as a volunteer allows me to support not only the dying child, but also the family and friends who must deal with loss and change. Over the years, I've been honored to be part of many circles of love as caregivers demonstrate that part of humanity that links us to the divine. Surprisingly, to many, hospice often brings joy, perhaps because people really attend to and appreciate one another. Working with hospice renews my faith in goodness, courage, love and humanity."
– Volunteer Pam Fraser-Walters