Robert Orlando Lab
Principal Investigator
Associate Professor, Department of Biochemistry and Molecular Biology
Dr. Orlando received a PhD in 1989 from the Department of Developmental and Cell Biology at the University of California, Irvine. He completed postdoctoral fellowships at The Scripps Research Institute in 1991 and the University of California, San Diego in 1995. Dr. Orlando held a faculty position at the University of California, San Diego, before joining UNM in 2000.
Interests
Obesity-dependent inflammation
Lipid metabolism in obesity
Natural product drug discovery to identify anti-inflammatory agents
Recent Research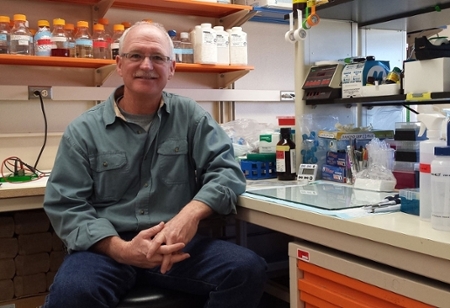 Work in the Orlando Lab has unveiled several identifications and characterizations, including:
A novel hepatic receptor that serves as the primary clearance receptor for atherogenic lipoproteins.
Associative properties of a tissue serine protease inhibitor with human breast cancer progression, suggesting a new tissue marker for breast cancer staging.
A curcumin-based analog that prevents peptide aggregation leading to Alzheimer's disease pathologies and characterized and quantified the anti-inflammatory properties of numerous natural products.
A natural product with potent anti-inflammatory properties capable of preventing tissue pathologies of inflammatory bowel disease
A novel cellular cross-talk communication event in obese adipose tissue that may be responsible for chronic inflammation associated with obesity-dependent type II diabetes mellitus and atherogenic cardiovascular disease.
Contact the Laboratory
Robert Orlando Lab
Biomedical Research Facility
Room 224
Department of Biochemistry and Molecular Biology
MSC08 4670
1 University of New Mexico
Are you a patient looking for care?