Residency Benefits
As a state institution, the benefits at UNM are good. The state overall has a fairly low cost of living, and so a resident's salary goes further than your average. Many residents buy a house during their time in residency. And we consider families and pets as part of the program.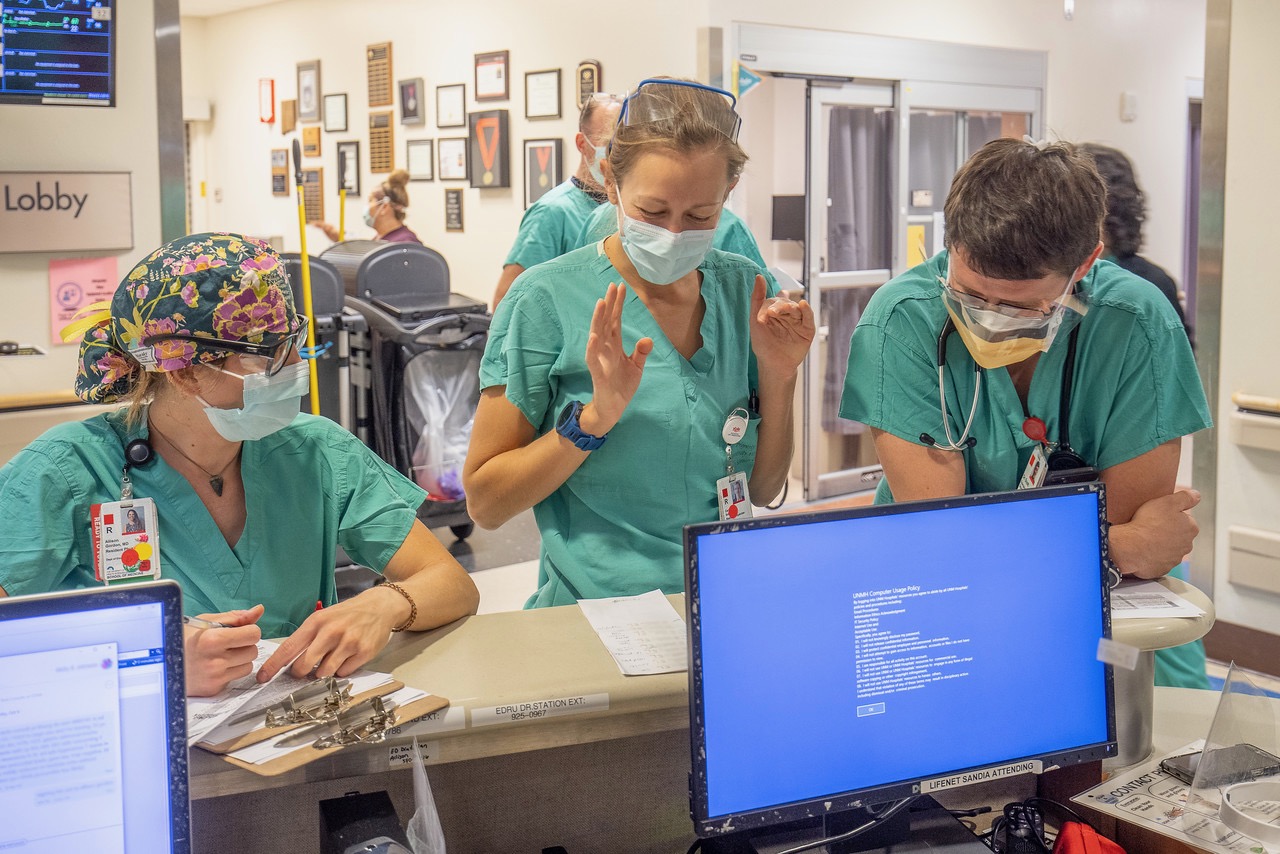 Health insurance through BlueCross/Blue Shield

primary care for GME learners through LoboCare clinics if they do not have a separate PCP

Meals allowance

Professional liability insurance

Life insurance

reimbursement for Step 3

over $700/yr in food money

intern year short counseling session to provide mental health contact for self or a colleague in crisis
Additional benefits supplied by the residency
Intern textbook allowance

$600 educational stipend annually (rolls over), can be used for study resources, medical equipment or electronics

Travel and expenses stipend to present at one major conference during PGY2/PGY3

Use of an outstanding medical center library

Photocopying and med-line searches

A residents' office with 4 personal computers

ACLS, ATLS, PALS instructor courses paid

Membership in SAEM and EMRA, a subscription to Rosh Review

We also encourage scholarly involvement and leadership and support these endeavors through travel funds
| Training Year | Annual Wages |
| --- | --- |
| I | $55,515 |
| II | $57,315 |
| III | $59,401 |
Resident Benefits
All UNM housestaff are able to join the Council of Interns and Residents, a subsidiary of 1199 SEIU. Membership is not mandatory, but the Union negotiates for all house officers. This year the union successfully negotiated a 3% salary increase for all post-graduate trainees and a $40/month cell phone reimbursement.
GME provides a generous benefit package, particularly in light of the relatively low cost of living the Albuquerque area affords. As a state institution, the malpractice coverage is very good. Disability and health insurance are covered, and residents are eligible for 15 days of vacation, 5 days of educational and 2 days of wellness leave annually. There are two weeks of institutional parental leave, and our program also allows additional combinations of sick leave, annual leave, or FMLA to extend that time. Scrubs and ID badges are provided by the institution, lab coats are provided by our department, there is a call room in the clinical department and a resident work room with sleeping facilities, snacks, coffee, computers with internet and dictation access in our academic offices.