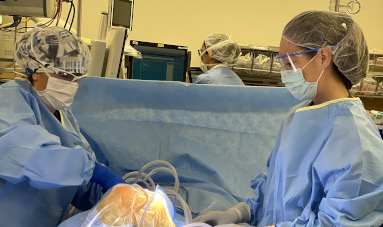 Away Rotations
Explore world-class neurosurgery education options at UNM School of Medicine.
CEREBROVASCULAR AND ENDOVASCULAR SURGERY
Andrew Carlson, MD; Javed Khader Eliyas, MD; Danielle Sorte, MD; Christian Bowers, MD
UNMH is capable of treating the full spectrum of cerebrovascular disorders including aneurysms, vascular malformations, and ischemic vascular diseases. The team of neurosurgeons and endovascular interventional neuroradiologist makes UNMH the only center in the state of New Mexico that offers these services 24 hours a day.
Arteriovenous fistula occlusion
Arteriovenous malformation (AVM) microsurgical resection
Cavernous malformation (cavernoma) microsurgery
Cerebral aneurysm repair, including microsurgical and endovascular coiling
Cerebral angiography
Endarterectomy and endovascular stenting
Endovascular embolization
Stereotactic radiosurgery and Gamma Knife for cerebrovascular surgery
Thrombectomy
Intracranial bypass
The 24-bed neuroscience intensive care unit is present at UNMH to care for and monitor cerebrovascular surgery patients post-operatively, and is an excellent setting for cutting-edge research in acute neurosurgical care. As the only Comprehensive Stroke Center in New Mexico, UNMH is best staffed and equipped to care for cerebrovascular emergencies.