Clinical Research
At the bedside or in the lab, UNM Neurosurgery research breaks new ground in this competitive, expanding field. Faculty and residents engage in state-of-the art basic and translational research aimed at improving patient care.
Medical students, resident physicians and fellows collaborate with faculty members on research projects in Neurosurgery. You'll get to enhance your CV and showcase your hard work at UNM's annual Faculty and Resident Neuroscience Research Day.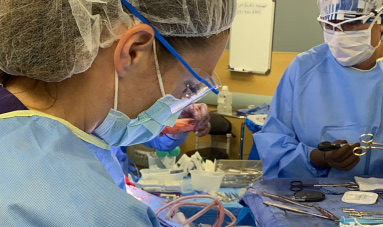 Ready to Research?
Connect with a clinician, fellow or researcher. Contribute your aptitude and innovation to a collaborative research project at UNM's Department of Neurosurgery.
Featured & Current Research
Faculty Leader: Meic Schmidt, MD, MBA, FAANS, FACS
Faculty Leader: Christian Bowers, MD
Join Dr. Schmidt (Department Chairman) and Dr. Bowers in the next steps of their research into how frailty affects patient outcomes after angiogram-negative subarachnoid hemorrhages (ANSAH).
Findings from recent research showed that frail patients have worse outcomes, which significantly impacts our understanding of ANSAH outcomes. They determined that frailty should be used for prognostication as it was a better predictor than Hunt and Hess or Fisher scores. See findings.
Faculty Leader: Andrew Carlson, MD
Join Dr. Carlson in exploring the phenomenon of "brain tsunamis," or cortical spreading depolarization in injury expansion after a traumatic brain injury, such as stroke. This research area can include prevention as well as improving patient outcomes.
Clinical Research Fast Facts
UNM's Department of Neurosurgery is a recognized leader in clinical innovation and neurosciences research.
$

20M

In Grant Funding for Multimodal Monitoring Research

10

Clinical Subspecialty Research Areas

$

15M

In CMS Funding for ACCESS Tele-Neurosurgery

100s

Of Cross-Department Collaboration Opportunities

12+

Faculty Mentors to Help Guide Your Research
Are you a patient looking for care?