DNP Clinical Program
At The University of New Mexico College of Nursing, we educate our DNP Clinical students to broaden their focus. Advance advocacy of patient and policy. Focus on the rural and underserved populations. All meeting the unique needs of New Mexico.
We are fully accredited by the Commission on Collegiate Nursing Education (CCNE). As a student, you will be educated to the highest standards of quality and integrity.
Your Education
2 year program begins in the summer and continues for six consecutive terms.
Designed for working students.
Minimum of 35 credits in total
1000 practice hours total. Practice hours includes up to 500 from Masters degree if approved.
Didactic classes completely online, with synchronous (collaboratively online) and asynchronous (individually online) learning.
A weeklong residency is held on campus each year in June, participation required.
A DNP scholarly project is a practice-oriented project that meets the needs of the DNP's community of interest. It must exemplify scholarly activity.
Minimum Requirements to Apply.
Master's degree as an Advanced Practice Nurse, Certified Nurse Midwife or Clinical Nurse Specialist
3.0 GPA
Current RN license
For the full list admissions criteria and application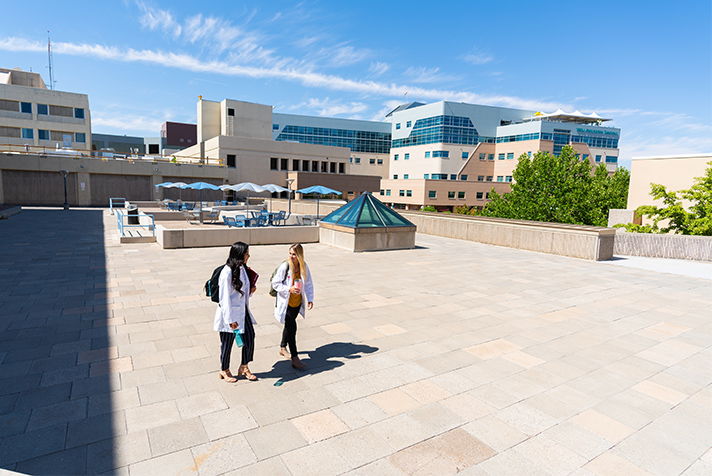 You Will Be Prepared.
Completing the DNP Clinical Program prepares you to:
Demonstrate role competency in clinical practice, scholarship and leadership.
Establish interprofessional collaboration to apply analytic methods to create, adopt and evaluate effective innovations that improve the health of diverse, rural and underserved individuals and populations.
Design and implement evidence-based strategies to improve health outcomes.
Provide leadership that engages individuals, systems and communities to develop, implement and evaluate interventions to reduce health disparities.
Facilitate optimal health outcomes through individualized patient-centered and culturally sensitive prevention, risk identification and management.
Design and apply clinical, system-based, community, political and policy approaches to reduce health inequities.
Provide leadership in formulation, application and analysis of institutional and public policies that impact health.
Integrate and evaluate clinical information systems and patient care technologies to further evidence-based professional practice.
Apply interprofessional leadership and advocacy skills in the development, implementation and evaluation of clinical practice models, health policy and standards of care.
Utilize effective management and organizational skills to assume a leadership role in health care delivery, policy and systems.
Apply professional values and ethical decision making in practice.
Continuously improve the quality of one's own clinical practice based on knowledge of evolving evidence, professional reflection and personal accountability.
Support for Your Education
The majority of our students received some form of financial aid – scholarship, grant, loan, work study or teaching assistant position.
We also offer more than $270,000 in UNM College of Nursing scholarships. Individual scholarship amounts range from $200-$4,000 annually.
Admissions, Tuition & Financial Aid
DNP Program Contact
Doctor of Nursing Practice Program Director, Clinician Educator, Associate Professor
A. Christine Delucas, DNP, MPH, RN, NEA-BC
College of Nursing
Building 228
Room 232
1 University of New Mexico
Research & Scholarship
UNM is the only Carnegie R1 research university in New Mexico. We offer research opportunities abound whether you are an undergraduate student or a graduate student.
Learn about our research efforts.
Schedule an Appointment with Our Advisors