Academic Advising
Our team of 5 academic advisors will support you before and during your education at the UNM College of Nursing.
We Will Guide You
Academic advisors direct your course scheduling. We are your connection between you and the University resources and information.
Academic advisors help students with:
An academic major
General education curriculum
Degree options
Academic remediation
Out-of-class activities
Non-academic support services
Schedule an Appointment
Enrolled College of Nursing students & students outside of UNM interesting in applying, you can schedule an appointment with the College of Nursing Advisors.
Pre-nursing students enrolled at UNM contact your advisor on main campus.
We are the Experts
The experts at explaining how things work here at UNM College of Nursing. The experts on our policies and procedures about registrations, petitions and appeals and graduation. 
We Want to Get to Know You
Knowing you allows the us to consider your skills, abilities and interests when we help you make important decisions.  
It's an Important Role
We know we have an important role. We will encourage you. Help you take responsibility of your education. Help you develop planning, problem-solving and decision-making skills.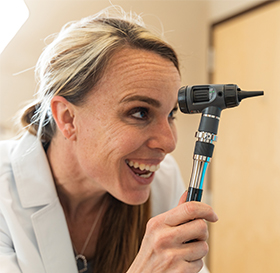 What I have loved most about the College of Nursing is the unwavering support from the faculty and staff.  From classroom professors to program directors, from student advisement to financial aide support, every single person on campus has the same goal-exceptional student success. 
—
Kimberly Hart, PNP
, BSN 2013, MSN 2020
Contact Our Team
Admissions & Academic Advisors
College of Nursing
Building Number 228
Suite 255
1 University of New Mexico
Schedule an Appointment with Our Advisors