Transferring to UNM 
You have so many questions. Our academic advisors have the answers. They work with students just like you every day.
Our advisors know every situation is different. They will guide you through your application process. They will help identify which courses will transfer. Help navigate your experience at UNM College of Nursing. Help you become part of our pack. 
Undergraduate Transfer Students
Transfer Credits
You worked hard to earn your credits. We want you to keep as many as possible but they must fit within our guidelines.
Course must be from post-secondary institutions that are regionally accredited or are candidates for regional accreditation.
Coursework completed with a minimum grade of "C-," provided the classes are similar or equivalent to courses offered at the University, may be accepted as transfer credit (transferable courses with grades of "D" from New Mexico state institutions are accepted).
The University of New Mexico does not accept technical/vocational, remedial, personal development or dogmatic religion courses.
Credit is not awarded for work or life experience, cooperative education or for courses from out-of-state in which the grade received was lower than "C-" except by petition to the Registrar with subsequent review by the Faculty Senate Admissions and Registration Committee.
The grades you earned in courses taken at other institutions are not included in calculation of the University of New Mexico grade point average. This grade point average will reflect only classes taken at the University of New Mexico.
Student Responsibility
You will lead the planning of your transfer credits. You are your best advocate to ensure you are receiving the maximum transfer credits. We encourage you to stay in communication with us for support and guidance.
You are encouraged to works with our academic advisors to ensure your pre-transfer courses will meet the requirements of your degree here at UNM.
Evaluation of Credit
How do we evaluate your courses?
Transfer courses are evaluated in the Registrar's Office to determine acceptable transfer credit on a course-by-course basis for college-level credit earned at institutions who are fully accredited by any of the six U.S. regional associations.
Lower-level course equivalencies are determined by the Registrar's Office based on course content, as described in the catalogs of those institutions and in consultation with appropriate academic units at UNM.
Upper-level course equivalencies are determined by the appropriate academic units.
As an incoming nursing transfer student, you must contact one of our academic advisors at the College of Nursing to determine how the transferred courses will be applied to a degree program.  Check out the table of current equivalencies.
Virtual Campus Experience
Explore the UNM College of Nursing's Virtual Campus Experience and what being an undergraduate UNM student nurse means.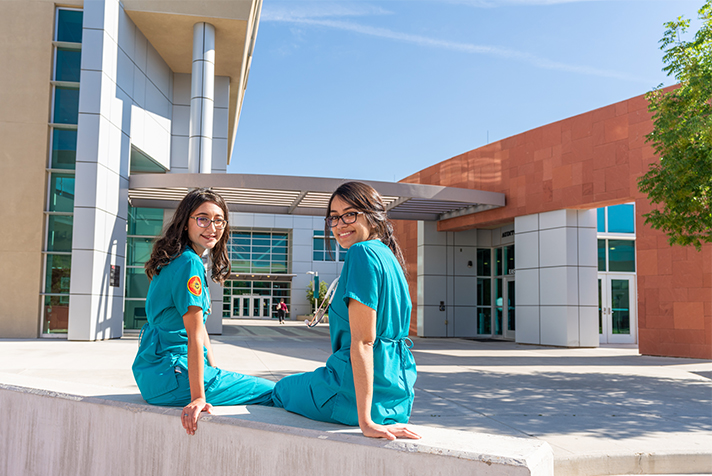 MSN Transfer Students
Transfer Credits
If you have completed graduate-level course work at an accredited institution other than UNM, you may request that up to 9 credit hours be used toward your degree program. There is some criteria though. 
Courses taken within 5 years of application are considered.

 

Transfer credit must be approved by faculty.

 

Credits may be transferred into a degree program by listing them on the program of study.

 

They must adhere to the limits in the catalog sections on Master's, Master of Fine Arts, and Doctoral degrees.
The student must have earned a grade of B or better in the courses for which transfer credit is requested.

 

Courses taken on a Pass/Fail basis and courses taken as extension credit at other universities will not be accepted for graduate credit.
UNM Graduate units may impose their own restrictions on the acceptance and use of transfer credit.
Course work that has been counted toward a previous degree may not be counted again in the Program of Studies for a Master's degree.
Why Our Program
As the No. 1 nursing school in New Mexico, we don't just educate nurses. We change the entire field of nursing. We educate inquisitive professionals who improve patient care. Our nurses are scientists who find smarter methods of serving the people of our state.
Contact Our Team
Admissions & Academic Advisors
College of Nursing
Building Number 228
Suite 255
1 University of New Mexico