Jeffrey P. Norenberg, PharmD, PhD, BCNP, FASHP, FAPhA

---
Commercialization Module Lead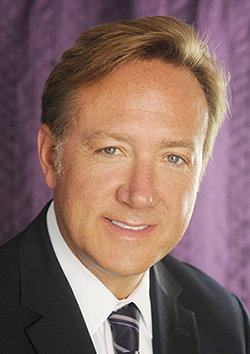 Contact Information
Phone: (505) 272-8101
Email: jnorenberg@salud.unm.edu

Introduction and Research Interests
Professor and Director of Radiopharmaceutical Sciences, College of Pharmacy
Professor, Department of Anesthesiology & Critical Care Medicine, School of Medicine
Dr. Norenberg is a Professor of Pharmacy and Anesthesiology & Critical Care Medicine, and the Director of Radiopharmaceutical Sciences at the University of New Mexico Health Sciences Center (UNM HSC). He is an expert in the design and development of novel targeted radioligands for molecular imaging and therapy. His work in the development of radiopharmaceuticals have resulted in seven issued patents, more than 100 scholarly works, and >$25,000,000 in extramural funding for basic and clinical research. He has been the PI/Co-Pi on 13 Phase-1 first-in-man studies of investigational drugs, and >100 sponsored research agreements.
In 2011, Dr. Norenberg launched the UNM Translational Radiopharmacy (UNM TRP), a licensed commercial nuclear pharmacy located within the UNM COP, which provides unit-dose radiopharmaceuticals to hospitals and clinics, supports clinical research of novel radiopharmaceuticals, and serves as a site for training and experiential education of students, residents, and fellows.
In 2000, Dr. Norenberg developed Nuclear Education Online or NEO, a distance education platform providing specialty education to adult learners, including technicians, pharmacists, cardiologists, and radiation workers. Over 25,000 students have enrolled in NEO course offerings, leading to certifications recognized by accrediting organizations including, the Nuclear Regulatory Commission and American College of Cardiology. He currently leads the UNM COP CARES! Faculty-Student Mentoring Program designed to support student academic performance, retention, and success.
Dr. Norenberg currently serves the UNM HSC Clinical and Translational Sciences Center (CTSC) as the Commercialization Lead and Co-Lead, Team Science. He is a member of the CTSC Executive Committee, and previously served as Chair of Advisory Committee to the NIH-funded UNM General Clinical Research Center (GCRC).
Dr. Norenberg is a Board Certified Nuclear Pharmacist and a Fellow in the American Society of Health-System Pharmacists, the American Pharmacists Association, the American College of Nuclear Medicine, and the Society of Nuclear Medicine and Molecular Imaging. He has served on the Boards of Directors of the Society of Nuclear Medicine and Molecular Imaging, the Education Research Foundation for Nuclear Medicine, the American Board of Science in Nuclear Medicine, and as a delegate to the United States Pharmacopeia Convention.
Since 2002, he has also served as Executive Director and Chairman of the National Association of Nuclear Pharmacies, a trade association representing over 375 commercial nuclear pharmacies in the United States. In this capacity, Dr. Norenberg works identify and promote the Best Practices in Nuclear Pharmacy that ensure patients have access to a safe and reliable supply of drugs used in nuclear medicine and radiology.
CTSC Leadership Focus