Edgar Benton Smith, MD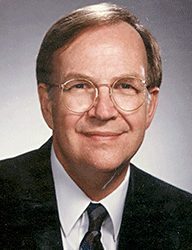 Dermatology
Edgar Benton Smith, MD, was the founder of the Division (now Department) of Dermatology at The University of New Mexico School Of Medicine.
Dr. Smith was born in Houston, TX, the son of Dr. and Mrs. Burt B. Smith. He attended Rice University and graduated from Baylor College of Medicine in Houston. He completed his residency in Dermatology at Brook Army Hospital in San Antonio, Texas, and he began his academic career on the faculty of the University of Miami Dermatology Department. Shortly thereafter, he moved to Albuquerque to start up a Division of Dermatology at The University of New Mexico School of Medicine.
Dr. Smith was the Director of the Division of Dermatology when it was in the Department of Internal Medicine and was instrumental in creating both a Department and the residency program. He moved to the University of Texas, Galveston, as the chairman of Dermatology at the University of Texas Medical Branch in Galveston, TX where he served for 21 years. When he retired in 2000, he returned as faculty to the UNM Department of Dermatology. Ben received many honors in his field, including President of the American Academy of Dermatology.
Ben was a stellar teacher and as a part of his commitment to the education of dermatology, he created an endowment within the department to help support and encourage resident to present at local, regional, national and international conferences. His impact continues long after his death.
Dr. Edgar (Ben) Smith died May 12, 2005, after a lengthy illness at the age of 73.
---
Remembrances
Two images of Ben Smith come to mind as I remember him. Ben would walk into the examining room where I was waiting to have my yearly skin examination for cancer - the bane of fair skin and red hair - with hand held forward to shake and a broad smile on his face. That is the first image that I will always carry in my memory, but the second is equally permanent. Ben would get up from a banquet table, stride to the podium, and open his remarks about his favorite pastime: Sherlock Holmes and the mystery puzzles involving the frailties of mankind. Ben admired the forensic science and deductive reasoning that he saw as central to Sir Arthur Conan Doyle's character, and regularly pointed out that clinical dermatology followed the exact same principles to successful diagnosis.

I think Ben was pleased to have these two images of his life as colleague, friend, and physician. He might have been happy to change places with Holmes on any evening of the week, but he equally loved to diagnose and treat patients with skin disease. What an unusual combination in this fascinating man, and what a treasure to have had Ben as these two faces of dermatology during his faculty life at UNM.


— R. Philip Eaton MD, Emeritus Executive Vice President UNM HSC
In 1972 Ben Smith was Chairman of Dermatology and I was a medical student; he became my mentor in both academic dermatology and Sherlock Holmes. Ben was a remarkable professor and our SOM class of 1976 chose him for that year's faculty teaching award.

He was a gregarious member of the Baker Street Irregulars, the major literary society devoted to the Great Detective, as well as a founder of several scion groups. Best-known was the Sir James Saunders Society, "Dermatologists Devoted to Detection," a come-one-come-all group that convened for lunch during the annual American Academy of Dermatology (AAD) meeting. (It was named for a dermatologist consulted by Sherlock Holmes in "The Blanched Soldier.")

Ben was a distinguished academic dermatologist who served as president of the AAD and in 2003 received its highest award, the Gold Medal. He was a devoted husband to Elaine, his wife of 51 years, and a loving father to his two daughters and their families.

His interests were eclectic: in addition to dermatology and Sherlock, he was an expert on world travel, religious history, subways, "bargain" hotels, bolo ties, cigars, Tarzan, the Boston Red Sox, early 20th century American pottery, pipes, pulp fiction, and coronation china (which he collected "for Elaine"). He loved UNM and remained active in the department as long as he was able.

Ben's warmth, humor, and enthusiasm for life is remembered fondly by his friends all over the world.


— Marilynne McKay, MD, Professor Emerita of Dermatology, Emory University, Atlanta (UNM SOM 1976)