Drug Rescue, Repurposing and Repositioning Network (DR3N)
The goal of the DR3N, which is part of the UNM Clinical & Translational Science Center and the Clinical and Translational Science Award Consortium, is to improve health outcomes by rapidly identifying and providing new drugs for multisite clinical trials, as well as facilitate first-in-human studies.
DR3N will:
Provide access to and operation of state-of-the-art technology in drug rescue, repurposing and repositioning.
Develop innovative tools that support investigators and start-up companies.
Provide support and guidance in translating pilot projects from preclinical proof-of-principle to clinical proof-of-concept.
Develop first-in-human multi-site trials.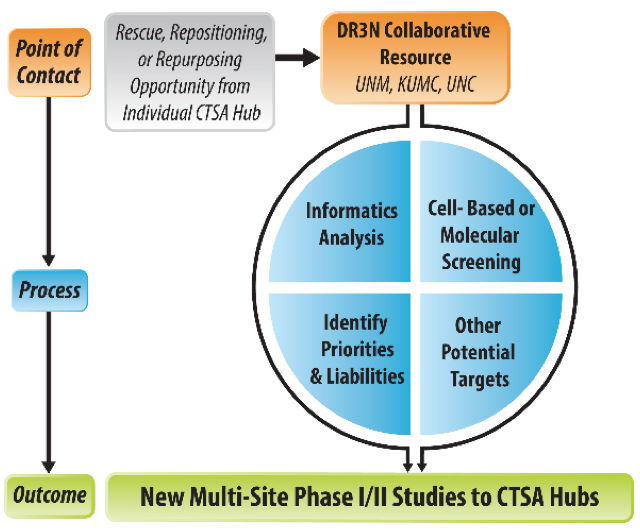 Creating New Pathways
Physicians are often faced with few therapeutic options for patients with non-responsive, resistant, rare or neglected diseases. The path to developing new drugs is lengthy and expensive and the possibility of identifying new indications for existing drugs may bolster the treatment arsenal.
The path can include:
1) Safe but abandoned drugs to be rescued for new indications from the pharmaceutical industry.
2) FDA-approved drugs that may be experimentally repurposed through the identification of new cellular or molecular targets relevant to new indications.
3) FDA-approved drugs repositioned to new indications through physician experience as well as informatics based on pharmacologic drug profiles.
The DR3N has a network of CTSC hubs at UNM, KUMC and UNC in partnership with NCATS, which connects them to the CTSA consortium. This network will provide unique resources for rapidly translating existing drugs for new clinical trials. The goal of the DR3N is to develop and provide resources to translate our unique research and multisite trial strengths.
Project Entry and Review Process
DR3N will solicit collaborations through:
- The CTSA Consortium Coordinating Center
- The UNM CTSC website and webinars
- Travel to collaborating sites
The timeline for translating project concepts into multisite trials is 12-24 months.
Applicants will be notified within a month after submitting their proposal whether they will be part of the project. Please contact Amaris Swann, regarding questions on submitting a proposal.