New Mexico LEND
The New Mexico LEND program is accepting applications for the 2021-2022 year
now!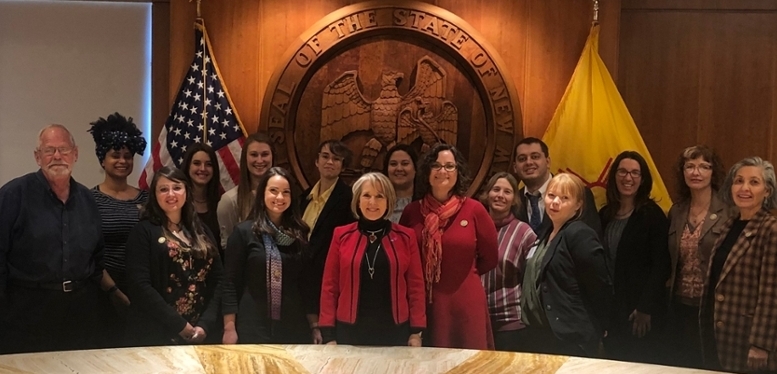 *Photo taken prior to COVID-19 Pandemic
The next NM LEND cohort begins on August 19, 2021. Apply as soon as possible to be a part of the interdisciplinary traineeship. Interviews for the best applicants will be conducted by video calls in Spring, 2021. For best consideration, apply by May 15, 2021. We realize, though, that flexibility is needed more now than ever in light of the COVID-19 crisis. If you have additional questions, please do not hesitate to contact us.
The Leadership Education in Neurodevelopmental Disabilities and Related Disabilities (LEND) interdisciplinary traineeship is designed to develop knowledge and experience in the following areas:
Neurodevelopmental and Related Disabilities including Autism
Family-Centered and Culturally Competent Care
Policy and Advocacy
Leadership
Interdisciplinary Skills.
The program includes seminars on Fridays throughout two semesters, leadership content, clinical skill building, research, and public policy and leadership workshops. Utilizing evidence-based materials, case studies and problem-based learning, role-play and experiential activities, observation of live clinics, and project activities, participants will develop expertise in understanding, working in partnership with, and advocating for children and adults with developmental disabilities and their families. The interactive seminars are provided in conjunction with required readings, assignments, book and journal club, webinars, family-match experience, Capstone project that embeds leadership and research skills, and participation in orientation, leadership and public policy workshops. Trainees can expect to spend 300 hours participating in LEND seminars and completing assignments and activities over two semesters. The traineeship includes a stipend (dependent on federal grant funding).
The LEND faculty is interdisciplinary as are the trainees. The disciplines include: family, nursing, nutrition, occupational therapy, pediatrics, physical therapy, psychology, public health administration, social work, special education, speech-language pathology and other related disciplines.
---
November 30th, 2020
2021 Continuing Education Series for Pediatric Physical Therapists and Occupational Therapists
The New Mexico LEND program at the Center for Development and Disability (CDD) is partnering with the UNM Division of Physical Therapy program to bring you the continuing education series for pediatric physical and occupational therapists and related professionals. The 2021 Pediatric Study Group series occurs the second Thursday of the month from 6pm – 8pm in February, April, September and November. You can participate by attending remotely. Continuing education credits for PTs and OTs are offered free of charge. The topics and details are listed here [PDF]:
| Dates (Thurs) | Topic |
| --- | --- |
| Feb 11, 2021 | Developmental Coordination Disorder Clinical Practice Guideline |
| April 8, 2021 | Best Practices in Telehealth |
| Sept 9, 2021 | Dry Needling in the Pediatric Population |
| Nov 11, 2021 | What Adults with Developmental Disabilities Wish We Knew |
Contact Us
The University of New Mexico
Center for Development and Disability
NM LEND Program
2300 Menaul Blvd NE
Albuquerque, NM 87107