Personal Statement
The Chackerian laboratory is interested in vaccine development; particularly the use of virus particles as platforms for antigen display. It has long been recognized that highly dense repetitive antigens such as virus particles induce strong immune responses. Our lab has demonstrated that antigens that are normally poorly immunogenic can be made highly immunogenic by displaying them in a multivalent, repetitive format on the surface of virus particles; essentially using viruses as scaffolds to produce novel vaccines.

This ability to enhance immunogenicity does not only apply to epitopes derived from traditional targets, such as pathogens, but also to self-antigens which are normally subject to the mechanisms of B cell tolerance. Using virus-like particles derived from RNA bacteriophage, the Chackerian lab has collaborated with David Peabody to develop a variety of tools for vaccine production and to implement a system that allows vaccines to be rapidly identified by affinity selection.
Areas of Specialty
Currently, the Chackerian laboratory has projects to develop novel vaccines targeting diverse pathogens (including malaria, Neisseria gonorrhoeae, Sin Nombre virus, and SARS-CoV-2) and vaccines for chronic disease (including dyslipidemia, Alzheimer's, and migraines). We are funded by multiple grants from the National Institutes of Health

To learn more about our work, follow us on Twitter (@chacklab)
Achievements & Awards
Jeffrey Michael Gorvetzian Endowed Professor of Biomedical Research Excellence
STC.UNM (Science and Technology Center at UNM) Innovation Fellow, 2017
Biomedical Sciences Graduate Program Outstanding Mentor Award, 2019
Fellow of the National Academy of Inventors, 2019
Research
Meet our Research Team!
Lab Members:
Julianne Peabody (PhD student)
Dr. Alex Francian (Post-doctoral fellow)
Yogesh Nepal (PhD student)
Alan McNolty (PhD student)
Lauren Burckel (Research Technician)
Dr. Lucie Jelinkova (Post-doctoral Research Scientist, Medical Student)
Apeksha Dighe (Medical Student)
Bryce Roberts (Medical Student)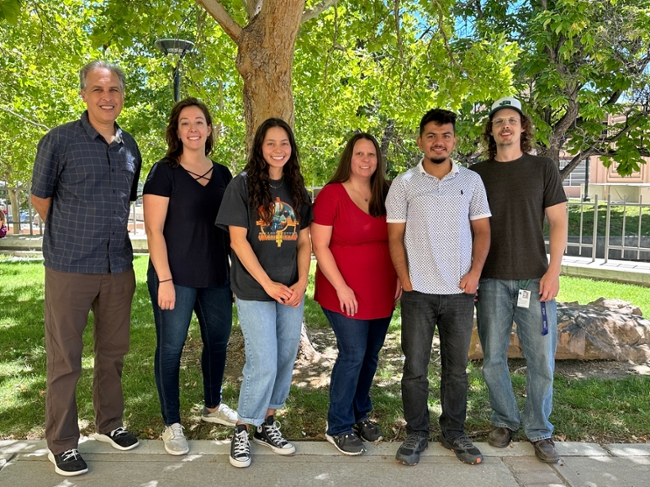 Chackerian Lab (July 2023)
Lab Alumni:
Dr. Zoe Hunter (PhD student), Senior Manager, Publications at Pharmacyclics, an AbbVie company
Marisa Rangel Durfee (Research Technician), North American Regulatory Scientist at The Janssen Pharmaceutical Companies of Johnson & Johnson
Dr. Brett Manifold-Wheeler (Research Technician), Lecturer, UNM Dept. of Biochemistry
Dr. Paul Durfee (Research Technician), Associate Director of Formulation and Delivery, Laronde
Alex Medford (MS student), Scientist, Colorado Department of Health
Dr. John O'Rourke (Research Assistant Professor), President and CEO, BennuBio Inc.
Dr. Jayne Christen (Post-doctoral fellow), Health Science Administrator, NCI/NIH
Dr. Mitchell Tyler (PhD student), Senior Analyst, National Center for Medical Intelligence
Dr. Erin Crossey (MD/PhD student), Pulmonary Fellowship Program, Boston University
Dr. Ebenezer Tumban (Post-doctoral fellow/Research scientist), Associate Professor, Texas Tech University (Amarillo)
Dr. Kathryn Frietze (Post-doctoral fellow/Research Assistant Professor), Assistant Professor, UNM School of Medicine
Susan Core (Sr Research Specialist), Research Specialist, Frietze Laboratory, UNM
Dr. Naomi Lee (Post-doctoral fellow), Assistant Professor, Northern Arizona University
Dr. Alemu Mogus (Post-doctoral fellow), Post-doctoral fellow, University of Virginia
Dr. Alexandra Fowler (PhD student), Scientist, Moderna Inc.
Ashvini Vaidya (MS student and research scientist), Medical student at Emory University
Temi Ajayi (Research Technician), Medical student at UNM School of Medicine
Rabia Khan (MS student), Engineering Project Lead, Sandia National Laboratory
Javier Leo (Research Technician), Graduate Student at MD Anderson Cancer Center/UT Health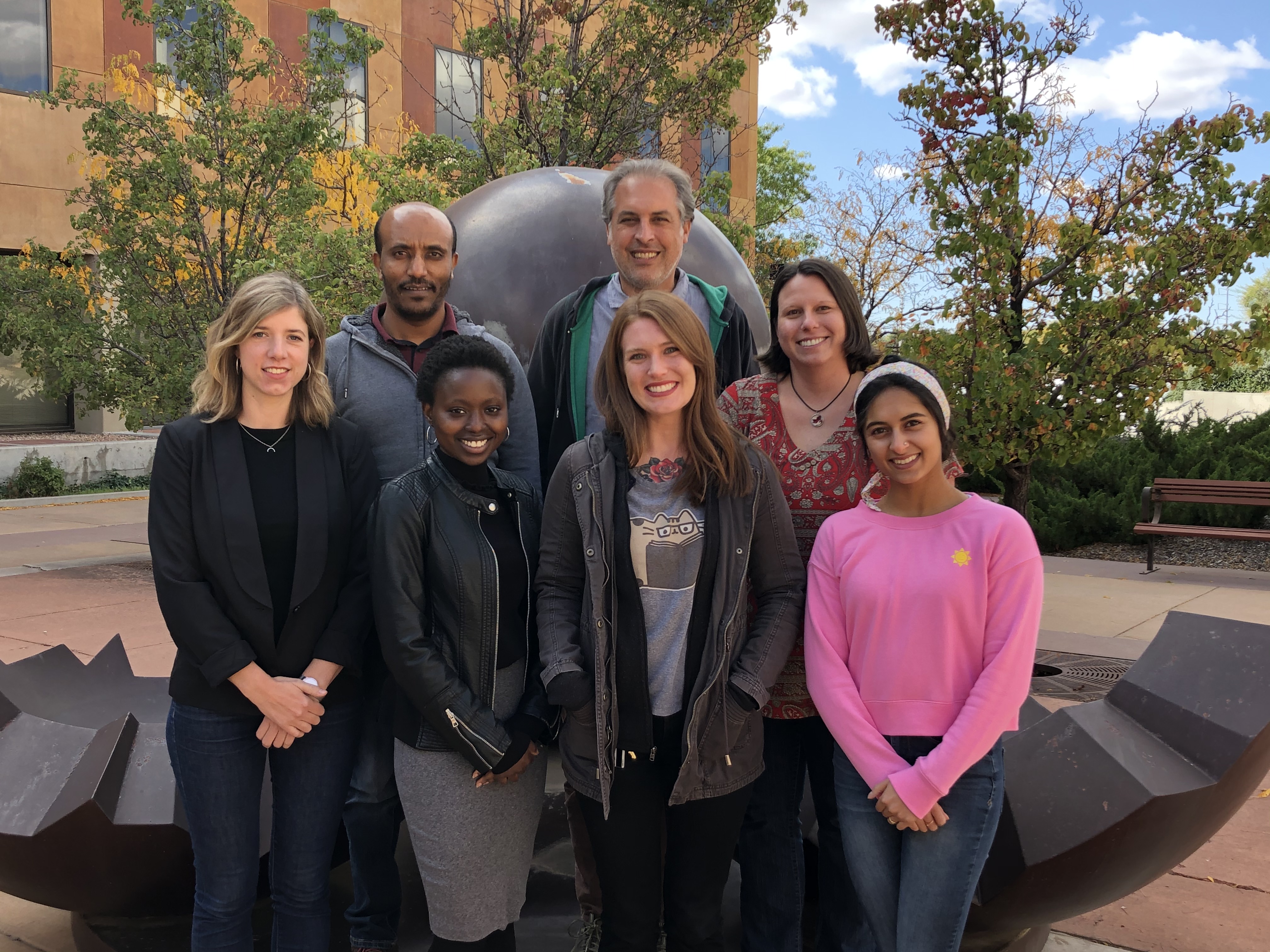 Chackerian Lab (October 2019)
Research and Scholarship
Recent Representative publications include:
Fowler, A., Van Rompay, K., Sampson, M., Leo, J., Watanabe, J., Usachenko, J., Immareddy, R., Lovato, D., Schiller, J.T., Remaley, A., and B. Chackerian. A Virus-like particle-based bivalent PCSK9 vaccine lowers LDL-cholesterol levels in Non-Human Primates. bioRxiv. Posted May 16, 2023. https://doi.org/10.1101/2023.05.15.540560

Jelínková, L., Roberts, B., Ajayi, D.T., Peabody, D.S., and B. Chackerian (2023). The Immunogenicity of a VLP-based Malaria Vaccine Targeting CSP in Pregnant and Neonatal Mice. Biomolecules 2023, Jan 19;13(2):202. doi: 10.3390/biom13020202

Fowler, A., Ye, C., Clarke, E. C., Pascale, J. M., Peabody, D., Bradfute, S. B., Frietze, K. M., and B. Chackerian (2023). A method for mapping the linear epitopes targeted by the natural antibody response to Zika virus infection using a VLP platform technology. Virology 579, 101-110. doi.org/10.1016/j.virol.2023.01.001

Jelínková, L., Flores-Garcia, Y., Shapiro, S., Roberts, B., Petrovsky, N., Zavala, F. & B. Chackerian (2022). A vaccine targeting the L9 epitope of the malaria circumsporozoite protein confers protection for blood-stage infection in a mouse challenge model. npj Vaccines 2022 Mar 8; 7, 34.

Fowler, A., Sampson, M., Remaley, A.T., and B. Chackerian (2021). A VLP-based vaccine targeting ANGPTL3 lowers plasma triglycerides in mice. Vaccine, 2021 Sep 24;39(40):5780-5786.

Ronsard, L., Yousif, A., Peabody, J., Okonkowo, V., Devant, P., Mogus, A.T., Barnes, R., Rohrer, D., Lonberg, N., Peabody, D., Chackerian, B., and D. Lingwood (2021). Engineering an antibody V gene-selective vaccine. Frontiers in Immunology, 2021 Sep 9;12:730471

Lucie Jelínková, Hugo Jhun, Allison Eaton, Nikolai Petrovsky, Fidel Zavala, & Bryce Chackerian (2021). An Epitope-based Malaria Vaccine Targeting the Junctional Domain of Circumsporozoite Protein. npj Vaccines 2021 Jan 21;6(1):13.

Mogus, A.T.; Liu, L.; Jia, M.; Ajayi, D.T.; Xu, K.; Kong, R.; Huang, J.; Yu, J.; Kwong, P.D.; Mascola, J.R.; Ho, D.D.; Tsuji, M.; Chackerian, B. (2020) Virus-Like Particle Based Vaccines Elicit Neutralizing Antibodies against the HIV-1 Fusion Peptide. Vaccines, 8, 765.

Bryce Chackerian and David S. Peabody (2020). Factors that Govern the induction of long-lived Plasma Cells. Viruses. 12, 74