Native American Artwork
UNM Sandoval Regional Medical Center commissioned artwork from Native American tribes in Sandoval County to display at the medical center. Each piece reflects a particular tribe's and artist's perspective on health, healing and community.

"Spiritual Gifts" by Marcellus Medina, Zia Pueblo
This 6'-by-26" painting on the medical center's first floor represents courage, love, faith, hope and enlightenment. The ethereal mural of clouds, butterflies, birds and "Indian angels" symbolizes rejuvenation, vitality and the connectedness of all things. At the center, the "Mother of the Universe" holds the cosmic energy force for healing of the heart, mind, body and soul. As a whole, the piece tells a story of life and universal faith portrayed through symbols and images considered sacred in Zia Pueblo.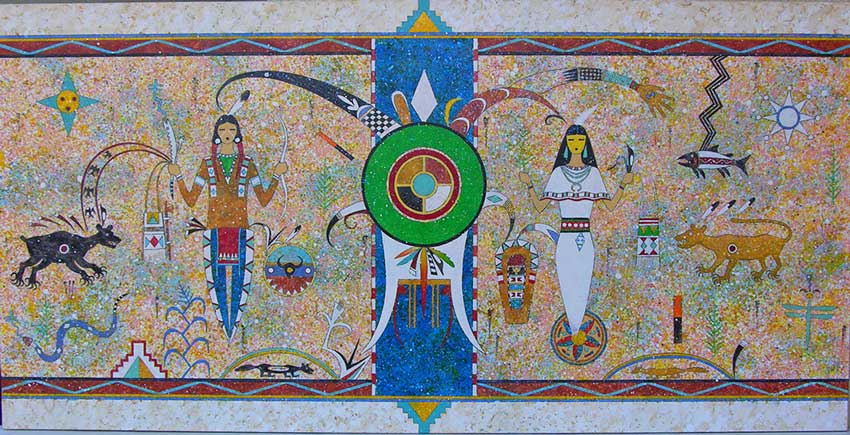 "Life" by Felix Vigil, Jicarilla Apache
This piece is inspired by the bear dance ceremony that represents healing and well-being. "While we live in a modern society, there is always a close connection to the vision of our ancestors. We carry on as people who are proud of our cultural heritage and learn new things to survive and thrive in a modern world," Vigil said. "I incorporated different images that are important and held sacred to our Jicarilla culture. However, these images are my interpretation and don't expose any cultural elements that are private."
The painting is permanently displayed on the third floor atrium by the intensive care unit and the community conference room.
Pueblo of Jemez
The Pueblo of Jemez dedicated these five pieces to UNM Sandoval Regional Medical Center in 2013. Displayed in the second-floor lobby, each piece represents the traditional values of the Pueblo and symbolize health, creation, nutrition, union, prayer, Mother Earth, comfort and peace. Together, the artwork communicates that "Health is a gift; it is a part of our Creation."