Masters of Science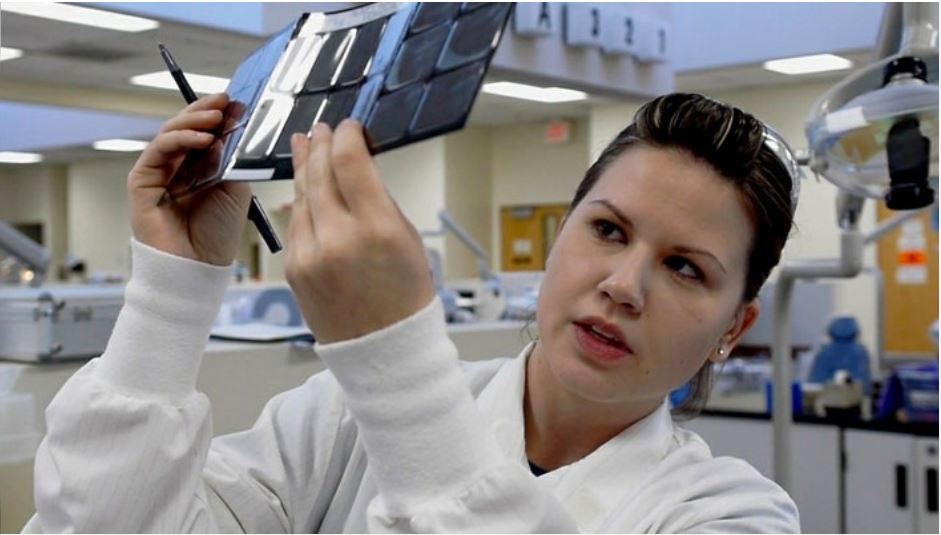 The University of New Mexico offers a Master of Science in Dental Hygiene in continuation to the Bachelor Degree in Dental Hygiene. The Master of Science Degree Program in Dental Hygiene is intended to develop dental hygienists to teach, develop dental health programs in a variety of settings, conduct research and provide care as collaborative dental hygiene practitioners throughout New Mexico.
The purpose of this program is consistent with UNM's mission, which is to educate students by developing their intellectual and creative skills and capabilities so students may be well equipped to participate in the world as productive and enlightened individuals.
The Master of Science Degree Program in Dental Hygiene will enable the graduate-level prepared dental hygienist to:
Build on the knowledge gained in baccalaureate degree dental hygiene
Prepare and specialize in dental hygiene
Enhance decision-making skills by participating in graduate-level dental hygiene courses
Develop problem-solving skills for independent dental hygiene practice
Contribute to the dental hygiene scientific body of knowledge
Conduct research and theory development in the dental hygiene sciences
Expand the scope of general knowledge by participating in University elective courses
Provide career opportunities in alternative practice settings
Build a foundation for future doctoral education in related disciplines
Develop collegiate relationships with practicing health care professionals
Participate in graduate dental hygiene internship experiences in educational settings, rural areas, industry, and community outreach sites.
Apply for Online MS in Dental Hygiene
Formal admission to The University of New Mexico Office of Graduate Studies is an initial requirement for admission to the Master of Science Degree Program [PDF] in Dental Hygiene. Applications for graduate admission are available from the UNM Division of Dental Hygiene.
The Division of Dental Hygiene will recommend acceptance into the program, but final determination of admittance rests with the UNM Office of Graduate Studies.
Deadline:
Fall semester application deadline: July 31.
Spring semester application deadline: November 30.
Summer semester application deadline: April 30.
All applicants will be notified of their admission status. Selection will be given to qualified persons regardless of their race, color, religion, national origin, age, qualified disability or military involvement. Equal opportunity for admission is given to all qualified applicants.
The following documents must be submitted to the Division of Dental Hygiene for admittance to the program:
Application to Office of Graduate Studies.
Application to the Division of Dental Hygiene through ADEA DH CAS.
Photocopy of National Dental Hygiene Board Examination results.
Proof of a bachelor's degree in dental hygiene or a related field, and in the latter case, proof of having completed an accredited certificate or associate degree program in dental hygiene. Official college transcripts should be provided.
Evidence of an undergraduate grade point average of at least 3.0 on a 4.0 scale.
Three letters of recommendation submitted online through ADEA DH CAS.
Interview with Admissions Committee.
Completion of a certificate, associate or bachelor degree program in dental hygiene that has been accredited by the Commission on Dental Accreditation and a regional accrediting agency.
A copy of a current American dental hygiene license.
A non-refundable application fee of $105 must be included with your application payable online at TouchNet. Applications submitted without the application fee will be incomplete and will not be considered.
Dental Hygiene Course Schedule
Find out about courses in dental hygiene available at The University of New Mexico Dental Medicine program in Albuquerque, NM.
Plan I: Thesis Option
Plan II: Non-Thesis Specialty
Course Descriptions
D HYGN 500: Current Issues in Dental Hygiene (3 credits): In-depth discussion focusing on current issues facing the dental hygiene discipline. This course explores current issues facing the dental hygiene discipline and planning and implementation strategies to make changes in dental hygiene for the betterment of society. This is a problem-based course that includes both undergraduate and graduate students. Graduate students will facilitate case studies within groups of undergraduate students and ultimately report case findings. Interdisciplinary work will also be included. Students choose case study topics with approval from the course director. This course was designed in conjunction with the UNM School of Medicine's interdisciplinary courses.
D HYGN 501: Dental Hygiene Management and Administration (3 credits): Principles of management and administration in a variety of settings and in-depth discussions of ethics in dental hygiene. This course will be taught by the dental hygiene program director and cover leadership, decision-making and problem-solving skills. In addition, current theories and staff management paradigms, daily operations, administration and planning, implementation and evaluation activities will be presented. Students will be required to submit papers for publication based upon management and administrative endeavors in dental hygiene.
D HYGN 502: Instructional Strategies (3 credits): Theories and concepts on the teaching of dental hygiene students and presenting research to national and international audiences. Technological advances in teaching classroom, laboratory and clinical courses to be discussed. Students will prepare and present a lesson in the undergraduate program and a professional talk to their peers. This course is designed to provide graduate-level dental hygienists with the concepts of education and to develop national and international dental hygiene speakers.
D HYGN 503: Oral Medicine (3 credits: 1 hour didactic/6 hours clinical): Didactic and clinical course focusing on assessment, dental hygiene diagnosis, treatment plan, treatment, referral and evaluation of dental hygiene cases. Graduate-level topics in periodontology and oral pathology will be covered. The course director will work with a variety of experts who will present to the class. The didactic portion will include problem-based learning, class assignments and lecture/discussion. The clinic course will focus on dental treatment, diagnosis and evaluation of medically compromised patients.
D HYGN 504: Dental Hygiene Internship (6 credits): Direct observation and supervised learning in an area of dental hygiene. Interns complete this practicum in selected sites implementing the skills acquired in DH 502. These will include sites from all over New Mexico, depending on the student's individualized track, which may include community clinics, dental educational institutions, public health departments and agencies, hospitals, long'-term care facility, military bases and prisons. The graduate program director must approve all internships.
D HYGN 505: Clinical Teaching and Administration (3 credits: 1 hour didactic/6 hours clinical): The theory and practice of laboratory, pre-clinical and clinical dental hygiene instruction, with emphasis on the coordination of clinical dental hygiene education. This course will consist of a didactic portion, which teaches the current theories, concepts and paradigms of clinical dental hygiene education. Students will work on assignments in the coordination and operation of a dental hygiene educational clinic. Students will study and apply concepts in student clinical advising. The clinic portion will also include hands-on teaching experience with undergraduate students.
D HYGN 507: Problems (1-3 credits): A topical research and procedures course that can be individualized for the student. All problems topics must be approved by the graduate program director.
D HYGN 510: Dental Hygiene Research (3 credits): Dental hygiene research methodologies, with emphasis on grant writing, research proposals and research presentations. Students will cover the research approaches and types, research methodologies, biostatistics, ethics and consent issues in dental research, as well as dental research entities nationally and internationally.
DEHY 538: Statistics in Dental Hygiene Research (3 credits): Provides a conceptual foundation of statistics related to basic, clinical, and behavioral dental hygiene science.
D HYGN 560: (3 credits): A graduate project that does not include the conduct of research, but does include a comprehensive review of the literature on a specific topic approved by the Division of Dental Hygiene.
D HYGN 561: Advanced Dental Hygiene Clinic (6 credits): Clinical and didactic course that focuses on dental hygiene theory and practice working with interdisciplinary health care workers in a variety of settings including hospital, geriatric, preschool and school children, cancer, social work and long-term facilities. Students will be supervised by the course coordinator and will work alongside dentists, physicians, nurses, faculty dental hygienists and other allied health care providers.
D HYGN 599: Thesis (6 credits): Continuation of research, culminating in a master's degree thesis.
Registered Dental Hygienists
The Department of Dental Hygiene is the perfect place for Registered Dental Hygienists (RDHs) who are looking to advance their careers and/or procure additional dental hygiene-related certifications.
Continuing Dental Education
Are you a patient looking for care?