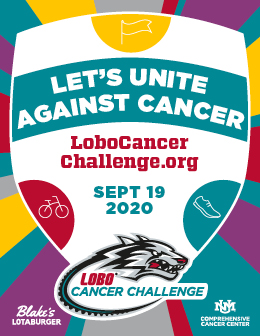 By Jeff Tucker and Michele W. Sequeira
Lobo Cancer Challenge Goes Virtual
Annual event to support cancer research and patient care in New Mexico balances critical fundraising with COVID-19 orders
Opportunities at the fourth annual Lobo Cancer Challenge are wide open.
And so is registration.
This year, the Lobo Cancer Challenge is meeting the challenge of a global pandemic by holding the event virtually on Saturday, Sept. 19.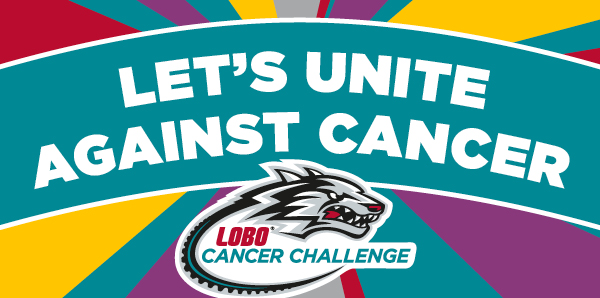 Far from a limitation, a virtual event will give participants the opportunity to set new courses, find different routes, and ride along different trails, all to raise critical funds for New Mexico's fight against cancer.
"This fundraising event helps us to deliver the best cancer care in the state," says Cheryl Willman, MD, Director and CEO of The University of New Mexico Comprehensive Cancer Center. The Lobo Cancer Challenge supports cancer research and patient care at the UNM Comprehensive Cancer Center. "We are deeply grateful to our community," Willman says, "for their tremendous support in helping all New Mexicans facing cancer."
According to event director Amy Liotta, all the money that participants raise goes directly to the program they choose. "Thanks to the generosity of our community partners, every dollar raised by the participants goes to support patient care, research, community outreach or education and training at the UNM Comprehensive Cancer Center," she says.
Over the first three years, the Lobo Cancer Challenge has raised almost $700,000. The money helps to fund projects and programs that other sources of revenue may not cover.
In past events, participants chose to ride a bike for 25, 50 or 100 miles or to run or walk a 5K, and they committed to a fundraising minimum. Because of the virtual format for this year's event, participants will choose their own challenge and are encouraged to raise money. Liotta explains that their challenge this year can be anything: riding, running, walking, hiking, volunteering, or something else.
It is hoped that out-of-state friends and family of New Mexico participants will join the virtual event, too. All registered participants will receive a t-shirt and dedication bib to wear while completing their challenge on Sept. 19.
Register and learn more about the event at LoboCancerChallenge.org.
UNM Comprehensive Cancer Center