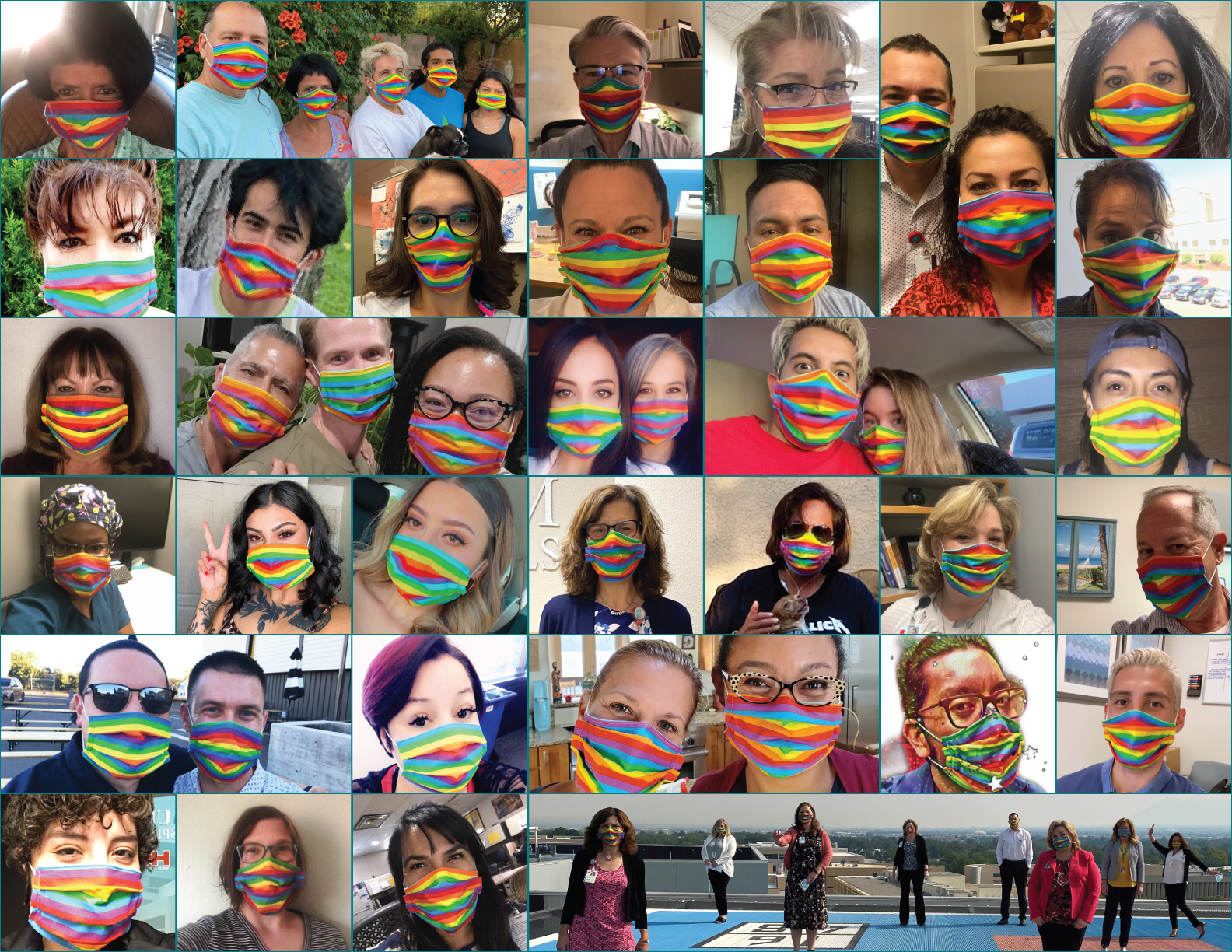 By Misty P. Salaz
Dedicated to Equity
UNM Hospitals Named an LGBTQ Health Care Equality Leader by the Human Rights Campaign for Seventh Year
UNM Hospital has received an LGBTQ Health Care Equality Leader designation from the Human Rights Campaign Foundation (HRC) in recognition of its commitment to providing LGBTQ patient-centered care.
The designation was awarded in the 12th edition of the HRC's Healthcare Quality Index, released today. A record 765 health care facilities actively participated in the 2020 survey, of which 495 earned an LGBTQ Health Care Equality Leader designation. UNMH is the only hospital in New Mexico to have received this designation for six consecutive years.
"This designation is critical to demonstrate our commitment to every patient who walks through our door," says UNM Hospital CEO Kate Becker. "We are honored as we strive to provide excellent, safe and equitable patient care that is inclusive and honors diversity."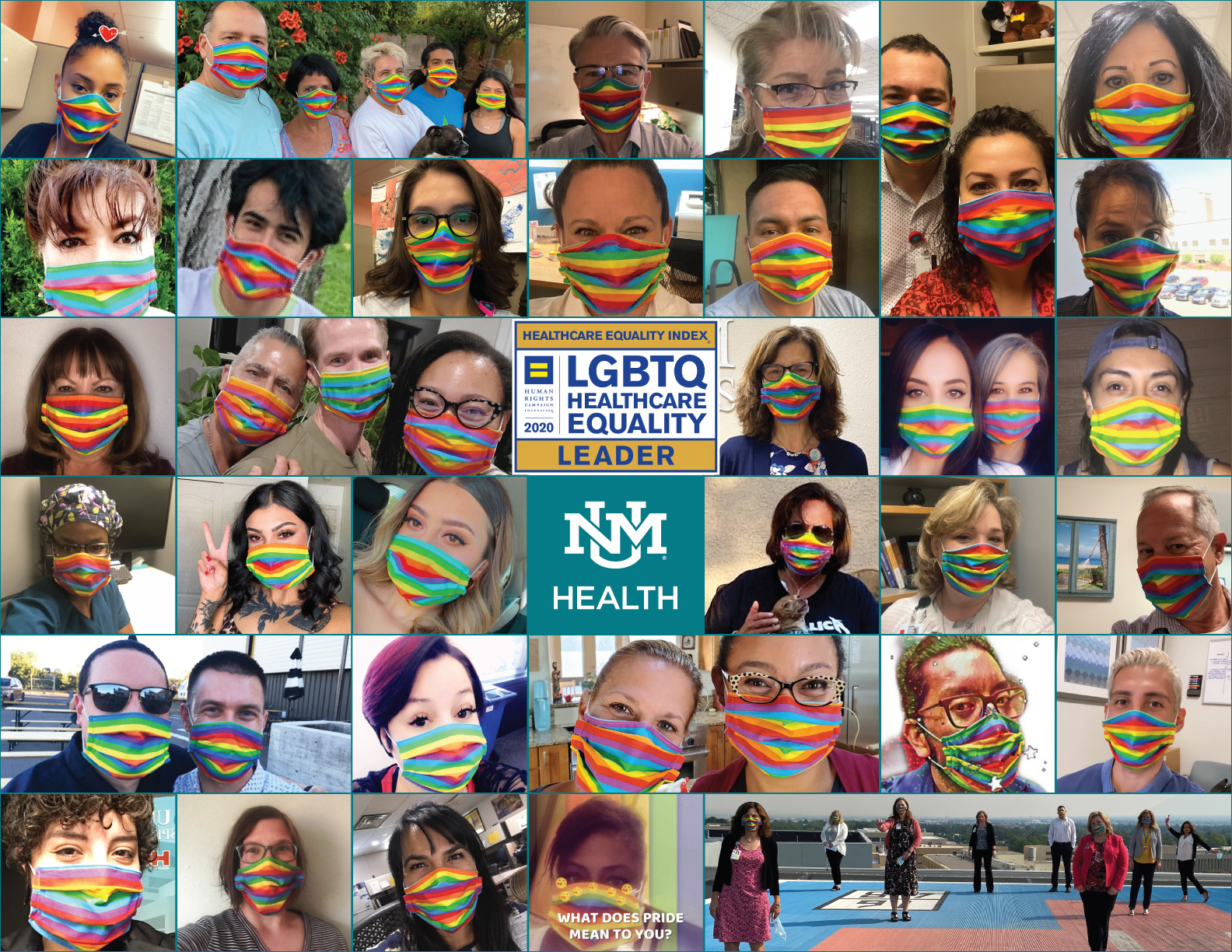 The facilities receiving the LGBTQ Health Care Equality Leader designation, received the maximum score in five categories to earn an overall score of 100. The extensive application includes many efforts in which UNMH has gone beyond the basics when it comes to adopting policies and practices in LGBTQ care. 
UNMH's progress, as reflected in the 2020 Index, includes:
Completing 253 hours of staff training in LGBTQ patient-centered care (.
Both "sexual orientation" and "gender identity" in the patient non-discrimination policy
Both "sexual orientation" and "gender identity" in the employment non-discrimination policy.
UNMH has a policy that specifically outline procedures and practices aimed at eliminating bias and insensitivity and ensuring appropriate, welcoming interactions with LGBTQ patients.
UNMH has transgender-inclusive health care benefits for employees.
"UNMH has always been dedicated to meeting the health care needs of our diverse community," says Fabian Armijo, the hospital's director of Diversity, Equity and Inclusion, and Interpreter Language Services. "But this year, with so many people in our nation advocating for change, our efforts toward inclusive policies and health care are more important than ever."
Since 2013, the hospital has collaborated with the UNMH LGBTQ Resource Center and the New Mexico Transgender Resource to create and expand a robust in-house training program that highlights non-discrimination and an institutional commitment to equitable, inclusive care for LGBT patients, and their families, who can face significant challenges in securing the quality health care and respect they deserve.
The Diversity, Equity and Inclusion office, in collaboration with UNMH Frontline Education, recently created a new training that provides learners with education around the proper use of gender neutral pronouns. After this training, learners are better equipped to honor patient's identities.
"UNMH has prioritized diversity training for our entire team since 2002," says Sara Frasch, UNMH chief human resources officer. "Ensuring our health care workers are equipped to provide not just safe but sensitive care that respects and honors patient's dignity is a top priority of our training efforts."
In addition to surveying active participants, the HRC Foundation proactively researched the key policies at more than 1,000 non-participating hospitals and determined that the adoption rate at these hospitals stands in stark contrast to the near-perfect adoption by active participants. 
Among the researched hospitals with enumerated patient non-discrimination policies, only 67% have policies that include both "sexual orientation" and "gender identity," and only 63% were found to have an LGBTQ-inclusive employment non-discrimination policy. The equal visitation policy, at 93%, is the only one that comes close to matching the rate of the participating facilities.
For more information about the Healthcare Equality Index 2020, or to download a free copy of the report, visit www.hrc.org/hei.
Categories:
Community Engagement, Diversity, Health,
Top Stories