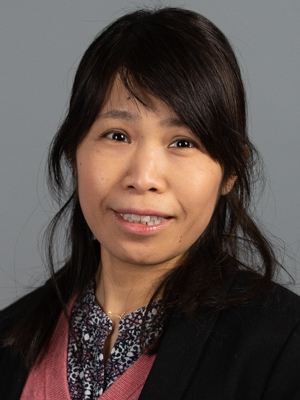 By Jeff Tucker
Honored Researcher
Dr. Ichiko Kinjyo Receives 2021 Liz Tilberis Early Career Award From the Ovarian Cancer Research Alliance
The groundbreaking work being done on ovarian cancer treatment at The University of New Mexico Comprehensive Cancer Center has drawn national recognition and financial support from the Ovarian Cancer Research Alliance.
Ichiko Kinjyo, MD, PhD, a research assistant professor in the UNM Division of Molecular Medicine and at the UNM Comprehensive Cancer Center, was recently named a 2021 recipient of the Liz Tilberis Early Career Award.
Kinjyo was recognized for her work with Sarah Adams, MD, in exploring how a combination of a cancer-targeted agent known as a PARP-inhibitor and immunomodulation via immune checkpoint blockade can improve treatment in patients with ovarian cancers. 
PARP-inhibitors are an oral form of chemotherapy that induce cancer cell death by blocking a cell's ability to repair its DNA.  Immune therapy is another new treatment strategy that works by enhancing a patient's immune response to cancer. Kinjyo's work has identified the mechanism by which these different approaches can work together for even greater treatment benefit.
Kinjyo's work under the new grant will focus on how PARP-inhibitors directly affect immune cells, and whether they can enhance the anti-cancer effects of T cells. 
"The drug was initially studied by cancer biologists but not by immunologists," Kinjyo said. "With more and more potential effects of PARP-inhibitors in intracellular regulation, we are interested in the long-term impact on the immune system. That's the caveat we don't know yet."
Adams launched a clinical trial of the combination of PARP-inhibitor and immunotherapy treatment at the UNM Cancer Center in 2016. Once this trial was underway, she recruited Kinjyo to join this work because of her expertise in T cell biology. 
"Ichiko is an outstanding scientist," Adams said. "She is spearheading critical work that investigates how anti-tumor immunity is enhanced by this combination regimen. Her results have already expanded our understanding of the impact of PARP-inhibition in cancer biology and tumor immunology.
"Her new project will test an exciting hypothesis that links immunometabolism, DNA repair and cancer biology and has the potential to significantly impact treatment for women with ovarian cancer and other tumor types."
Originally from Japan, Kinjyo moved to UNM after completing her PhD work under the mentorship of Akihiko Yoshimura, PhD.  She completed postdoctoral training in T cell immunology in the lab of Steven L. Reiner, MD, at the University of Pennsylvania, and subsequently with Dr. Wolfgang Weninger, MD, at the University of Sydney, Australia.
In 2014 Kinjyo joined the lab of Bridget Wilson, PhD, at UNM, where her research focused on acute lymphoblastic leukemia. 
Kinjyo chose her career as a basic scientist because of her curiosity about how the body is maintained as a biological system, but said working with a physician-scientist like Adams is a special experience.
"Sarah bridges between clinical bedside and research bench by bringing patients' wishes to us and reminding us of the demand for better treatments to cure cancer" she said. "We strongly wish to contribute to improving clinical cancer treatment through our daily findings from the lab." 
Kinjyo expects that basic research to uncover the additional effects of PARP inhibitors beyond their impact on DNA repair will enhance treatment efficacy and contribute to the design of new combinations. Her work also has the potential to expand the use of PARP-inhibitors for other types of cancer.
The Liz Tilberis Early Career Awards are given to junior faculty at the assistant professor level who have a strong commitment to an investigative career in ovarian cancer research. The award was started in 2000 and is named for the late-president of the Ovarian Cancer Research Alliance. OCRA was incorporated in 1994 and is the oldest and largest ovarian cancer charity in the world. Since its inception, OCRA has raised over $100 million ovarian cancer research. 
UNM Comprehensive Cancer Center