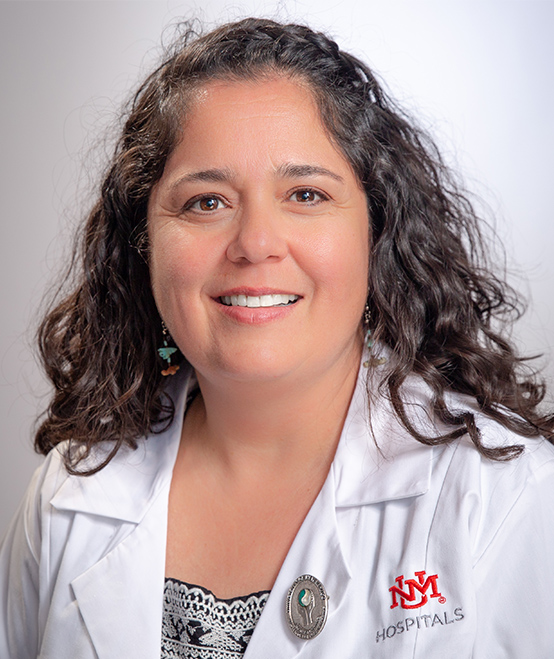 By Heather M. Lardier
Ortiz Named Fellow of the American College of Nurse-Midwives
College of Nursing Faculty Member Receives National Recognition
Felina Ortiz, DNP, RN, CNM, assistant professor, clinical educator and student success coordinator at The University of New Mexico College of Nursing, has been named a fellow of the American College of Nurse-Midwives (ACNM). 
Ortiz graduated with her master of science in nursing from UNM's nurse-midwifery program in 2003. She earned her doctor of nursing practice degree from New Mexico State University in 2014. She joined UNM's Nursing faculty in 2011.
Ortiz has taken an active role in ACNM's Midwives of Color Committee since she was a student in 2001, helping to create the committee's mentoring program and its local New Mexico affiliate. She has also served as the chair and secretary of the New Mexico affiliate.
On the national level, she has served on the ACNM program and nominating committees. Ortiz is most proud of helping students prepare for presenting to ACNM. Many of these students later went on to make an impact in midwifery.
Fellowship in the ACNM honors midwives who demonstrate leadership, clinical excellence and outstanding scholarship, and whose achievements have merited special recognition both within and outside of the midwifery profession. Fellows serve the ACNM in a consultative and advisory capacity.
"Being an ACNM fellow of color is very important to me," Ortiz said. "There currently aren't many, although they are making great strides to change that. In this leadership position, my long-term goal is to improve the climate for all practicing midwives of colors."
Ortiz is joined by two other UNM College of Nursing faculty fellows: Amy Levi, PhD, RN, CNM, and Kristen Ostrem-Niemcewicz, DNP, RN, CNM, FNP-BC.