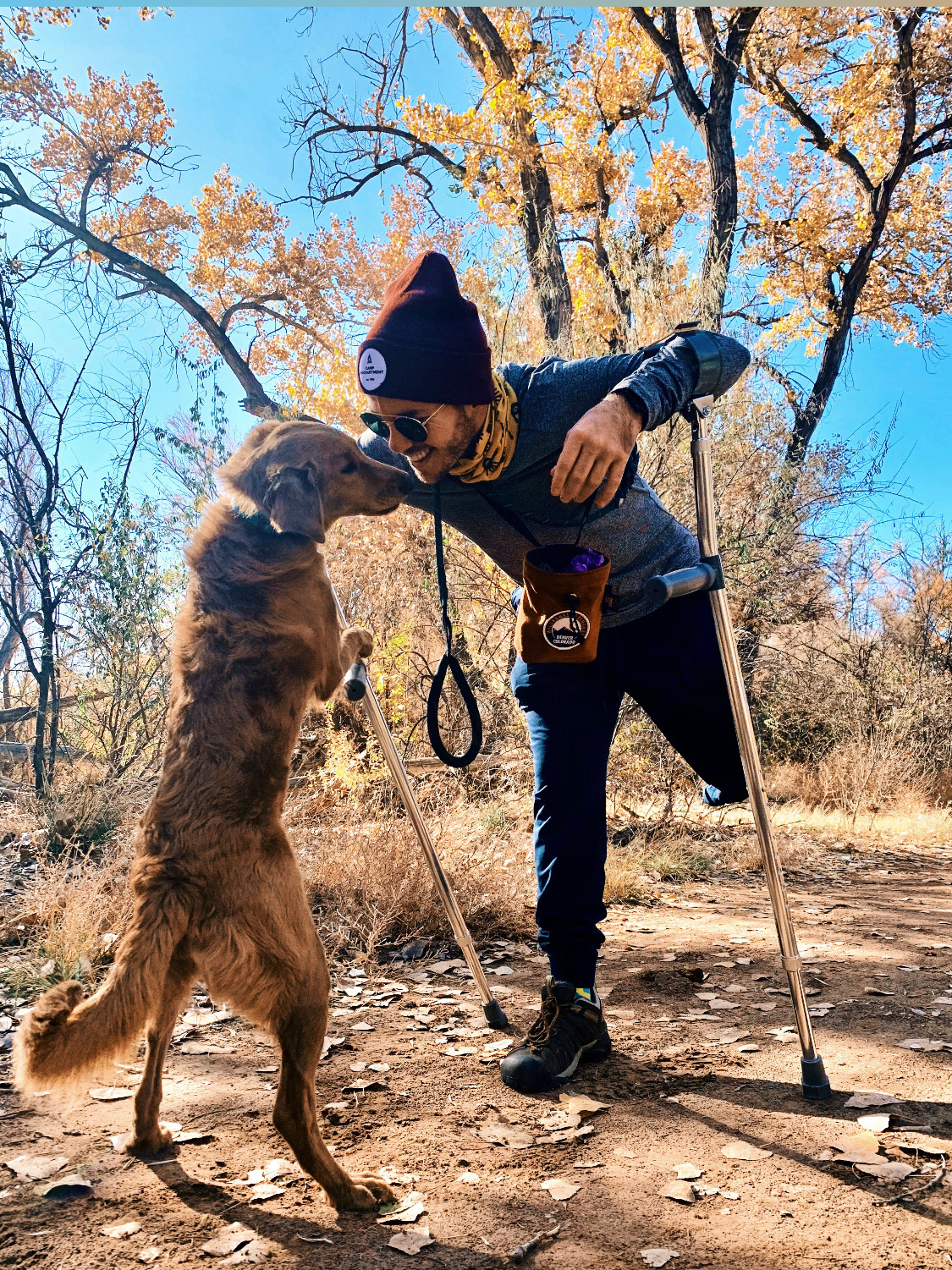 By Jeff Tucker
Crushing It
Kyle Stepp overcame a multitude of challenges from bone cancer to remain committed to an active and generous life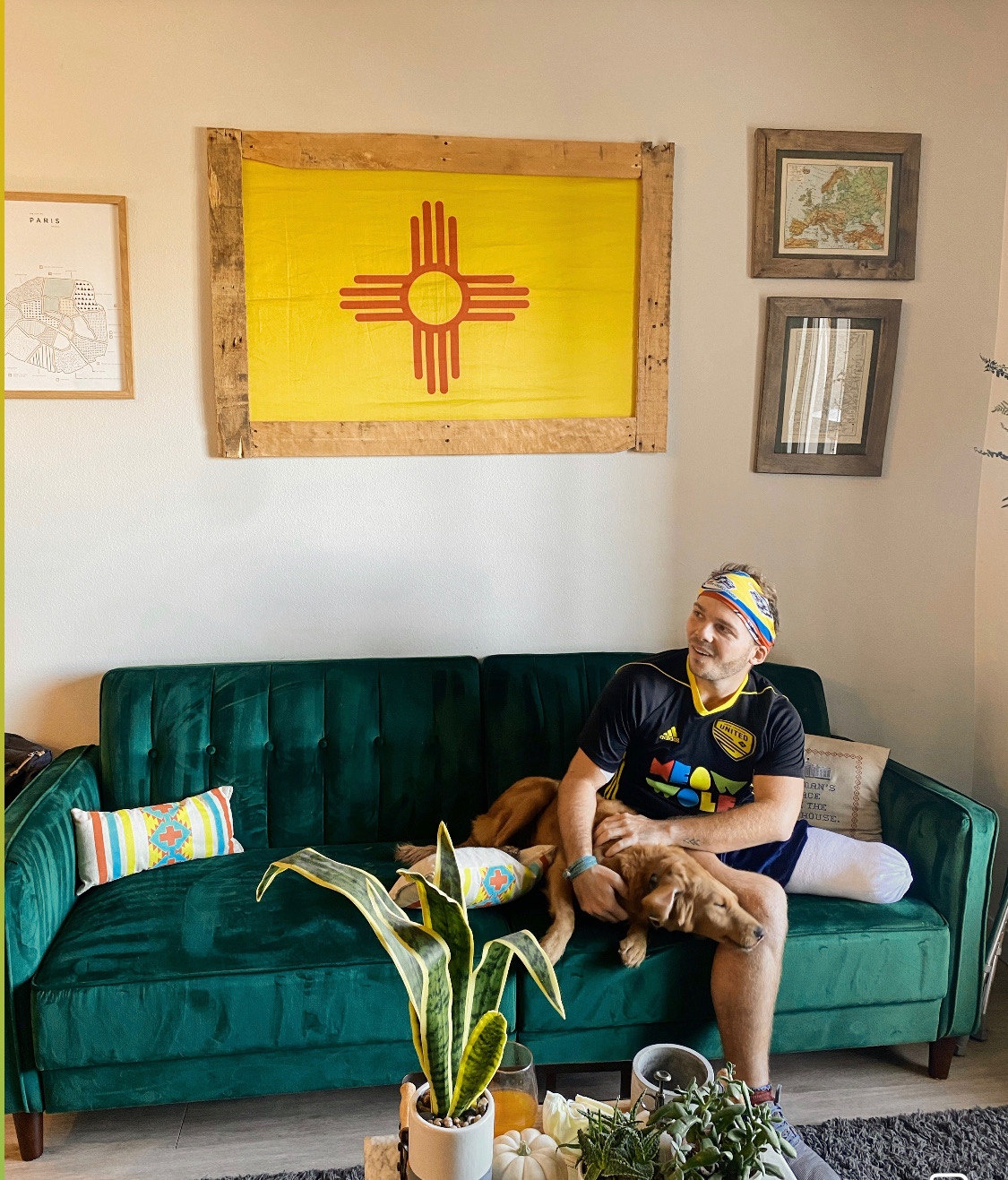 One warm October afternoon in the mountains of northern New Mexico, Kyle Stepp met his destiny.
It was the last run of the day and Stepp was speeding down a mountain bike trail at the Angel Fire Resort when he lost control on a turn and slammed his reconstructed left leg into a tree.
"I hit exactly at the femur where the endoprosthesis was anchored," Stepp says. "I completely fractured my femur, and the internal prosthetic had separated from my leg. I'm lying there, and I knew the day I had anticipated all these years had finally come. I just felt a sense of peace and calm."
Stepp made three phone calls while he waited for emergency personnel to arrive and transport him off the mountain.
The first two were to his adoptive mother and brother and the third was to his oncologist, asking her to let the team at The University of New Mexico Comprehensive Cancer Center know that he would soon be arriving at the hospital.
Saving Limbs and Function
The UNM Comprehensive Cancer Center is the only place in New Mexico that offers orthopaedic surgical oncology. The specialty team interacts with a multitude of patients, from those diagnosed with more common forms of cancer, to rare cases like Stepp's, where the tumor originated within the bones themselves, says surgeon David Chafey, MD.
"If you take all the common cancers – prostate, breast, kidney, lung – up to about 15 percent [of patients] can have manifestations in the bone," Chafey says. "That doesn't sound like a lot, but when you aggregate all of those cancers it's quite a bit. In those patients, their oncologist will continue to treat cancers and find cures. My role is to help them get rid of the pain and stay walking."
For bone cancers, Chafey is much more involved, but the process can lead to difficult choices for patients.
"The other types of cancer that I treat that are quite a bit rarer than cancers that primarily arise in the bone," he says. "Kyle is a rare example of childhood bone cancer. In those cases, my role is both to cure the cancer, along with restoring function."
Because these cancers are rare, cases are evaluated based on tumor size and location and what the cost is to the patient's quality of life to remove the cancer, Chafey says
"If the tumor is arising from the muscle or bone and you remove that completely, are they going to be left with [a] functional leg that has an option for reconstruction?" he says.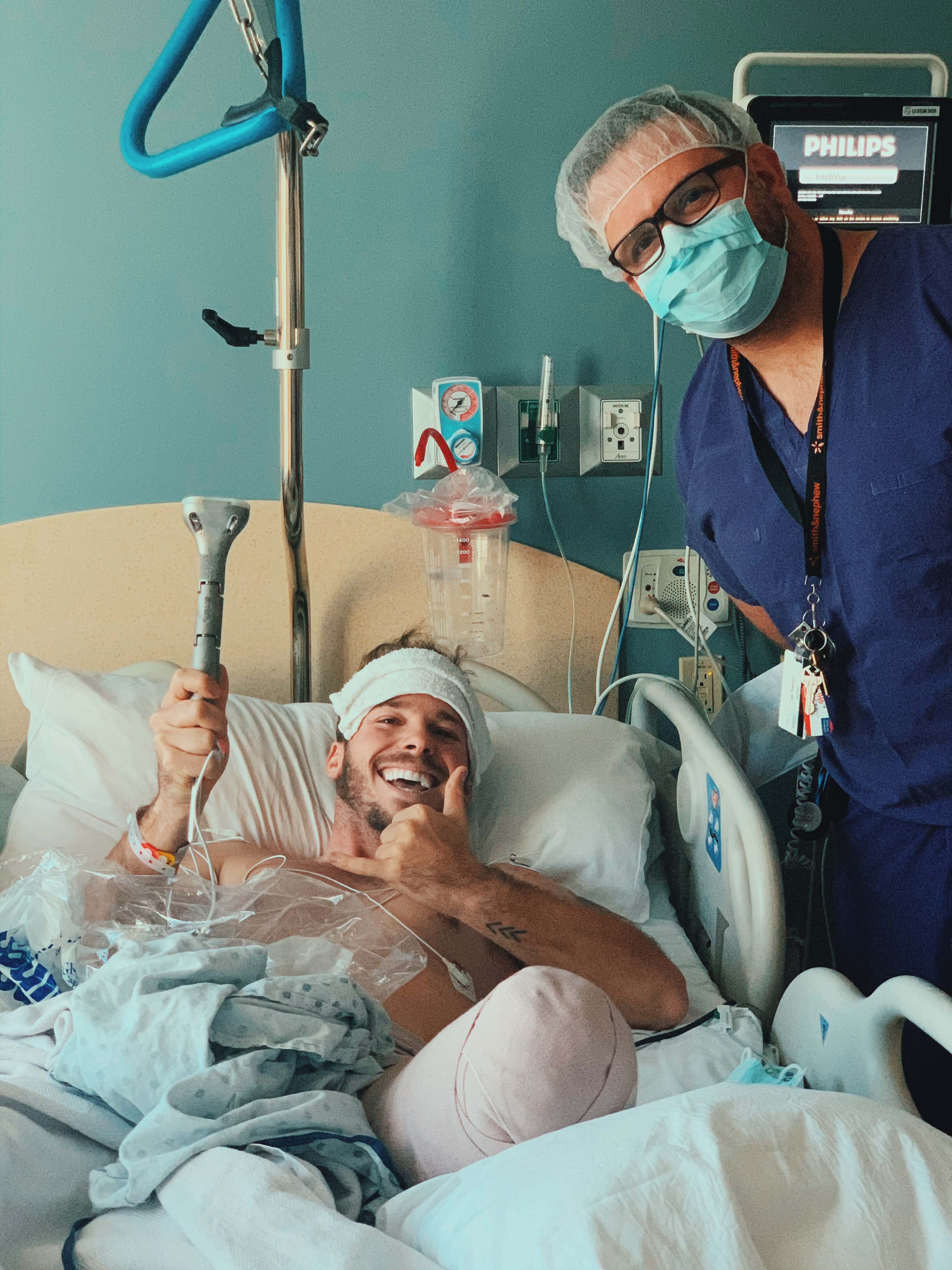 The Hardest Thing to Hear
A few days after the mountain bike accident left Stepp alone in the hospital, he called Chafey and let him know of his decision. The next day, Stepp's leg was amputated above the knee.
The surgery marked the end to a chapter in the 26-year-old's life that had begun a dozen years earlier, when he had left a tumultuous childhood for what promised to be a fresh start in Albuquerque with his grandparents.
"I was abandoned as a kid," he says. "So I, for once, felt like I had a home and a family. I felt like this was a new beginning."
Stepp planned to walk through the doors of Del Norte High School brimming with confidence and an attitude to try everything. Run for student government. Try out for baseball. Embrace every opportunity that came along.
Then one afternoon during a kickball game in gym class, the ball was kicked directly into his knee. "I just dropped to the ground and started crying. I was just in excruciating pain," he says.
The solution at the time was to wrap the knee and assume things would be fine.
The next week, during baseball tryouts, Stepp tried to stretch a base hit into a double, slid into second base and felt his knee pop. Again, excruciating pain.
While the assumption was still that it was a sprained knee, Stepp was instructed to visit a family physician to get a closer inspection. When the doctor probed below his left knee, Stepp says the excruciating pain returned and the doctor ordered an X-ray.
"I had no idea what was about to happen," Stepp says. "That Friday night, the doctor calls my grandparents and shares with them he has concerns and that, 'We need to get Kyle to UNM Children's Hospital right away.'"
The X-ray revealed a large tumor in his leg. A biopsy revealed stage four osteosarcoma.
Stuart Winter, MD, a pediatric oncologist at UNM at the time, told Stepp that the cancer also had spread to his lungs. Suddenly, the promise of a new life was transformed into the fight of his life.
"You could sense his calmness," Stepp says of Winter. "I remember he always wore the coolest bow ties. He said, 'Kyle I'm going to walk you through the biopsy and the test results,' and said, 'Kyle what I'm about to tell you is going to be one of the hardest things you're ever going to have to hear. But what I want you to know is we're going to be with you every step of the way.' Then [he] said the word 'cancer.'"
Winter reassured him again and they got to work planning out his treatment. In addition to removing the tumor from his leg, Stepp would eventually undergo 18 rounds of chemotherapy.
Stepp traded classmates and teammates for doctors, nurses and, especially, fellow patients in the hospital. The kids bonded over video games and their quiet, shared purpose of fighting cancer.
"I remember Cesar, on my first day, he came in and sat in the chair next to the bed. He handed me an Xbox controller and said, 'Welcome to the unit,'" Stepp says. "I remember him hanging out with me and we didn't talk about cancer. There was this unspoken commitment to each other."
Difficult Choices, Many Factors
Being active and playing outdoors has always been a cornerstone of Stepp's lifestyle. In the worst times of his childhood, he found solace on the bicycle and the baseball diamond, so the thought, at 14, of losing a leg to cancer was anathema.
After the first half of his chemotherapy treatments was complete, Stepp went into surgery to salvage his leg.
"My femur, knee and tibia were replaced with a stainless steel rod," Stepp says. "Saving my limb was important because I was self-conscious about who I was at the time."
Chafey's predecessor at the UNM Comprehensive Cancer Center performed the surgery. Despite some complications, Stepp was eventually back on his feet.
"Kyle still had to go through chemotherapy, but the surgery was done with a curative purpose, and by all measures, they met that," Chafey says.
The difficult choice for patients over whether to remove a limb or try to salvage it is influenced by myriad factors, Chafey says. Some patients are older and may have other conditions that would complicate a limb salvage. In other cases, where their cancer originated elsewhere in the body, patients may still be undergoing treatments to battle that.
"Most of the time, it's driven primarily by their quality of life and goals," Chafey says. "Removing the bone that's weakened doesn't necessarily give patients a better chance at survival. Survival is dictated by their cancer treatment and their treatment response. Surgery won't necessarily improve that aspect. It will definitely improve their mobility. They can get in and out of the car easier or extend how long can they can walk."
For cases of bone cancer, patient goals are a factor, as well as the sheer possibility of saving the limb after the tumor is removed.
If the limb can be saved, there are other factors to consider, including increased risk of infection and the fact that the prosthetic won't last forever.
"I tell patients it's like keeping the same car you got at 16 and driving it safely because you're not going to be able to get a new one," Chafey says. "So, if you drive it hard and put a lot of miles on it, you're going to start coming up with problems."
Honoring Childhood Friends
Stepp says he received the same type of advice: Take it easy.
He says he always knew there was a chance his prosthetic might break, and during his junior year at UNM an accident did just that. He was able to get the prosthetic repaired and Stepp made a conscious decision about how he would handle living with a rebuilt leg.
"After that procedure I knew if it breaks again, I was probably going to have an amputation," he says. "I said, 'You know what, I'm going to get the most out of this prosthetic.'"
Of the nine core friends he made during his time in cancer treatment, only Stepp has survived.
He carries their memory with him everywhere he goes and tries to honor them with the life he lives.
Cycling became a passion, as did giving back to the community. Stepp got involved with the Lobo Cancer Challenge, a cycling and run/walk fundraiser to support cancer research and treatment at the UNM Comprehensive Cancer Center. As an ambassador and 100-mile rider, he dedicates his personal and team's fundraising to pediatric cancer research at the UNM Cancer Center.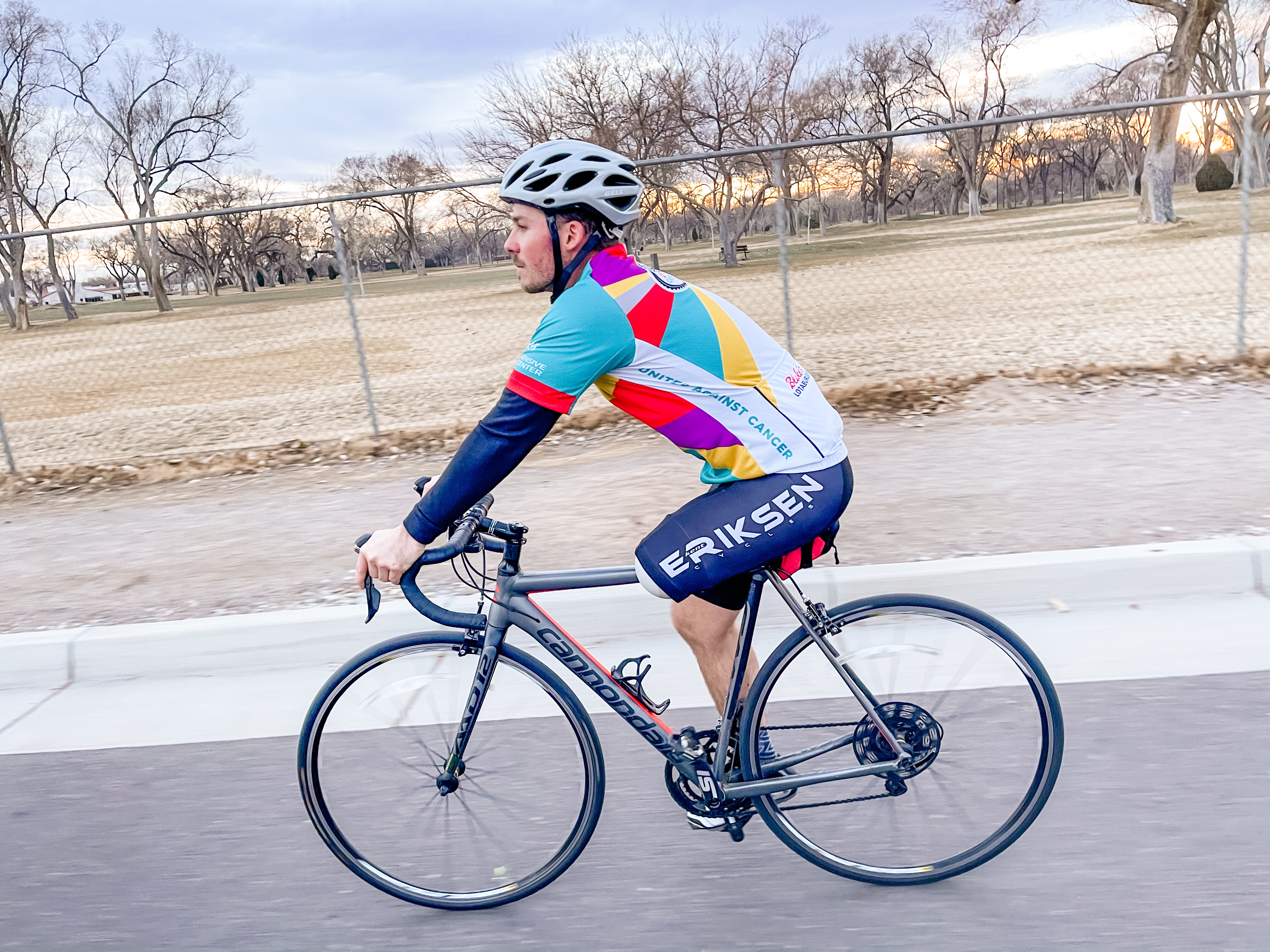 While he was undergoing treatment in high school, Camp Enchantment, a summer camp for kids fighting cancer, became an annual highlight. In his senior year at UNM, Stepp relaunched the camp as an independent nonprofit and currently volunteers as the president of its board of directors.
He started working for the national headquarters of the Children's Miracle Network Hospitals.
He remained physically active.
'No Hesitation, No Reservation'
After his wreck on the mountain in October 2020, Stepp was transported to a hospital under siege by the COVID-19 pandemic. No visitors were allowed and rooms were at a premium. But Stepp says the UNM Cancer Center team never let him feel alone.
"I remember that night after the X-rays, sitting in a room with no windows. But the one bright light in all of this was the team," Stepp recalls. "Drs. Chafey, Aamir Ahmad, and William Curtis - they would sit next to me and they were like, 'You did a number, dude.' They treated me like a normal person. They tried to normalize the experience as much as possible. Curtis is a mountain biker himself, so he was asking all the questions about where I was or how I did it."
Chafey says that when he and Stepp first met about five years ago, there was tension over the possibility that Stepp would eventually lose his leg.
But years later, the acceptance of the situation came quickly.
"We both kind of smiled at each other and I said, 'This is your life and your choice, but at this point, I don't think this knee is fixable to the degree where you would be able to do the things you want to do,'" Chafey says.
Chafey told Stepp that trying to patch the leg up and fix it could put him in the same place two or three years down the road, and likely every few years thereafter.
"I said 'Now that you're cured of cancer and have a whole life ahead of you, do you want this to hold you back or do you want be in a situation where you can just continue on getting stronger and doing as much as you can?'" Chafey says.
Once Stepp made the decision, Chafey and the team helped put their patient at ease over what was going to happen next.
He says Chafey was able to just be present and listen and prepare him mentally for the next chapter in his life, with a new prosthetic that would allow him to be active without pain or the underlying caution he'd been living with.
"What I was thinking about was that I haven't run in 10 years," Stepp says. "I was looking forward to getting back to skiing, getting back to cycling. For the past 12 years, since 2008, my leg was a symbol of years and years of pain and the fighting I had gone through with cancer. There were always limitations.
"I knew that was how I was preparing myself, on how amazing it was going to be to do something with no hesitation, no reservation and nothing holding me back."
Chafey and Stepp continue to have regular conversations and check-ups, predominately virtually. Stepp will be fitted for his prosthetic soon. But he hasn't stopped. Stepp has been on the ski slopes, cliffs and climbing walls, and of course, the bike.
"In the meantime, Kyle's been doing a lot of adaptive skiing, so Kyle's getting out there and living life, which is amazing," Chafey says. "He never ceases to amaze me."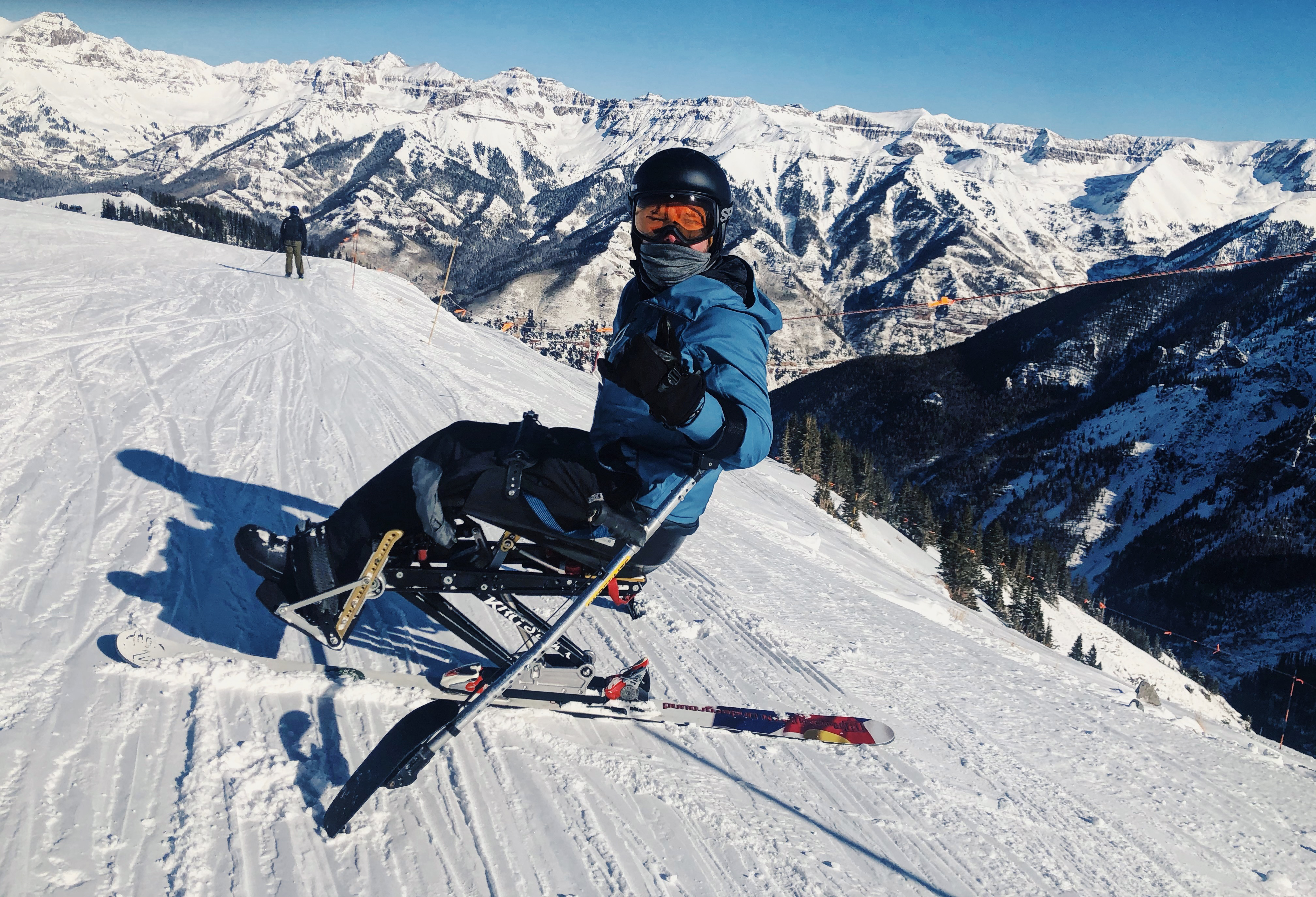 UNM Comprehensive Cancer Center