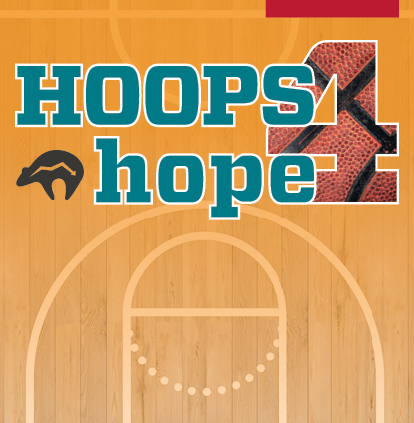 By Jeff Tucker
Hoops 4 Hope Returns
Senate and House Face Off on the Basketball Court to Support Cancer Patients and Families
Legendary UCLA basketball coach John Wooden is oft credited with saying, "It is amazing how much can be accomplished if no one cares who gets the credit."
Since 2000, New Mexico legislators have put aside partisan divisions in favor of legislative ones, as members of the House of Representatives face off against members of the state Senate in a game of basketball at the close of the legislative session.
While bragging rights may be at stake, there aren't any official records of the previous outcomes. Not much is available in the way of scoring leaders or defensive standouts either.
That's because the goal of the game is more profound and deeper for many New Mexicans and their families who are battling cancer.
Hoops 4 Hope is an annual fundraising effort to help support cancer patients at The University of New Mexico Comprehensive Cancer Center. This year, the game is set for March 9 at the Santa Fe Indian School, 1501 Cerillos Road, in Santa Fe. Tip-off is at 7 p.m.
"We appreciate the support of our state lawmakers who participate in the game every year," said Yolanda Sanchez, PhD, Director and CEO of the UNM Comprehensive Cancer Center. "This game and fundraiser provide a crucial source of support for our patients and their loved ones, and it helps us provide the best, most compassionate care to all New Mexicans."
While it was put on hold last year, the game has generated more than $300,000 for the Center's patient care fund over the past 18 years. The game became an official fundraiser for the UNM Comprehensive Cancer Center in 2004, when legislators began playing in memory of state Rep. Ray Ruiz, who died of lung cancer that year.
The Hoops 4 Hope game is open to the public and donations are welcome and greatly appreciated. Donations are also accepted online at https://unmhealth.org/cancer/hoops4hope.html.
UNM Comprehensive Cancer Center