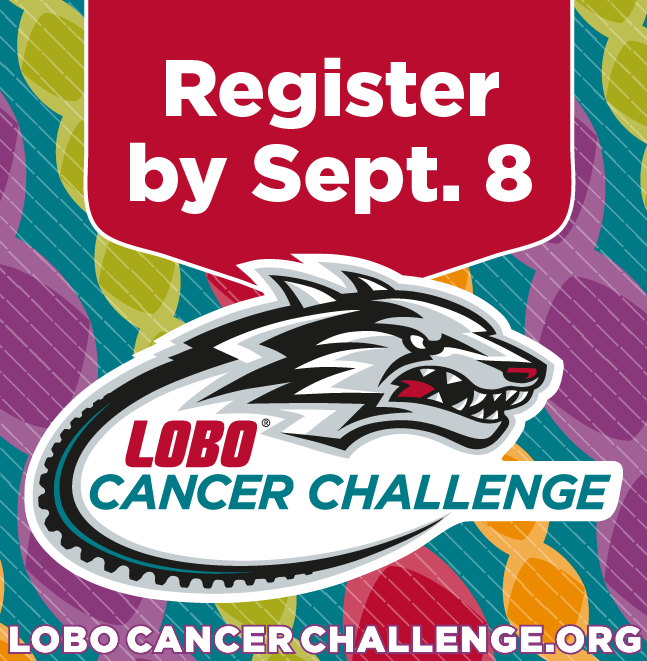 By Jeff Tucker
Lobo Cancer Challenge Registration Closes Sept. 8
Registration fees for the annual community event go up after Labor Day
Registration for the 2023 Lobo Cancer Challenge is on its final stretch. The annual community event featuring bicyclists, walkers, runners, stair-climbers, and for the first time, youngsters from 1 to 10 years old, will happen Sept. 23 at University Stadium.
Those wanting to get in on the fun need to register by Sept. 8., but it's better to get in as early as possible because registration fees will climb after Labor Day. Beginning Sept. 5, registration increases by $10.
The Lobo Cancer Challenge is in its seventh year and is the premier fundraising event for the University of New Mexico Comprehensive Cancer Center.
It started in 2017 and has grown from 170 participants to more than 850 last year. Since its inauguration, the event has raised more than $1.5 million.
Thanks to the generosity of corporate sponsors, every dollar raised by participants, known as Challengers, goes to the important cancer research, patient care, community outreach, and training and education that happens every day at the UNM Comprehensive Cancer Center.
This year's event will feature 25-mile and 50-mile bike rides, a 5k run/walk, the University Stadium stair climb challenge and, for the first time, the Cub Pack 1k run for kids ages 1 to 10.
"This is a community event that offers a chance to reflect and celebrate," said event director Amy Liotta. "Cancer affects nearly everyone. Chances are good that you know someone who's had cancer, or you've fought this disease yourself. The Lobo Cancer Challenge gives participants many ways to honor their loved ones and support the UNM Cancer Center's mission."
The event will also have plenty to see and do before and after Challengers finish their respective events.
The Participant Village will feature sponsor booths, including breakfast burritos from presenting sponsor Blake's Lotaburger.
There also will be face painting, henna tattoos, and massages, along with games on the field and educational opportunities, including the UNM Cancer Center's giant, inflatable colon.
UNM Pharmacy will be on hand to do body mass index (BMI), glucose, and blood pressure screenings.
To learn more about the event, visit www.lobocancerchallenge.org.
UNM Comprehensive Cancer Center