Grief Services Program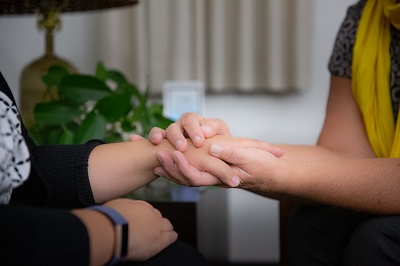 The Grief Services Program is an integral part of the New Mexico Office of the Medical Investigator. The program is staffed by licensed, Master's Level mental health professionals with extensive experience and expertise in dealing with the effects of traumatic grief.
Services
Services provided by the Grief Services Program are:
Individual and family counseling psychotherapy
Crisis intervention services, including telephone consultation, home visits and meetings with families at OMI
Referrals to appropriate community resources
Support group facilitation
Advocacy
Facilitation of meetings with pathologists or investigators and family members to review autopsy reports.
A Special Message to Family Members
The Office of the Medical Investigator is required by law to be involved in certain investigations. It is important that you realize our agency has made its own commitment to you to assist in whatever way we can during the difficult times that will follow the death of a loved one.
Our primary mission is to provide you with accurate and timely information about the condition of the death, in order that you can understand what happened and share it with other family members and friends.
Our commitment to you has led to the creation of special grief counseling services. Licensed clinicians are available to talk to you, particularly if the death has been a homicide.
You can access grief-counseling services through our regular number 505-925-0567 or 1-800-432-5239.
"Experiencing the death of someone you love may be one of the most difficult things you have ever done."
American Red Cross Assistance
If you have lost loved ones to COVID-19, a virtual team of specially trained mental health, spiritual care and health services Red Cross volunteers are standing by to provide compassion and comfort. For more information, click the link below or call toll-free 833-492-0094.
Sudden Death
Any death can give rise to a variety of physical, emotional and social reactions. A sudden, unexpected death can intensify these reactions. An understanding of some of the normal responses to a traumatic death of a loved one and how to cope with these reactions may be helpful to family members and friends faced with this experience.
All services provided by the Grief Services Program are offered at no cost to participants.
Grief-Counseling Services
Licensed clinicians are available to talk to you.
Access grief-counseling services through our regular number: 
505-925-0567
or
800-432-5239
.
Education & Training
Additionally, the GSP provides grief education and training throughout New Mexico for agencies such as law enforcement, emergency responders, nurses, mental health providers, teachers and other groups who request such training.
The OMI Grief Services Program focuses on providing counseling, information, referrals, advocacy, and emotional support to those dealing with the sudden death of someone they love. Licensed therapists are available to support you and your family. The Grief Services program of the Office of the Medical Investigator can provide short-term counseling and referral to on-going peer support groups or longer-term counseling.
While there is an emphasis on delivering grief services statewide to families and individuals who are dealing with homicide, brief counseling and support are offered to any member of the community seeking services to help cope with a sudden or unexpected death.
Office of the Medical Investigator