Neuropathology Consults
Forensic Neuropathology Consult Services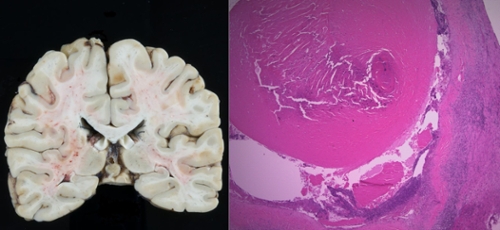 The Office of the Medical Investigator, a special program of the University of New Mexico Health Sciences Center, is pleased to offer expertise in forensic neuropathology consultation by Heather S. Jarrell, MD and Karen S. SantaCruz, MD.
Cases accepted include, but are not limited to: adult and pediatric blunt head trauma (accidental and non-accidental), neurodegenerative disease (adult and pediatric), leukodystrophy, leukoencephalopathy and infectious processes of the CNS.
Expert testimony is available by request or subpoena. Materials accepted for consultation include formalin-fixed whole brain and/or spinal cord, paraffin-embedded formalin fixed tissue, or H&E stained/unstained slides.
Please complete and include a Neuropathology Consultation Chain of Custody form for all specimens shipped.
Contact Information: Contact Heather Jarrell, M.D. for additional information and fee scheduled at: hjarrell@salud.unm.edu
Shipping and Packaging Whole Brains
Non-Contagious brains without prior shipping materials.
When sending out a formalin-fixed brain, use a Thermosafe box with Styrofoam.
Brain Packing

Brain/Sections should be taken out of the brain bucket and placed in formalin-soaked blue pads.
These contents should be placed in a red bio bag and sealed closed.
Surround this bag with dry blue pads or absorbent pads, and place in another organ bucket bag and seal closed.
Place this into the Styrofoam box.
The Styrofoam box should be inside the cardboard shipping box.
Place any paperwork that needs to be sent to the recipient organization inside a large envelope and place the envelope on top of the Styrofoam box before sealing the outer box.
Shipping address:
Office of the Medical Investigator
ATTN: Albert Arocha/Morphology Department
1101 Camino de Salud NE
Albuquerque, NM 87102
Office of the Medical Investigator