Director's Message
Dr. Tassy Parker, PhD, RN (Seneca, Beaver Clan)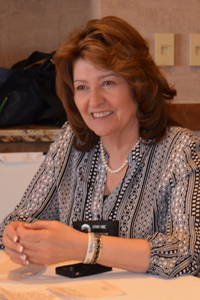 Welcome to the CNAH website! We are a center within the University of New Mexico Health Sciences Center, and are located administratively within the Office of the Vice Chancellor for Academic Affairs. With funding from the New Mexico Legislature in 2004, CNAH became UNM Health Sciences Center's flagship initiative for serving the health- and education-related needs of Indigenous communities and students statewide. In addition, CNAH's collaborative research efforts target some of the most pressing and persistent health disparities affecting tribal and urban communities.
CNAH's signature programs, the Institute for Indigenous Knowledge and Development (IIKD, pronounced I-kid) and Student and Health Professions Workforce Development integrate Indigenous community needs, values, and beliefs with the academic core missions of education, research, and service. We apply innovative applications of the social determinants of health approach to program development for Indigenous well-being and success, as locally defined.
Our team founded IIKD in the summer of 2013; however, working relationships among the IIKD team began as far back as 2002. In our first year of operation we created a home for Indigenous communities locally and nationally who want to exercise their sovereignty and self-determination through community-based education, public health infrastructure building, evaluation, research, technical assistance, and professional facilitation for strategic and action planning. One example of CNAH-IIKD programming that incorporates all of those elements is our highly successful community health assessment workshop. To date, our team has engaged almost 40 tribal, off-reservation, and non-profit communities in the community health assessment process.
Our success with student and health professions workforce development is highlighted in a 2015 article featured in Indian Country Today.
We value broad collaboration in order to deliver the right resources for sustainable solutions at the right time. Our collaborative research initiatives with tribal and off-reservation communities and other allied programs include community-based participatory research (CBPR) addressing mental and behavioral health, pediatric obesity prevention, incarcerated American Indian youth, adverse childhood experiences, youth resilience, and historical trauma.
Frequent visits to the CNAH website will give you access to opportunities for joining our CNAH team through volunteer service and, occasionally, job openings. Our website will introduce you to our CNAH team members and our collective vision, mission and operating values.  You will learn about upcoming events and have access to brief stories about our new, ongoing, and completed initiatives presented in written and digital story formats.
Please call us to arrange a visit to the CNAH office. We are conveniently located near the UNM campus and the interstate with plenty of hassle-free parking. In the meantime, you can sign up for the CNAH listserve, and call on us to discuss your ideas for a collaborative effort. Our greatest strengths lie in our partnerships with others who also demonstrate commitment to enhancing the lives of Indigenous peoples here in New Mexico and cross-nationally.
On behalf of the CNAH team, we look forward to hearing from you!
Contact CNAH
MSC07 4246
1001 Medical Arts Ave NE
Albuquerque, NM 87102
Physical Location:
Integrity Building
2nd Floor