PhD in Nursing
Admissions and Academic Advisement Contacts
Schedule online at https://booknow.appointment-plus.com/3v655pee/ or request information here.
All appointments will be scheduled as either email or Zoom. Please indicate your preference in the special comments section.
Our dedicated advisors are here to assist you with all your advisement needs and we'll walk you through everything. If you have any questions, please contact us at HSC-CON-StudentServices@salud.unm.edu
The PhD program at The University of New Mexico College of Nursing develops and mentors exceptional nurse researchers, equipping them with the skills to address the wide-ranging health-related challenges facing policymakers and healthcare providers. Graduates from our PhD program will educate the next generation of nursing professionals and advance the science of nursing.
Online PhD Program Improves Access
We have the capacity to serve a broad student population – including international students and students living in rural areas of the United States – because the program is primarily administered online. Many of these students would not otherwise have access to a doctoral program in nursing.
Publishing & Presenting Research
While pursuing their degrees, students are encouraged to publish peer-reviewed articles and present research at regional, national and international conferences.  
Areas of Research in Nursing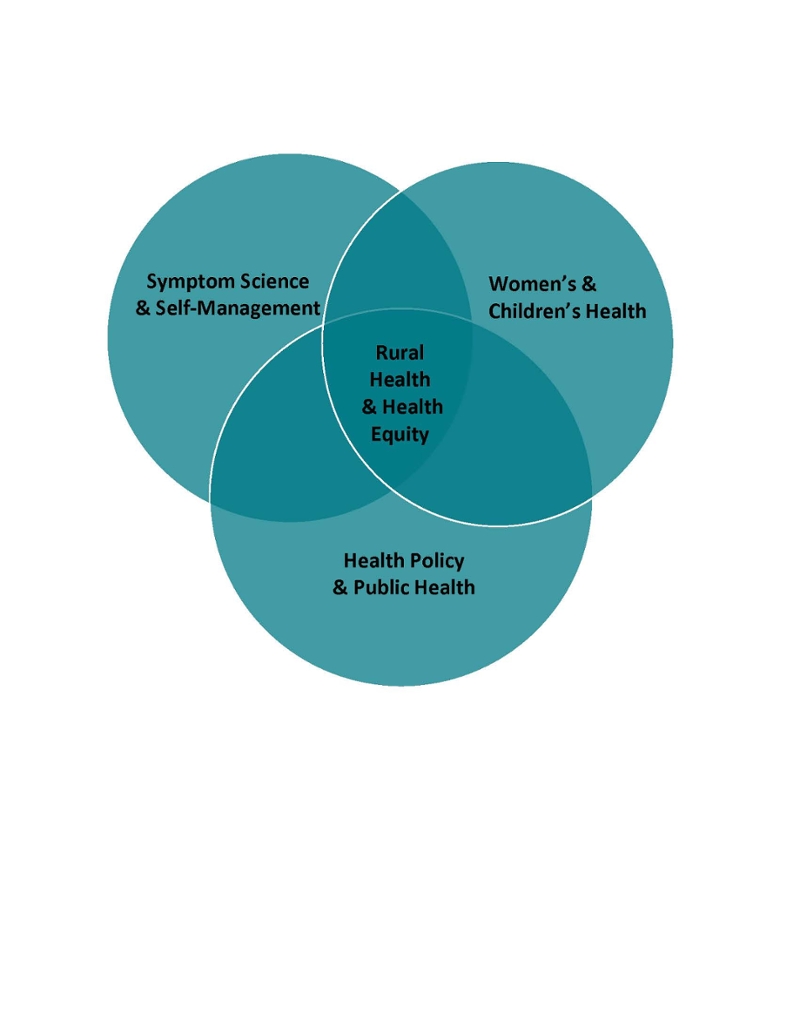 Areas of research emphasis among the faculty at the UNM College of Nursing include:
Rural health
Health policy and public health
Data science
Biobehavioral health
Cutting across these areas of emphasis is an overall focus on rural health and health equity.
Nursing PhD Program Tracks
The two program tracks are:
Individualized Track: The faculty advisor will guide each student in selecting coursework tailored to meet personal, professional and scholarship goals and needs. 
Health Policy Concentration: The UNM College of Nursing is one of the few programs in the U.S. that offers this concentration at the PhD level. The academic program is a rigorous course of study, grounded in real-world clinical experience and relevant research. It is designed to create a deep understanding of the factors that shape and influence health-related policy decisions.
Program Information & Requirements for Both Tracks
Students are required to be on campus for one week of face-to-face class time during Residency Week (typically the first week of the summer semester) for the first three years of the program.
All PhD courses are online.
Students are required to attend the Western Institute of Nursing (WIN) Research Conference in April within the first two years of their program. After that, students are required to attend a research conference yearly (with committee approval) until completion of the degree.
BSN to PhD and MSN to PhD programs of study are offered.
The UNM College of Nursing's PhD program is a member of the Western Interstate Commission for Higher Education (WICHE) that offers tuition-reciprocity arrangements.
Curriculum Plan
The PhD curriculum consists of a core of PhD courses on philosophy of science, theory, statistics, health policy and research design. Students additionally choose from a selection of research methods courses, substantive area courses and electives. Students admitted under the BSN entry option complete 18 prerequisite credits before starting the PhD coursework.
NOTE: Students admitted under the BSN entry option should consult the PhD Program Director for any requirements in addition to those listed in this section.
All courses within the PhD program are three-credit courses with the exception of N690 and N648.
Required Core Courses for all students- 24 credits
NURS 600*
NURS 601
NURS 602
NURS 606*
NURS 607*
NURS 620*
NURS 621
NURS 640*
NURS 690
Philosophical Foundations of Nursing Science
Theory I: Methods and Processes of Nursing Knowledge Development
Theory II: Synthesis of Knowledge for Nursing Injury
Quantitative Methods in Health Research
Qualitative Methods in Health Research
Health Care Statistics I
Health Care Statistics II
Health Policy, Politics, and Evidence
PhD Seminar (1-3 credits)
*Courses required to sit for the progression exam at the end of Year 1.
Health Policy Courses - 10 credits (required for Health Policy students; may serve as electives for students pursuing an individualized plan of study)
NURS 641
NURS 642
NURS 648
NURS 649
Health Disparities and Policy
Applied Health Economics
Introduction to Health Policy Field Placement (1-credit)
Health Policy Field Placement
Methods Courses – 6 credits All students are required to select at least one of the advanced courses (NURS 612 Health Outcomes Research or NURS 623 Advanced Qualitative Methods) PLUS one additional course.
NURS 612
NURS 613
NURS 616
NURS 623
Health Outcomes Research
Mixed Methods Research
Secondary Data in Health Research
Advanced Qualitative Methods
Electives – 12 credits

Students following an individualized plan of study will take at least seven elective courses (21 credits) in the student's area of interest approved in advance by the student's Dissertation Committee Chair.
Health Policy students take three elective courses (9 credits) related to health policy, approved in advance by the student's Dissertation Committee Chair.
For all students, subject to the approval of the faculty advisor, up to 6 credits of electives may be taken as independent study as part of the program of studies; however, no more than 3 credits of independent study in nursing may be applied to the degree requirements.

Note: Students are strongly advised against replacing a methods course with an independent study. Such substitutions will be considered only in special circumstances.
NURS 605
NURS 608
NURS 609
NURS 611
NURS 615
NURS 641
NURS 693
NURS 694
NURS 715
NURS 727
Symptom Management Science
Environments of Human Health and Nursing
Family Nursing: Concepts, Issues, and Outcomes
Rural and Cultural Health
Critical Ethnography and CBPR in Health Care Research
Health Disparities and Policy
Topics
Research Practicum
Genetics and Genomics for Advanced Practice Nursing
Health Care Innovations and Informatics.
Dissertation – 18 credits
Students must:

Enroll for 6 credits of NURS 699 each semester between the conclusion of the courses in their program of study until degree completion. However only 18 credits of NURS 699 will be counted toward graduation.
Students must make satisfactory progress in each semester they are registered for NURS 699. Failure to make progress in any semester will result in a grade of NC (no credit) for that semester.

PhD Program Plan
Credit Breakdown
Total Credits
Individualized Plan of Study
51 credits of coursework + 18 credits of dissertation
69 Credits
Health Policy Concentration
52 credits of coursework + 18 credits of dissertation
70 Credits
BSN Entry Option (includes 18 credits of bridge coursework)
69 credits of coursework + 18 credits of dissertation
87 credits
NEXus Doctoral Elective Courses
The College of Nursing is part of NEXus (the Nursing Education Exchange), a collaboration among several Western Institute of Nursing (WIN) doctoral programs that offer graduate courses through distance education.
These institutions have entered into an agreement that allows the programs to share seats in courses and transfer credits in those courses across member institutions. Membership in NEXus provides students access to a wide variety of courses. Through NEXus, the institutions have identified courses that are available at a distance and open for enrollment from academic collaborator and affiliate member institutions.
Prior to enrolling, students should discuss plans to enroll in a NEXus course with their advisor. Without the approval of the faculty advisor, students might not be able to include the course(s) on their Application for Candidacy. For more information, contact Mary Jastrzemski at 505-272-2684 or maryjazz@salud.unm.edu. You can also visit http://winnexus.org.
Nursing PhD Program Competencies
Graduates of the PhD program will demonstrate the following competencies:
Conduct independent research pertaining to the generation and synthesis of new knowledge and theory that contributes to the health of individuals and communities. 
Conduct independent formal inquiry pertaining to health care, reflective caring practice, critical synthesis of existing knowledge and the generation of new knowledge and theory.
Practice nursing reflectively, guided by theory, based on best evidence and integrating creative and critical thinking.
Cultivate research expertise relative to a particular population, setting or human response to health or illness.
Evaluate and critique social policy relevant to the organization and delivery of health care.
Calendar