Nursing Simulation
The UNM College of Nursing Simulation team is committed to helping students gain the skills and confidence they need to practice nursing, in a safe and realistic environment.  Simulation activities are integrated into the curriculum to give students the ability to learn and make mistakes without harm to patients.
For the duration of the program, pre-licensure undergraduate nursing students participate in different simulations, from basic to advanced scenarios. The majority of undergraduate simulations are dictated by the New Mexico Nursing Education Consortium (NMNEC) Simulation Plan. This Simulation Plan stipulates the skills and competencies needed in each of the five undergraduate levels.
Advanced Practice nursing students also participate in simulation activities. During the year, the Nurse-Midwifery and the Adult-Gerontology Acute Care Nurse Practitioner students are involved in acute care intra-disciplinary simulations scenarios with the undergraduate nursing students. The graduate students assume the role of provider while working collaboratively with the undergraduate nursing students in "real life" scenarios.
Students in the Nursing Education concentration also have the opportunity to do some of their clinical hours in the simulation center where they learn to plan, design, write, implement, and evaluate simulation activities.
Nursing simulation is offered at the Interprofessional Healthcare Simulation Center (IHSC). The IHSC is a 28,000 square feet state of the art building specifically designed for simulation activities.
Inpatient Rooms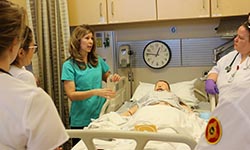 The inpatient area is composed of 5 rooms that resemble a hospital ward. Each rooms contains either 6 or 8 beds with low- to mid-level mannequins. These rooms are also equipped with supplies students use in clinical settings. In this area, students learn and practice basic and advanced nursing skills before applying these skills and knowledge to real patients.
Acute Care Simulation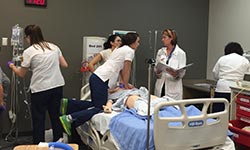 The acute care simulation area is where students participate in simulation activities in their role as a professional nurse to develop clinical judgment and critical thinking skills. Students interact with either standardized patients or advanced mannequins to replicate real life hospital and clinic scenarios. The high fidelity mannequins simulate human functions such as breathing, heart rate, and pulse in order to provide a very realistic experience.
Clinic Spaces
In the clinic spaces, Advanced Practice nursing students (FNP, Nurse-Midwives, AG-ACNP) participate as the provider in clinical encounters with standardized patients in order to practice clinical and communication skills. Standardized patients are people from the community who are trained to portray a specific role.
Donors
The UNM College of Nursing Simulation Center has benefited from the generosity of our donors. It is through their gifts that we are able to deliver high quality educational simulation activates to our students.
Dr. Nancy Ridenour (Endowment)
Ms. Brenda Izzi (monetary gift)
Ethicon (monetary gift)
HSC Office of Diversity
Medline Industries
Laeradal Medical