TREE Center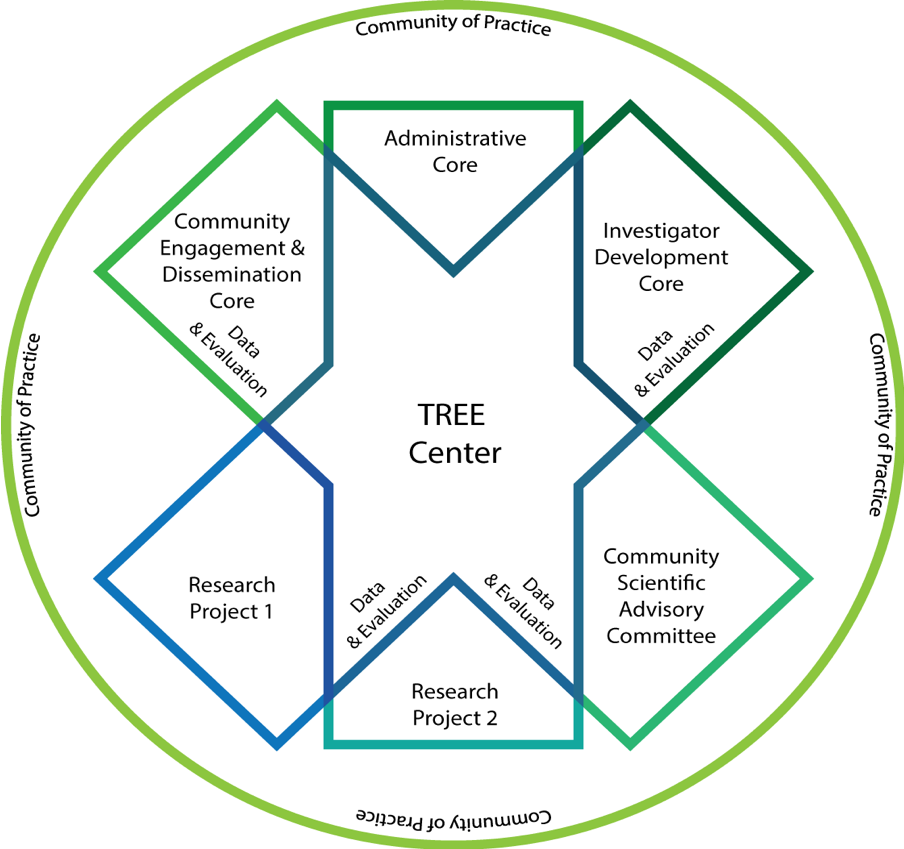 Tackling Substance Use and Mental Health in Underserved Communities 
The Transdisciplinary Research, Equity and Engagement (TREE) Center for Advancing Behavioral Health develops effective behavioral health solutions with New Mexico's under-resourced, racially, ethnically and geographically diverse communities. 
The TREE Center partners with local, state, tribal and national leaders to:
- Improve behavioral health equity among the state's socioeconomically disadvantaged and underserved populations. 
- Nurture community and academic ways of knowing.
- Prepare and mentor a new generation of underrepresented minority scholars for transdisciplinary multi-level intervention research. 
NIH Grant
The University of New Mexico TREE Center is one of a select 12 National Institutes on Minority Health and Health Disparities (U54 MD004811-06), September 23, 2017-June 30, 2022).
Lisa Cacari Stone, PhD, principle investigator (PI) and associate professor at the UNM College of Population Health, directs this Center of Excellence that's funded by a five-year, $7 million National Institutes of Health (NIH) grant in collaboration with three other principle investigators: Steve Verney, PhD, Psychology, Maria Brave Heart, PhD, Psychiatry and Gabriel Sanchez, PhD, Political Science. 
Team-Centered Leadership
TREE Center boasts three complimentary cores that tackle complex problems while moving beyond the clinic and towards community, systems and policy interventions:
Research Projects
The TREE Center's transdisciplinary academic-community team science specifically highlights the social determinants of behavioral health – including adverse childhood experiences, historical trauma, and intersectional effects of poverty and discrimination – to improve conditions and outcomes related to youth suicide, alcohol and drug misuse, depression, and access to behavioral health services. The center's two major projects, Youth Suicide Prevention and Immigrant Family Project, will run through 2022:
Pilot Projects
The IDC also supports a mini-pilot project program that awards grants to under-represented junior faculty and postdoctoral scholars to conduct mental and behavioral health disparities research. 
In year one, the following received mini-pilot project awards: Dr. Thomas Chávez (tachavez00@unm.edu) and community partner, the NM Dream Team, to study mental health among Latino immigrant families; Dr. Jaelyn deMaria(jdemaria@unm.edu), and community partner Generation Justice, to study media communication about mental health; and Dr. Shiv Desai (sdesai@unm.edu) and community partner the Albuquerque Public Schools, to study the use of ethnic studies to heal student trauma. All of these studies use a social determinants of health framework and include work to address organizational, systems, and societal factors influencing mental and behavioral health outcomes.