Integrating Community Health Workers (CHWs) in Primary Care Clinics
Since the approval of the Affordable Care Act, which includes references about the value of Community Health Workers (CHWs) as part of healthcare delivery, there has been a growing interest in integrating CHWs in healthcare teams.
The Community Health Workers Initiatives (CHWI) unit of the UNM Office for Community Health believes that having CHWs working at healthcare centers as part of a care team improves patient experience, enhances their health outcomes and reduces healthcare cost. In addition, by having CHWs addressing patients' social determinants of health, connecting them with resources and assisting with their care coordination, the healthcare providers engage more fully on their patient's care and experience a higher level of satisfaction.
The CHWI unit has been working for the last two years on developing models to integrate (CHWs) in primary care centers. The following are two different pilot projects currently being implemented:
1. Universal Screening for Social Determinants of Health at Primary care centers.
The first pilot involves screening all patients that seek care at participating clinics for social determinants of health (SDsH).  It also includes referrals of any patient who identifies an SDsH need to community resources.  The process is as follows: the Medical Assistant (MA) performs a preliminary two-question screening at the time when the patient first comes to the clinic. If the patient needs and wants help to deal with social determinants the MA refers the patient to a CHW co-located at the clinic (Clinic-CHW).  The Clinic-CHW meets with patient after their appointment with a healthcare provider and asks more in-depth questions using an instrument, the Well Rx, developed by our colleagues from the UNM-HSC Office of Community Health. Once the CHW understands further the patient's needs she/he connects patient with community resources to address those identified SDsH.
The two-question pre-screening, as well as the patient responses to the Well Rx questions and the interventions from the Clinic-CHWs are entered into the patients' electronic medical record. The CHWI unit analyses this and other data to track health outcomes, patient experience and cost savings.
Through a partnership between our office, First Choice and the UNM Hospital, a total of eight CHWs have been co-located (2 per clinic) at a First Choice Clinic in the South Valley area of Bernalillo County and at three UNM primary care clinics (North Valley, Southwest Mesa and South East Heights Clinics) in Albuquerque.
In addition to designing, developing and evaluating the project, the role of the CHWI is also to provide technical assistance (TA) to each clinic in the implementation phase of the pilot. As part of the TA the CHWI has trained providers and staff of each clinic on how to work with CHWs.  The CHWI has also trained the CHWs, and has provided to them one-on-one and group supervision on an ongoing basis, as well as monthly intense capacity building training and networking opportunities.
After positive feedback from participating clinics, the leadership of UNM Hospital has added CHWs in four other clinics.  These clinics also receive TA from our office, even though they are not part of the official pilot.
While the pilot is set to end in September 2016, the CHWI is hoping that the Clinic-CHWs will become an integral part of the delivery of care in all UNM Hospital primary care clinics.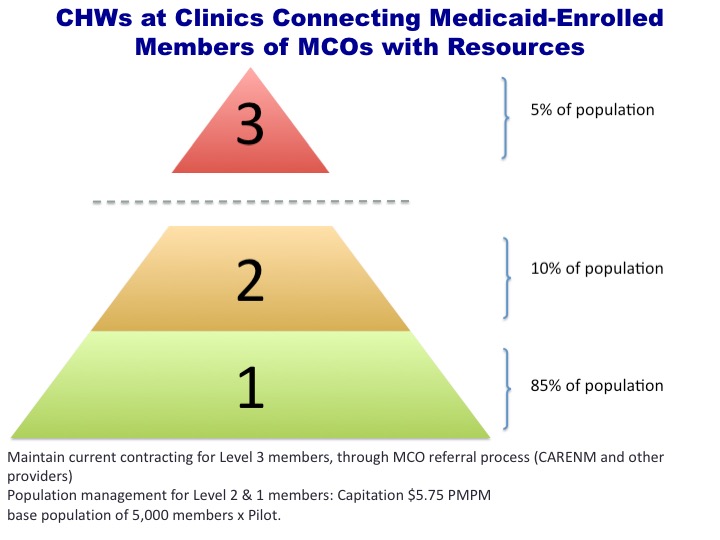 2. Targeted Screening for Social Determinants of Health of Medicaid members of MCOs at Primary Care Centers.
The second pilot involves interventions to assist "level 2" (defined below) members of two New Mexico Medicaid Managed Care Organizations – Molina and Blue Cross Blue Shield – to become healthier, which will result in cost savings to the MCOs.
By way of background, all MCO members are assigned a "level" based upon their responses to the Health Risk Assessment (HRA) questionnaire. Level 2 members are those with comorbid conditions, with frequent emergency room use, with a mental health condition or substance abuse causing moderate functional impairment, who require assistance with two or more activities of daily living, with mild cognitive deficits requiring promoting or cues, and/or with poly-pharmaceutical use. Level 3 are the highest-risk members who are medically complex or fragile, have excessive emergency room use, have a mental health condition or substance abuse causing high functional impairment, have untreated substance dependency, require assistance with two or more activities of daily living, have significant cognitive deficits, and/or have contraindicated pharmaceutical use. Level 1 members are those who do not meet the criteria for level 3 or level 2 and are usually the healthiest.
The overriding goal of the expanded CHW program is to prevent Level 2 members of Molina and BCBS from becoming Level 3, or Level 1 members from moving into Level 2.
Another key goal of the pilot is to improve utilization of primary medical, dental, mental health and community support systems by MCO members. CHWs placed at clinics specifically to work with Level 2 members of MCOs have been trained by the CHWI to identify social determinants of health for members, connect them to resources to deal with socio-economic conditions that hinder their wellbeing and to develop intervention strategies to reduce reliance solely on medical systems to improve health outcomes.
For this second pilot, the CHWI is working at the same clinics in Bernalillo County selected for the first pilot described above in addition to one clinic from Hidalgo Medical Services in Grant County. The clinics in Bernalillo County are all located in urban areas of New Mexico while the clinic in Grant County is part of rural New Mexico.  The CHWI is interested in testing the model in both rural and urban areas.
Through this pilot project MCO's contract with the CHWI to hire, train and supervise CHWs co-located at each participating health care center.  Each CHW (herein "MCO-CHW" to differentiate them from the Clinic-CHWs from the first pilot), supports up to 200 Medicaid level 2 members, who are attributed to one of the five participating clinics.  The list of Level 2 members is sent by the MCOs to the CHWI quarterly. When one of these pre-selected Level 2 MCO members has an appointment to see a health care provider at a participating clinic, this patient is flagged ahead of time and referred to a MCO-CHW at the clinic.
The MCO-CHWs have a very similar role as the Clinic–CHWs: they assist their MCO members by connecting them to community services to deal with social determinants of health identified through the Well Rx questionnaire.  However, the MCO-CHW also educates MCO members/patients about any chronic diseases or special health needs they have been diagnosed with, remind them of appointments, and help them understand and keep doctors' orders. 
This second pilot is also trying to assess if it makes a difference in Level 2-patients' health outcomes to have the assistance of a CHW at the point of service (clinics) versus having assistance only by a Care Coordinator. Both, Molina and BCBS employ Care Coordinators (CCs) to help members who, according to the HRA mentioned above, have special healthcare needs (i.e., they are either level 2 or level 3 members). The CCs work with members to develop a plan of care for their special health needs and provide overall coordination among different medical, dental, long-term and behavioral health providers working with all level 2 and level 3 members.  These CCs are usually registered nurses who act as case managers, coordinating appointments and tests as well as transportation to and from appointments if the member needs it.  These CCs are located at the offices of each MCO.  The MCO-CHWs have a similar role than CCs for the Level 2 members but the difference is that they are located at the place where the members receive the actual healthcare services. 
Evaluation of these pilots
The research being proposed to evaluate the pilots would have two arms related to the above pilot projects:
arm 1 would compare the health outcomes and costs of care for patients who receive assistance from a Clinic-CHW at their primary care clinic to a control group of patients who do not (because they visit clinics that are not a part of the pilot projects); and
arm 2 would evaluate the comparative effectiveness on the health of level 2 members and upon the costs to the MCOs of placing MCO-CHWs within the primary care clinic to work with level 2 members on site and face-to face versus standard operating procedure as described above (i.e., CCs acting as a liaison between the different medical and behavioral health providers working with each level 2 member mostly from a remote location).
The hypothesis for arm 1 of the study is that patients who have face-to-face interactions with CHWs while they are at the clinic for their primary care appointments will have better health outcomes than patients who do not experience the CHW intervention and that this will lead to cost savings. The hypothesis for arm 2 of the study is that level 2 members of the participating MCOs who have face-to-face interactions with CHWs while they are at the clinic for their primary care appointments will delay or avoid moving from level 2 to level 3, and that this will lead to cost savings.
The data that will be gathered and analyzed as part of the proposed research includes:
Billing data for the MCO level 2 members who visit any of the participating clinics (data will be provided by the participating MCOs)
Billing data for other patients at the participating clinics who were assisted by a CHW (data will be provided by the participating MCOs)
Billing data for patients at other clinics who did not receive the CHW intervention (data will be provided by the participating MCOs)
The responses of the MCO level 2 members who visit any of the participating clinics to the Well Rx (which will be collected as part of the standard of care and entered into the patient's electronic medical record)
Medical Records of patients being assisted by a CHW at participating clinics.
Medical records of a control group of patients who are receiving care at a clinic that does not have CHWs.
Interviews to healthcare providers and CHWs participating in the pilots.
The pilots will be implemented until September 30 2016 and data will be analyzed in the last quarter of the same year.  Results will be published most likely on the first quarter of 2017.
The results of the pilots will inform decisions by the NM Health and Human Services Department regarding allocation of funding for MCOs working with Medicaid patients.