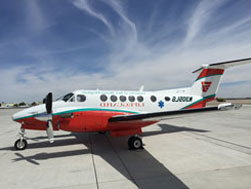 Contact Us
Lifeguard Air Emergency Services
2505 Clark Carr Loop SE
Albuquerque, NM 87106
Airport office 
phone: 505-272-2798
Fax: 505-272-2466

Margaret O'Donnell
Program Director
Phone: 505-272-3828
Dispatch:
Call 1-855-I-Fly-UNM
(1-855-435-9866) to arrange transport of a patient from
one facility to another. To coordinate patient transfer specifically to University of
New Mexico Hospital, call
1-888-866-7257.
Help save lives by serving in University of New Mexico Hospital's (UNMH's) Lifeguard Air Emergency Services. You'll ensure safe, timely transport and critical care of patients with conditions such as a traumatic injury, heart attack, stroke, pregnancy complication or pediatric emergency.  
Crew & Staff
The Lifeguard team includes:
Certified communication specialists who handle all flight arrangements 24/7, hold paramedic licenses and are familiar with all New Mexico hospitals.
Experienced pilots.
Highly trained flight nurses and paramedics.
 Team members have access to UNMH's full support services. 
Orientation Process
As a new hire, you'll participate in an orientation process that includes:
12 hours in clinical rotation in level III newborn intensive care.
12 hours in labor and delivery.
24 hours in pediatric intensive care.
24 hours in adult intensive care.
Intubation in the operating room per rapid sequence intubation policy.
Rapid sequence intubation class.
Assigned reading.
Review of policies and procedures and the orientation manual.
Training & Certification
Maintain your skills with:
Monthly QA meetings.
Monthly airway training per intubation policy.
Biannual critical care transport course.
Each year, you'll participate in:
Survival training exercise.
Compliance training modules as assigned.
Safety briefings for aircraft.
Crew Resource Management training.
Equipment competency testing.
Hearing screening.
Tuberculosis screening.
Tuberculosis mask fit testing.
NAACS Certified Flight Communicator Training Course.