If conservative treatments don't relieve persistent discomfort, your doctor at UNM Pain Consultation and Treatment Center may recommend an interventional pain relief procedure. This type of minimally invasive care often uses real-time imaging, called fluoroscopy, to help physicians guide tiny medical tools through your skin with the smallest-possible incision.
Steroid Injections & Nerve Blocks
Steroid injections and nerve blocks deliver pain-relieving steroid medication and/or anesthetic to parts of your body that cause discomfort or pain, including: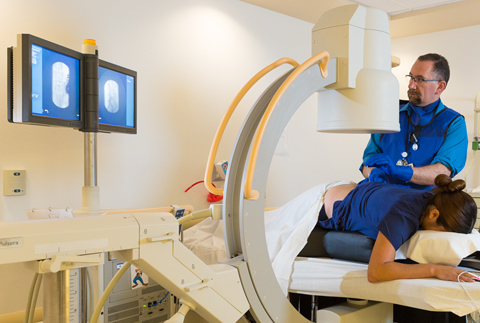 Epidural area – Surrounds the spinal cord
Facet joints – Sit between vertebrae
Lumbar sympathetic nerves – Flank the spine in the lower back
Medial branch nerves – Connect to facet joints
Sacroiliac (SI) joint – Located in the pelvis
Stellate ganglion nerves – Lie along your voice box in the neck
Trigger points, or muscle knots – Cause pain in surrounding areas of the body
Doctors can use nerve blocks to both diagnose and treat the source of your pain.
Minimally Invasive Surgery for Pain Relief
Your physician may recommend a surgical procedure such as:
Epidural adhesiolysis – Inserts a thin, flexible tube near the spine to deliver medications that eliminate painful scar tissue.
Kyphoplasty – Inflates a tiny balloon in a fractured vertebra to correct abnormal wedging, and then injects a cement-like substance to stabilize the bone.
Vertebroplasty– Injects a cement-like substance into a fractured vertebra to stabilize it.
Lumbar decompression – Removes fragments of bone and ligament through tiny incisions to create more space in the spinal canal and treat spinal stenosis.
Because these treatments are minimally invasive, you'll likely experience less discomfort and a faster recovery.
Nerve Stimulation
In spinal cord or peripheral nerve stimulation, you'll receive a temporary trial device or electrodes that send a gentle electrical current to disrupt pain signals. If the trial eases your pain, a doctor can permanently implant a small device or electrodes under your skin.
Pain Pump
A pain pump, or intrathecal drug delivery system, is a small device implanted under your skin to deliver medication directly to a painful area. With this technology, you'll need much smaller doses than oral medication. 
Radiofrequency
Ask your doctor about:
Pulsed radiofrequency – Applies short bursts of energy to a nerve to stun it and prevent the transmission of pain signals.
Radiofrequency ablation (neurotomy) – Uses heat to eliminate nerves that communicate pain to your brain.