Forensic Pathology Fellowship
Death investigation in New Mexico is a statewide system. The Office of the Medical Investigator is located on the campus of the University of New Mexico School of Medicine in the city of Albuquerque. This arrangement ensures the state is provided with excellent facilities in death investigation as well as affording outstanding educational and research opportunities in forensic pathology.
It is in this fertile environment that the forensic pathology fellow conducts a substantial number of medicolegal autopsies on routine and unusual cases from around the state and is given substantial control of cases (natural, accidental, suicidal and homicidal) at all levels, commensurate with their increasing ability.
At this moment all positions are filled through fellowship 2022 - 2023
How to Apply
Submit:
Personal Statement
Three Letters of Recommendation, one of which should come from your program director
Curriculum Vitae
Copies of USMLE Step I, II, III scores
Medical School Transcripts
ECFMG Certification, if applicable
Applicant must be AP/CP eligible
Apply to Fellowship
Submit Application to Program Coordinator, Anthony Cervantes
Training
Training during the year includes rotations in toxicology, forensic odontology, forensic anthropology, and the state and local crime labs. The trainee is afforded the opportunity to testify in court, under supervision and direction, and is also encouraged to witness testimony by others who are experienced in courtroom dialogue.
The Office of the Medical Investigator is a state of the art facility with in house computed tomography (CT) and magnetic resonance imaging (MRI). Postmortem CT scans are performed on the majority of decedents and are interpreted by a board certified forensic radiologist. Trainees will have in depth exposure to radiology interpretation under the guidance of our forensic radiologist.
In this system, consultations are presented to all of the senior pathologists for review and advice. The trainee is allowed to actively participate in these interesting consultations. In addition to the case-by-case instruction, the trainee will be involved in didactic teaching and should be a participant in the annual Medicolegal Investigation of Death seminar conducted each year for investigators and law enforcement personnel.
The OMI program provides one year of in-depth training in forensic pathology, and applicants must have completed training in either straight anatomic or combined clinical and anatomic pathology in an ACGME-accredited residency program by the beginning of the fellowship year.
Program Acceptance
The Office of the Medical Investigator accepts four fellows per academic year. Applicants are selected for interviews following review of their completed application materials and letters of recommendation. The interview process usually takes place in the late Fall each year, and positions are filled 1-1/2 to 2 years ahead of time.
Current Fellows
Carolin Boecking, MD
Degree: MD from Albert-Ludwigs University Freiburg, Germany
AP/CP Residency: University of California, San Francisco
Emily Helmrich, DO
Degree: Master of Medical Science from the University of South Florida
DO from Philadelphia College of Osteopathic Medicine
AP/CP Residency: The University of New Mexico, Department of Pathology
Zoe Sundell, MD
Degree: MD from Uniformed Services University of Health Sciences
Transitional Intern and AP/CP Residency: Madigan Army Medical Center
Paul Yell, MD
Degree: MD From UT Houston (McGovern) Medical School
AP/CP Residency: UT Southwestern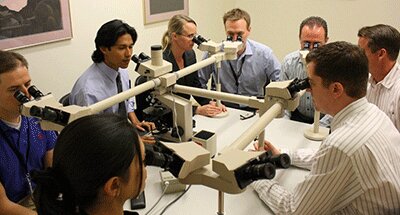 Contact Us
Have questions about our program?
Contact Program Director, Lauren Decker, MD.
Office of the Medical Investigator