Map & Directions
Physical Location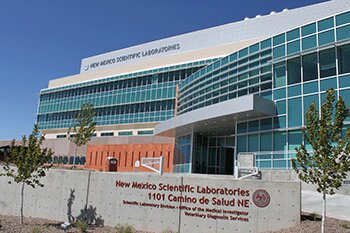 The New Mexico Office of the Medical Investigator is housed at New Mexico Scientific Laboratories (NMSL) Building, 1101 Camino de Salud NE, Albuquerque, New Mexico.
The New Mexico Scientific Laboratories (NMSL) Building is a secure facility requiring specific authorization to enter. The following is the procedure for visitor access to the facility.
Driving Directions
Visitors to the NMSL must arrive via the northbound I-25 frontage road just north of the Mountain Rd light. The frontage road may be accessed from Lomas Blvd (from eastbound or westbound) or from the southbound I-25 frontage road off I-25 exit 225. From the southbound frontage road turn left at the Mountain Rd light and left again onto the frontage road. After passing the Mountain Rd light on the frontage road, turn right (east) to NMSL and immediately left and into visitor parking at the front of the building.
Please Sign in at Reception
Visitors with an appointment must announce themselves to building security via the intercom to the left of the double doors at the front of the building. Security personnel will buzz you in and you must sign in to the building at the security desk in the lobby, produce a photo ID and receive a visitor's badge. Following building entry, you will be buzzed into the OMI reception area where you will again sign in. You must remain in the reception area until you are greeted by an escort who will take you to your assigned appointment.
Office of the Medical Investigator