MPH Admissions and Application
Admission Requirements
All Master of Public Health (MPH) classes are offered on UNM's Albuquerque campus. Programs begin in the fall. You will need all of the following to be considered for admission:
Bachelor of Science or Bachelor of Arts from an accredited US institution or recognized foreign institution 
GPA of at least 3.0 in upper-level undergraduate courses (level 300-400) or nine credit hours with a GPA of 3.0 or better in public health graduate courses 
GPA of at least 3.0 in undergraduate basic statistics or a graduate-level basic biostatistics course (unless you have a Doctor of Medicine degree or Doctor of Philosophy degree from an accredited US institution). 
Transfer Credits
You may transfer up to 17 credit hours with grades of B or better from other institutions or other non-degree or graduate programs within UNM. Please work with your academic advisor to determine how transfer credits can be applied to your MPH. 
Information for International Students
If you are a student from a country outside the US, please contact the UNM Office of International Admissions or call 505-277-5829 to determine your eligibility status. Eligible students may apply for the MPH program through the International Admissions Office.
In addition to the requirements above, you will need to submit your scores from either the TOEFL or IELTS.
You may be exempt from this requirement if you:
Hold an MD or PhD from a U.S. university
Are a medical school graduate from another country who is licensed to practice in the U.S. 
 
The minimum test scores are as follows:   
 
| | | | |
| --- | --- | --- | --- |
| | Paper Test | Computer Test | IBT |
| Graduate TOEFL | 550 | 213 | 79-80 |
| Graduate IELTS | 7.0 | 7.0 | 7.0 |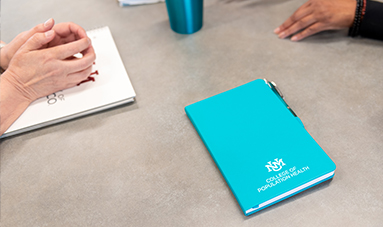 Your Questions, Answered
Contact our Admissions Advisor with any questions.
Application Information
Interested applicants need to complete their Schools of Public Health Application Service (SOPHAS) application by December 15. 
SOPHAS Application
SOPHAS is a third-party platform. UNM cannot assist with troubleshooting or provide updates on your SOPHAS materials.
SOPHAS Required Materials
You will be required to submit the following materials through SOPHAS: 
One official transcript from each academic institution you have attended, including UNM. 
A statement of purpose and objectives 
A  curriculum vitae (CV) or resume 
Three formal letters of recommendation submitted by an educational and/or professional contact who knows you and your experiences  
Test scores from either the GRE, MCAT or GMAT
Please note: Test must have been taken within five years. Strong applicants have GRE scores around the 50th percentile, an MCAT score of 491 and an "N" in writing and/or a GMAT score of 500 or above. 
Update: Graduate test requirements have been waived for fall 2020 admissions applications for cohort beginning fall 2021.
UNM Application
After you have been accepted to the MPH program, you will receive information to complete the UNM application.
Contact COPH
College of Population Health
Family Medicine Center
2400 Tucker Ave NE
MSC09 5070
Albuquerque, NM 87131-5267