Contact the College of Population Health
College of Population Health
MSC09 5070
1 University of New Mexico
Albuquerque, NM
87131-0001
Phone: 505-272-4173
Office of the Dean
Tracie C. Collins, MD, MPH, MHCDS
Dean, College of Population Health
Email: TCCollins@salud.unm.edu
Office: FPTC 147
Phone: 505-272-4979, for appointments
Need to Contact a Specific Person?
Map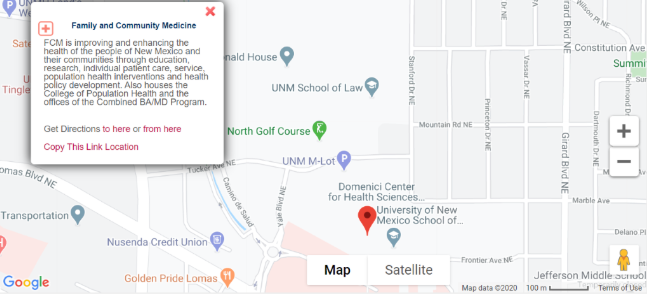 Driving Directions
The UNM College of Population Health is located in the UNM School of Medicine Family Medicine Center building. Follow these directions:
From Lomas Boulevard Northeast, turn north onto Yale Boulevard Northeast.
At the roundabout, continue north to Tucker Avenue Northeast, and turn right (heading east).
Take the first right to enter the parking lot on the right. The School of Medicine Family Medicine Center building is on the southeast corner of the parking lot.
After parking, take the stairs down to the lower level, where you'll see a plaza. Find the building on the west side of the plaza.
Enter the outer glass double doors marked College of Population Health and go left through the population health door. Our offices are located at the end of the hallway to the right.
Contact COPH
College of Population Health
Family Medicine Center
2400 Tucker Ave NE
MSC09 5070
Albuquerque, NM 87131-5267